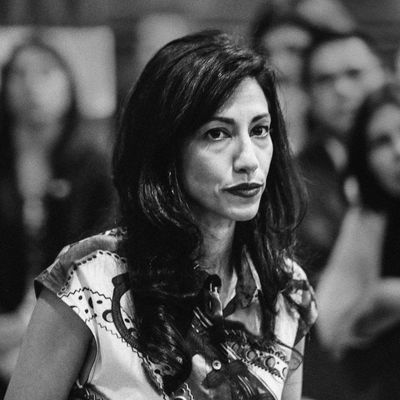 Huma Abedin
Photo: Irfan Khan/Los Angeles Times via Getty Images
In her forthcoming book, Huma Abedin — Hilary Clinton's longtime close aide and the ex-wife of former representative and convicted sex offender Anthony Weiner — writes about an incident in which she alleges a U.S. Senator sexually assaulted her. Per The Guardian, Abedin says she attended a dinner with "a few senators and their aides," not including Clinton, sometime in the early 2000s. "I ended up walking out with one of the senators, and soon we stopped in front of his building and he invited me in for coffee," Abedin writes in Both/And: A Life in Many Worlds, which comes out November 2. "Once inside, he told me to make myself comfortable on the couch." Abedin claims the senator then took off his blazer, rolling up his sleeves as he made coffee and they continued to talk.
"Then, in an instant, it all changed," Abedin recalls. "He plopped down to my right, put his left arm around my shoulder, and kissed me, pushing his tongue into my mouth, pressing me back on the sofa." She says that she was "utterly shocked" and "pushed him away," adding, "All I wanted was for the last 10 seconds to be erased." Abedin says the senator seemed taken aback but did apologize, saying he had "misread" her "all this time." She was contemplating how to leave "without this ending badly" when the senator asked if she wanted to stay. "Then," she writes, "I said something only the twentysomething version of me would have come up with – 'I am so sorry' – and walked out, trying to appear as nonchalant as possible." Abedin says she soon "buried the incident" with the senator, wanting to forget and erase the memory from her mind "entirely."
However, when allegations against now–Supreme Court Justice Brett Kavanaugh came out in July 2018, they triggered her memory. Kavanaugh has been accused of sexually assaulting three women, including Christine Blasey Ford, who first came forward after Kavanaugh was on the short list for Supreme Court nominees. Ford, who faced death threats after telling her story, claimed that when she was 15, Kavanaugh held her down and attempted to remove her clothes at the goading of his friend. Kavanaugh has denied all allegations.
When Abedin read about Ford "being accused of 'conveniently' remembering" her alleged assault, it resurfaced memories of her own assault. Per The Guardian, Abedin does not name the senator, reveal their party affiliation, or give any clues as to who the assailant was.
In her book, Abedin also attempts "a candid and moving reckoning" with her marriage to former U.S. representative Anthony Weiner, who pleaded guilty to sending sexually explicit messages to a minor in 2017. Earlier this month, Vogue published an excerpt from Abedin's book that recounts the moment she found out Weiner accidentally tweeted an explicit photo of himself that he'd meant to send privately to another woman. "And then, just like that," she writes, "life as I knew it was officially over."