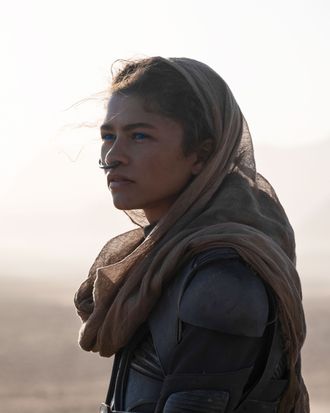 Photo: Chia Bella James/Warner Bros.
Warning: Light spoilers for Dune, especially Zendaya's role in it, ahead.
Well, the sweeping sci-fi epic co-starring Timothée Chalamet, Zendaya, and a giant butthole worm that we have been promised since Vanity Fair's April 2020 first look is finally here. With one of the hottest casts in recent memory, the new adaptation of Dune begins majestically, with desert landscapes and a concise, situating history of the Dune-verse, narrated by Zendaya's character, Chani, along with a few ethereal shots of her looking extremely wise — exciting to me, because Zendaya is ultimately the reason I, personally, decided to watch Dune.
Here's the thing: I was entirely unfamiliar with the Dune franchise before Zendaya entered the picture, and I've never been hugely into sci-fi, preferring to enter slightly more cheerful fantasy realms like Ella Enchanted, Aquamarine, and Shrek 2. But when the promotional shots of a windswept, glowing Zendaya (and, sure, other hot people) began to proliferate, I knew Dune was the sci-fi bandwagon I was destined to jump onto. Sadly, my early satisfaction with the Zendaya-centric opening scene did not last long.
This is necessary context for those of you who may be displeased by what I'm about to say: I feel betrayed, lied to, absolutely bamboozled by Dune. For the majority of the approximately two and a half hours I spent watching it, I was waiting. And waiting. And waiting. Okay, cute that Timmy keeps dreaming about her, I thought to myself. I'm sure she'll show up soon. She did not show up until about two hours and 20 minutes into the film. Overall, we are blessed with her countenance for maybe 15 minutes in total, counting the mystical dream sequences in which she doesn't speak, but does commit murder, which seemed about right to me.
Now, maybe those of you who were already big Dune-heads will be fully aware of this going into the film. Maybe this Zendaya-less composition lines up perfectly with how the book is written. I simply do not know. But what I do know is that, for the average Zendaya fan, this epic film seemed like a great opportunity to watch her excel at her craft. Based on press, the trailer, and Twitter, I had the distinct impression that we would be spending the majority of Dune watching two people with amazing bone structure fight bad guys and potentially fall in love. Maybe together, they're just too powerful. Whatever it is, I want to warn my fellow Zendaya admirers that Dune is really for the Timmy stans.
Based on Frank Herbert's 1965 novel of the same name, the Dune-verse is a multiplanetary society with complex rules and customs, and the confusing plot revolves around what happens when an emperor entrusts Timmy's (okay, Paul Atreides in the film) father, a duke from the House Atreides played by Oscar Isaac and his gorgeous, perfectly trimmed beard, with leaving his home planet of Caladan in order to rule over the planet Arrakis, which is where Zendaya lives.
The native people of Arrakis are called Fremen, and have been subject to violent imperialism by other planet-nations, which have colonized it to mine its extremely valuable resource, "spice," for centuries. Upon the arrival of the Atreides family and their "We won't treat you like those other guys did" white-savior energy, it becomes clear that it was all a ploy to make them vulnerable to attack from OG colonizers, the emperor and his Sardaukar military. Much violence ensues, and soon Timmy and his extremely powerful mom, played by Rebecca Ferguson, are on their own in the vast desert.
Okay, so Zendaya's role in Dune was not as a co-star but as a feature. That's not to say, of course, that she doesn't absolutely dominate every scene she's in. Her star power is palpable; Dune simply refuses to let it steer. Her narration at the start strikes a perfect balance of ancestral knowledge about her home and general annoyance with having to tell the story that's being told. Warm, vibrant appearances as a mysterious, mostly wordless Chani in Prince Timmy's dreams are a welcome respite from the stony, emotionally stunted vibe of the world he inhabits while awake, injecting energy into an otherwise draining cinematic experience.
Director Denis Villeneuve has said that he made changes to the source material, like making Paul's mother, Jessica, a more powerful and prominent character and making planetologist Liet Kynes a woman instead of a man. This is a situation where I truly think it would have been fine to take some creative liberties. Like, what was Zendaya up to while Timothée was having his little Hamlet moment? She's a Fremen, and we're on the Fremen's native planet, and yet we spend very little time in any Fremen communities!
When we do finally meet Zendaya/Chani in the flesh and not in a dream sequence, in the final ten minutes or so, she doesn't disappoint. She's quietly kind without being friendly to newcomers Paul and Jessica, and her chemistry with Chalamet is immediately palpable, particularly when she hands him a gorgeous "crysknife," telling him he deserves to die with honor, even though he is the embodiment of the "next oppressor" she references in the introductory narration. Her powerful presence begins and ends the film, and will apparently feature far more prominently in the sequel, if there is one.
Villeneuve's response to critiques of Dune's white saviorism has been that the film is itself a critique of white saviorism, but it is odd that the majority of screen time is given to said white saviors. The critique he speaks of is less "trying to rule over a planet you literally just arrived on and know nothing about is a bad idea" and more "oppression is bad, but becoming ruler of a planet you just arrived on is fine as long as you also appropriate that planet's culture and fall in love with one of its native people." Pocahontas would like a word, I think.
But perhaps the true critique will come in Dune 2, which seems way more Fremen-focused and therefore Zendaya-focused. I may not trust any of the men involved in the making of Dune, but I do trust her. And encouragingly, the film's final line comes from Chani: "This is only the beginning." The beginning of a story line that centers her character, I hope. Until then, I will content myself by fully appreciating the Dune red-carpet excellence Zendaya is so generously giving us.