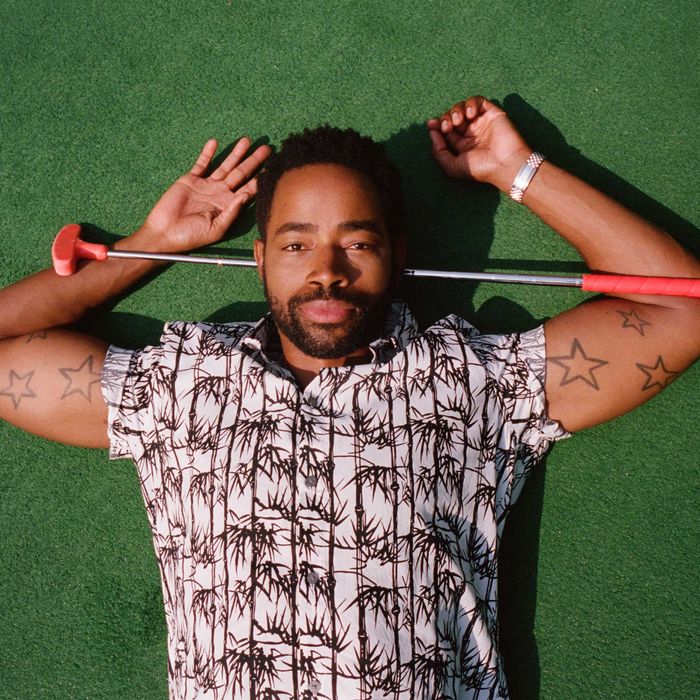 Jay Ellis is not Lawrence Walker. Lawrence is the sort of character you either love or hate. An Everyman, figuring himself out against the world's expectations of what a Black man should be … or a bum, who had to use the women around him to inspire his own emotional growth and evolution. As Insecure grew beyond the story of Molly and Issa, Lawrence became so popular, he almost obscured the 39-year-old actor who brought him to life.
"They were making Best Buy shirts! I got a few of them. I think I wore them out on my last day to work," laughs Ellis when I ask him to explain the phenomenon of #LawrenceHive. The Best Buy shirt is a nod to the transitional moment when Lawrence, no longer Issa's bum boyfriend, became someone on his own journey. Ellis is video-chatting me from Portland, Oregon, where he's currently working on Somebody I Used to Know, a Dave Franco–directed drama starring Alison Brie and Kiersey Clemons. Brie wrote the script about a workaholic who visits her hometown and questions everything when she sees her ex-boyfriend (played by Ellis). A month into production with a month to go, Ellis is content to spend time in Portland, where he played basketball at Concordia University and began his modeling career. "This is a bit of a homecoming for me," he says.
Wearing a plain black T-shirt in a simple hotel room, Ellis appears relaxed and Lawrence-esque. As we debate the merits of Portland's food scene, I almost feel like I've been transported to Insecure's brilliant romantic bottle episode, "Lowkey Happy," written by co-star Natasha Rothwell. If you want to know what a date with Lawrence would be like, just watch the episode. When I ask him what's the biggest difference between a date with him and Lawrence, he explains:
"Oh, I'm gonna offer a whole experience. I'm a big experience person, like, let's go roller-skating, you know! Where I feel like Lawrence is a little more traditional, he's gonna pick you up. He's gonna take you to dinner. Probably the biggest difference is that I'm also a clown, so I'm also gonna crack jokes the whole time, y'know, like, 'What's your sign, girl?'"
(He says that last part with more bass in his voice, a deeper register that is so hot. I tell him I'm a Sagittarius.)
Insecure's final season, premiering on October 24, sees Lawrence take on fatherhood, an ending that dovetails neatly with Ellis's current stage in life. He became a father for the first time in 2019, raising a newborn with partner Nina Seničar as the country shut down due to COVID-19 when Insecure filming began. The season's third episode is dedicated to Lawrence figuring out what kind of father he wants to be. Ellis also faced personal challenges that made Lawrence's journey even more relevant: "We had a death in my family, and my girl and our kid were taking care of that, so I was away from my kid while we were filming that episode."
Facing circumstances beyond his control, Ellis had to adapt. It wasn't lost on him that Lawrence was in a similar situation. "Lawrence has a very clear vision of what fatherhood is supposed to look like for him," Ellis says. "And he didn't ask anybody else about that vision. He was just like, 'No, this is how I do it.' He has to reconcile that and realize that just because it's not the way he thought it's supposed to be doesn't mean that it's not equally as good or beautiful."
While viewers might see Lawrence struggle for balance this season, Ellis has managed to find a rhythm that works. While filming Insecure last year, he was simultaneously working on FX's prestige drama Mrs. America and the upcoming film Top Gun: Maverick. "Shooting overlapped," he tells me. "That was pretty wild to do while being a father at the same time. I think even that, for me, was this crazy, meta life-imitating-art, art-imitating-life moment, where I was like, 'I miss my baby so much!' And Lawrence was going through his own version of that for himself this season. I shot with like nine different kids, and I was holding them like they were mine!" A moment of pause for that image of Jay Ellis holding a parade of adorable babies.
Ellis doesn't seem worried about life after Lawrence. While some might try to distance themselves from a character that has come to define them, Ellis talks about Lawrence more like a little brother or friend. "It's the end of an era. I feel like I want to talk about it all the time because it's been such a huge part of my life and my journey and my culture," he explains. From working at Best Buy to ill-thought-out threesomes, Ellis is the driving force behind Lawrence's appeal. In fact, Ellis almost charms me into joining #LawrenceHive. When I admit I shared fans' anger over Lawrence's relationships with Condola and Tasha, Ellis just laughs, "Being the villain doesn't bother me! If I'm doing my job correctly, as long as you feel something, that's what matters."
Ellis has an ability to bring sincerity and empathy to his roles, turning them into something more than tropes like "sidekick," "fuckboy" or "boyfriend." It's exciting to imagine his future as an action star or leading man beyond Insecure. ("I'm six-foot-four, I work out like six days a week, I played college basketball, and I have not used that," Ellis says, reminding me that Hollywood can truly squander a blessing). It was this skill that turned Lawrence into such a dynamic, engaging character.
"There is something in Lawrence that's an Everyman," he says. "Regardless of gender identity, I think there is something about Lawrence's journey that a lot of us have gone through, right? For those of us who were fortunate enough to go to college, most of us walked out and were like, 'Okay, where's the jobs at?' And the jobs didn't show up. He had a little bit of a setback, and that makes him look at his life and go like, 'Wait, what am I doing? Am I happy? Is this where I want to be? Do I want to be doing this? Maybe I shouldn't be doing this because they'll just tell me no all over again.' And it creates this fear that stops you from being your best self."
Insecure is a brilliantly written show, but Ellis's performance elevated Lawrence to an iconic Black male character worthy of a hive. In 2017, he even received an award for Outstanding Supporting Actor in a Comedy Series at the NAACP Image Awards for the portrayal. It's shocking to discover they almost didn't keep him around. "Lawrence wasn't supposed to make it past season one," he says. "It is wild that I've been on this show for five seasons, because I know that I wasn't supposed to be here. Even though Insecure is Issa and Molly's story, at the same time, there was this Black dude who had never been seen onscreen before. Like, we had this type of Black man who exists, who is a lot of us out here. All of a sudden, you have all these dudes that were like, 'Yo, that's me.'"
As viewers grew with Issa, they also grew with Lawrence. "We've seen the full evolution of who this guy is supposed to be. He's a man now," Ellis says. "I don't know if there will ever be another role that will impact me in the same way that unpacking Lawrence has." It's also hard to imagine another character that will inspire so much conversation. With the series ending, Ellis has undoubtedly created a character with a lasting legacy. And one that will surely inspire heated Twitter debates as Lawrence's story finally comes to a close. But even I, a former Lawrence-hater, can admit that I do want him to get his happy ending.
"I know people will be happy," Ellis says. "But the beauty of what I get to do is that I get to step into a bunch of different lives and a bunch of different characters. The hope is that you see tons of me. That you're like, 'Yo, this dude is everywhere! He's an action star? Where did he come from?' And I'm like, 'I've just been here the whole time.'"