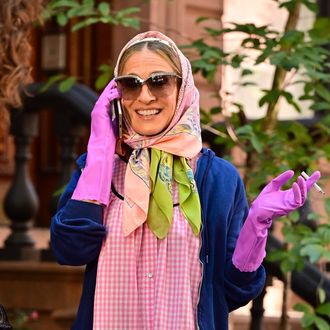 Photo: James Devaney/GC Images
Despite one-quarter of its iconic foursome being entirely absent, HBO Max is pressing on with its reboot of Sex and the City, which is called And Just Like That … If you weren't already aware of this project, I envy you, and I'm sorry to be the bearer of such news. This reboot has been poked, prodded, picked at, and feuded over for upwards of four years. And now that it has finally started filming, we are being cursed with daily photos from its shoots around New York City.
How this series can be filming so frequently for so long, I do not know. I just know this: Please do not show me another photo from the set. When the reboot comes out this December, I will sit down and watch it in all its deranged glory. I will let the disappearance of Samantha and whatever the show has to say about COVID-19 wash over me, and I will probably enjoy it. Until then, I cannot bear to behold another collection of wacky poses from Sarah Jessica Parker on a brownstone staircase.
The situation depicted above arrived in September like a baguette-toting harbinger of chaos. It should probably be noted that Patricia Field, the stylist responsible for the original series' many celebrated looks, is not returning to style the reboot because she wants to focus on Emily in Paris. With that in mind, know that this puzzling scene is only the beginning.
Here again is Parker, whose character, Carrie, appears to have resumed smoking (ugh). She's wearing a pink-gingham sort of nightgown dress with a scarf tied over her head à la A$AP Rocky.
Sounds kind of chic, right? If only. On top of the dress is a blue zip-up hoodie, and she seems to have just tossed away a cigarette with her lilac rubber gloves (??). Her cute little heels are also inexplicably unbuckled.
What on earth is going on here?!!?! Is this a fever-dream homage to Mrs. Doubtfire? A piece of performance art about Carrie's unwillingness to conform to the '60s-suburban-housewife life expected of her? A Yeezy campaign?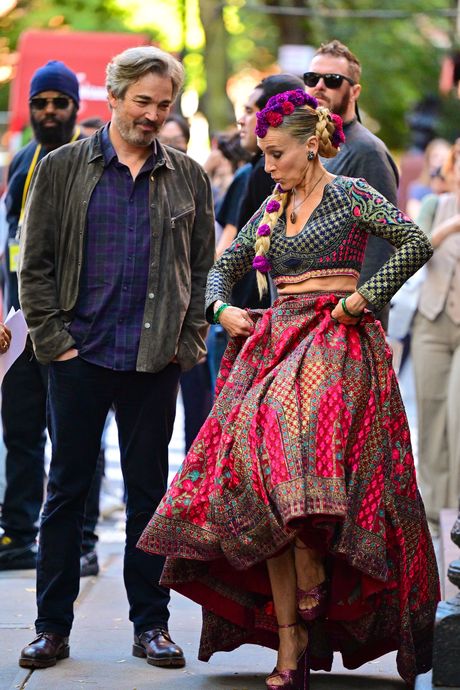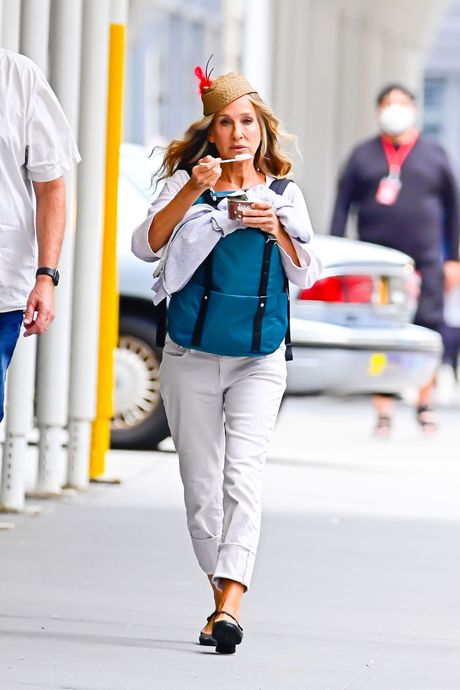 While I recognize the possibility that some of these may be staged antics intended to distract fans from potential spoilers (which the cast did while filming the second movie), this does not make them any less offensive to me. If the spirit of Lexi Featherston is listening, please: Shield us from more photos of the set of And Just Like That … My weary soul cannot handle even one more quirky hat!