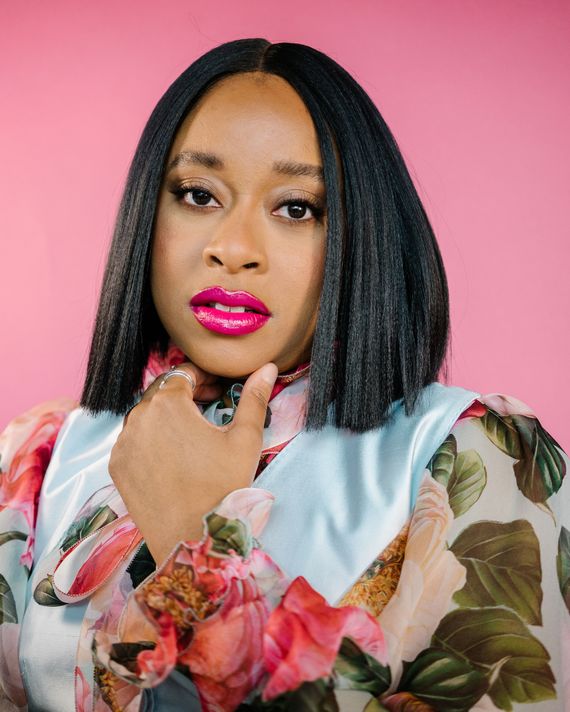 Phoebe Robinson is glowing when we sit down to chat over video. Her signature halo of curls frames her face as she settles into the living room of her immaculately decorated Brooklyn apartment she shares with her boyfriend of four years. Behind her, I can see touches of her taste: a bookshelf filled with titles arranged by color and a smart lamp with an orblike bulb set next to a comfortable-looking reading chair.
"I'm just gonna turn down these lights a little bit. It feels like I have an 18-wheeler in my face. I don't know why I have them on this bright," she says, laughing.
Well, that explains the glow. But even in the dimmer surroundings, the 37-year-old Robinson exudes an easy, practiced warmth. She's ready to chat as though we are old friends.
The past 18 months have been rough for everyone, Robinson included. At the onset of the pandemic, she had been primed to begin production on a number of projects, including a Comedy Central talk show and an HBO special, both of which shut down in 2020 as COVID-19 spread.
"Professionally speaking, it was a level of uncertainty I hadn't felt since 2016, when I was still freelancing and writing $50 articles for xoJane," she says, laughing.
But Robinson used lockdown to gear up for an all-out creative assault on 2021. Now that things are opening up again, she is ready to take on the world.
You might know Robinson best from her 2016 podcast turned HBO special, 2 Dope Queens, with longtime collaborator Jessica Williams or from her solo podcast effort Sooo Many White Guys, which focused on conversations with artists who … weren't white guys. But in the time since those shows ended, Robinson has leveled up in every way imaginable. The comedian is now a certified multi-hyphenate; she has added the titles author, producer, actress, and writer to her plate. Most curious, she's added book publisher, too.
In mid-2020, Robinson officially launched Tiny Reparations Books, an imprint of Penguin Random House and an arm of her Tiny Reparations production company. I can't help but ask about the name.
"It was something I used to joke about with Jessica," she says, "where we were always like, 'Oh, we're too ignorant to get reparations,' you know. We're not worthy of it like other people might be, but we can get sort of those tiny reparations along the way — like, a table frees up at a restaurant or we get cash back on something. This is our tiny reparations."
Serendipity might not quite be what social-justice advocates mean when they push for reparations, but Robinson clearly understands the real intent. Spurred by the 60-plus books she read during lockdown — "I love books so much. I like to smell my books, which is probably a little weird," she says — and the industrywide #PublishingPaidMe discussion back in June 2020, she sought to find a way to close the gap in remuneration and support that minority authors so often experience.
Per a press release, "Tiny Reparations Books recognizes that the publishing landscape isn't going to change until the actual work starts behind the scenes."
That's partly why the first slate of acquisitions for the imprint — which includes a collection of nonfiction essays from Lester Fabian Brathwaite and a debut novel from Kai Harris — consists entirely of diverse debut authors. "In my career, I've always had the mind-set of, If I'm gonna have a platform, I don't want it to just be me; I want to share the wealth," Robinson says. "So everything I do is partially informed by, How am I making space for other people? That's the real mission statement behind the imprint and the production company."
With her lifelong love of books and writing, the move into the role of publisher is a natural transition for her: "This is something I'd love to keep doing in my 60s and 70s. Trust me, I'm not gonna want to keep touring and doing stand-up. It's so physically demanding. If I can be in one place and read some manuscripts and eat my Activia yogurt, I will be thriving." A broad, jovial smile lights up her face when I quip that books are her retirement plan.
But for right now, Robinson is squarely inhabiting the role of author. Her latest book of essays, Please Don't Sit on My Bed in Your Outside Clothes — the first official release from her aforementioned imprint — was published just last month. The process of writing this book (her third) was much different under the constraints of the pandemic lockdown, but Robinson says she was glad to have her love of words be a distraction during a difficult time. That said, "Yeah, I don't think I ever want to write a book at my kitchen table again," she says.
Robinson says that like so many others, the pandemic made her reflective. She wanted a way to capture the things she was experiencing during an unprecedented time: "That's how the book came together. I wanted it to feel evergreen but still also be a little bit about this time."
And speaking of books, Robinson's second book, Everything's Trash, But It's Okay, is currently in development as a half-hour comedy pilot for Freeform. Released in 2018, the essay collection covers a wide range of topics, including intersectional feminism, toxic masculinity, and the pressures of beauty standards on women. Robinson will star in and write the show and will also serve as the executive producer alongside Black-ish's Jonathan Groff. It's another step in the direction of her industrywide takeover.
"I just want to create a really cool empire where we're putting out amazing work in the film/TV space and in the book space. I'd like to get back in the podcast space in a more background way. I want to do whatever my heart desires, but I don't have any plans to, like, do a Goop," she says, laughing. "I really only want to do things that are true to me and that are additive."
Next on the horizon is the long-awaited debut of Robinson's HBO special, the one that would have been filmed last year if not for COVID. Sorry, Harriet Tubman comes to HBO Max on October 14. Filmed at the Brooklyn Botanic Garden to better adhere to COVID safety protocols, the special tackles everything from watching civil-rights movies with a white partner to navigating lactose intolerance in the presence of "forever First Lady" Michelle Obama.
It's a tight set that showcases Robinson's unique brand of crass observational humor. She calls out the unnecessary fixation Americans have with circumcision and spends five minutes re-creating her explosive diarrhea. There's something for everyone. Robinson's longtime fans have a lot to look forward to as she moves into the next phase of her career. She has big plans, and with her production company and imprint, she's set to put them into action. For her, the work doesn't stop.
"I just feel like I'm really hitting my stride with the work I'm putting out there," she says. "I want to keep going. I want to keep topping myself and creating new things."
When I ask if she feels like she has made it, she's adamant that she hasn't. "Whenever I get asked that, I'm like … if I've made it, then that means I'm done," Robinson says. "And I feel as though I'm just getting started even though I've been doing this for 13 years. I just feel like each new level is a new set of problems. Like, I have this production company, but I'm unproven to so many people in the industry. So now I have to prove myself all over again. At each level, I'm just getting more and more gray hair as I go."