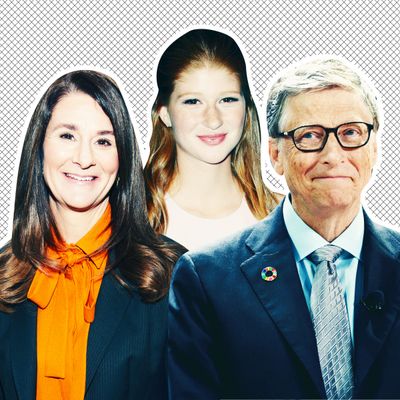 Jennifer Gates, daughter of Melinda and Bill Gates, got married this weekend.
Photo-Illustration: by The Cut; Photos: Getty Images
Jennifer Gates, the eldest of Bill and Melinda Gates's three children, got married to fellow equestrian Nayel Nassar this weekend. The preparation for the nuptials alone — which included a bachelorette party at the Rosewood Miramar Beach hotel in California and a stay at New York's Plaza Hotel, security detail in tow — cost more than some people spend on their entire ceremony. So, what does your actual wedding look like when your parents are among the wealthiest people in the world? In short, extravagant.
Per the New York Post, both Bill and Melinda Gates, who got divorced earlier this year, walked their daughter down the aisle. Jennifer wore a custom-designed Vera Wang gown, according to the Daily Mail. Coldplay and folk musician Harry Hudson were scheduled to perform at the reception. And that's just the beginning of what was reminiscent of a royal wedding.
The ceremony itself, which about 300 guests were expected to attend, took place at Jennifer's horse farm in North Salem, New York, according to the New York Post. A fitting location as Jennifer and Nassar, who got engaged in January 2020, are both decorated horse riders. (Nassar, who is rumored to also come from significant wealth, represented Egypt in the Tokyo Olympics this summer.) Of course, this wasn't just any old horse farm. It was the 124-acre, $16 million estate that Jennifer's parents gifted her after she graduated from Stanford in 2016. The estate's former owner was an heir to the person who founded Target.
Over the past two weeks, per the Post, staff members have been constructing massive pavilions complete with floor-to-ceiling glass windows on the estate's lawn as well as a specially constructed botanical garden where a cocktail hour took place. A source told the Daily Mail that the wedding would cost "at least $2 million," which is a pittance in comparison to actual royal weddings, which have cost upward of $70 million. Still, that's nearly ten times more than what the average wedding currently costs. And that number doesn't include the reported secret wedding that took place Friday night, when Jennifer and her husband had a Muslim ceremony.
While there's no word on extravagant gift bags for guests or whether the couple had a gift registry, we do know that Bill and Jennifer's father-daughter dance was to "Can You Feel the Love Tonight?" from The Lion King. I guess even billionaires can be Disney adults.
This post has been updated.