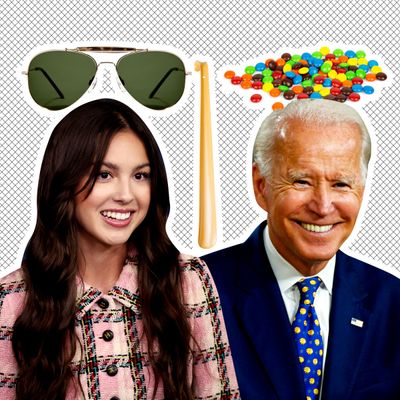 Photo-Illustration: by The Cut; Photos: Getty Images
Gifts are hard, and sometimes when you're at a loss, the best thing to do is throw caution to the wind and present your recipient with the most inscrutable collection of items you can find. This, I imagine, was the quandary facing President Biden the day Olivia Rodrigo came to the White House to help him promote the COVID-19 vaccine. What do you get an 18-year-old overnight sensation who can sing about heartbreak better than an entire generation of songwriters combined? More face stickers?
No, Biden said, too obvious. Instead, he selected three items to send Rodrigo home with: a pair of aviator sunglasses that match his own, a packet of M&M's, and what is allegedly an ice-cream scoop. Rodrigo, God bless her, mistook this item as a shoehorn and subsequently announced it on Jimmy Kimmel Live earlier this week. When Kimmel asked about the photo the pair took wearing matching aviators (Biden's signature), Rodrigo said, "He gave me those. He gave me some M&Ms, and he also gave me a shoehorn … it had the presidential emblem on it. I'm serious. It's in my house."
Now, realistically I know that Biden probably did not personally select these gifts, but the idea that they were given to Rodrigo on his behalf was a delight. A presidential shoehorn is, actually, a great gift. Sure, Rodrigo is young and spry and probably doesn't need to avoid stooping for the sake of back pain, but it's never too early to start. And generally speaking, weird niche gifts are the best kind, and if this gift is not weird and niche, I don't know what is.
Alas, reality came crashing down on Thursday, when Rodrigo revealed that, in fact, the shoehorn in question was an extremely shallow ice-cream scoop, which Rodrigo's mother had apparently misidentified. Rodrigo posted an Instagram thanking Jimmy Kimmel and added, "also thank u to my mom who told me this president biden ice cream scoop was a shoe horn and let me repeat it on national television lolllll."
I'm sorry, but in what world is this an ice-cream scoop? Are they serving flat discs of ice cream on Capitol Hill? I'm with Mrs. Rodrigo: This thing would certainly be put to better use slipping on shoes than serving cold treats. In any case, a deformed ice-cream scoop is just as quirky a gift as a non-deformed shoehorn, so Biden is still a good gift-giver. This leads me to the question: Where can I get my hands on a presidential shoehorn?
This post has been updated.