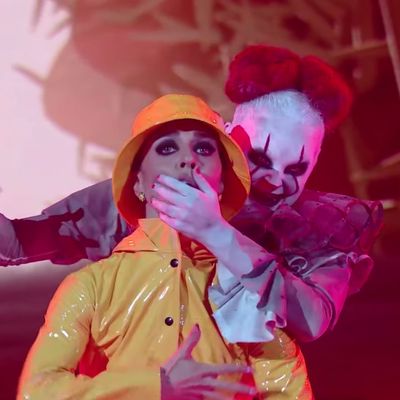 Would you believe me if I said this is JoJo Siwa as Pennywise?
Photo: Dancing With The Stars/Youtube
I'd like to rescind my previous statement that there is too much TV and amend it as follows: There is not enough TV featuring JoJo Siwa doing a jazz routine as a deranged clown. It was Horror Night on Monday's episode of Dancing With the Stars, which meant lots of sexy vampires, fake blood, and Olivia Jade in a Purge mask. That's all fine and great, but most important was Siwa and her partner, Jenna Johnson, dressed as It's Pennywise and Georgie, respectively, while dancing to a spooky version of "Anything Goes." It was, in a word, incredible.
If I could travel back in time, it would be to 1934. I would tell Cole Porter that one day, the titular song from his musical Anything Goes would be the backdrop to a jazz number performed by a child reality star turned YouTuber dressed as a cannibalistic clown and just … see how he reacts. Or perhaps I would go to 2018 and ask Siwa if she knew what she was about to do to the culture at large in a few years. Or maybe I'd travel back to earlier today, when I hadn't yet seen this DWTS performance, and tell past me to mentally, emotionally, and spiritually prepare myself to spend the rest of my days thinking of JoJo Siwa as Pennywise.
The performance is strange, creepy, funny, impressive, and seems unfair to all the contestants who, unlike Siwa, don't have a background in dance. The only other pairing that even came close on Monday's episode — and also received the only other perfect score of the evening — was NBA player Iman Shumpert and his partner, Daniella Karagach, who did a contemporary dance to the Us remix of "I Got 5 on It." He swung that little lady around like he had nothing to lose! Unfortunately, everything pales in comparison once you've seen JoJo Siwa in killer-clown makeup ripping off her dance partner's hand and pretending to eat it.
If she doesn't eventually do her own rendition of a voguing Babadook, I will sue.