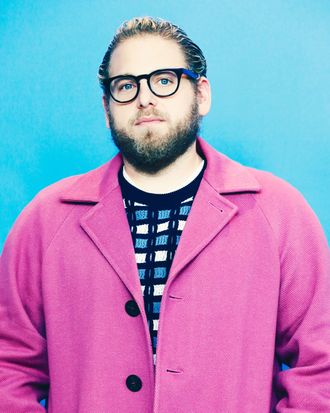 Photo: Kurt Krieger - Corbis/Corbis via Getty Images
In the interest of preserving his status as the most-Zen man in Hollywood, Jonah Hill is kindly requesting that nobody comment on his body, thank you very much. This is, of course, a perfectly reasonable ask and, frankly, one he shouldn't have to make, but here we are.
In a Notes-app Instagram post, Hill wrote, "I know you mean well but I kindly ask that you not comment on my body [heart emoji] good or bad I want to politely let you know it's not helpful and doesn't feel good. Much respect."
Excuse me?? "Much respect"? A heart emoji? Where is his rage? Where is his bitterness about working in an industry that enjoys assessing humans' worth based on the shape of their bodies? I understand this man was busy achieving nirvana while I was trapped in my apartment furiously knitting a scarf, but this level of tranquil self-knowledge and self-respect is truly remarkable. At least burn a copy of Us Weekly and light a joint on it or something?
It's not the first time Hill has spoken publicly about learning how to be comfortable in his body. Earlier this year, when a paparazzo managed to get photos of him changing out of a wet suit, he wrote, "I don't think I ever took my shirt off in a pool until I was in my mid 30s even in front of family and friends," adding that his insecurities as a kid were "exacerbated by years of public mockery about my body by press and interviewers." Now, he concluded, "I'm 37 and finally love and accept myself." So I do hope this unnecessarily kind request is observed. Let this man hang ten in peace!