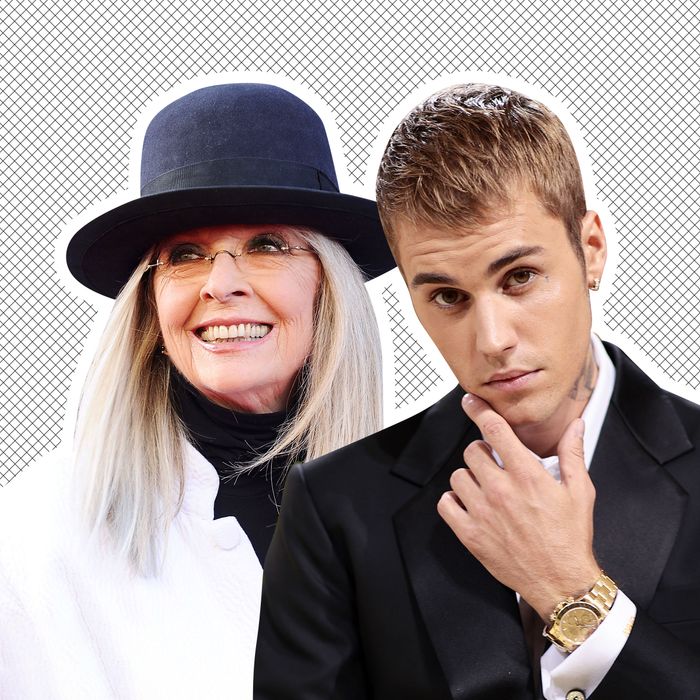 Photo-Illustration: by The Cut; Photos: Getty Images
2021 has been nothing if not the year of unexpected duos. Against all odds and giant back tattoos, we've welcomed the return of Bennifer. We've seen a lot — like, a lot a lot — of Machine Gun Kelly and Megan Fox along with fellow unexpected, horny couple Travis Barker and Kourtney Kardashian. And now, we have a pair truly no one could have predicted: Diane Keaton and Justin Bieber.
Fear not, Beliebers, the singer is still very much married to Hailey (and is apparently thinking about having a baby). However, his new video for "Ghost" stars none other than hat-loving, giant-pants-wearing Diane Keaton. "AM I DREAMING???" Keaton wrote on Instagram, and, to be honest, the idea of Diane Keaton starring in a Bieber video feels like one collective fever dream. She continued, still in all-caps, "WHAT AN HONOR IT WAS TO WORK WITH JUSTIN BIEBER AND HIS INCREDIBLE TEAM!!!" Please, if you will, watch this music-video teaser, and tell me Diane Keaton isn't having the time of her life:
She and Bieber are embracing by the ocean! They're dancing in a bar! They're sharing loving, familial looks as if they are actually related and not … Diane Keaton and Justin Bieber. There's even some sad leaning over a kitchen sink — a classic moody music-video move.
Apparently Keaton has been a Belieber for years. In a 2015 appearance on Ellen, she lost her damn mind over Bieber's Calvin Klein photos. Then, the singer came out from backstage to surprise her, and she screamed like … well, a Belieber would scream were they to be surprised by Justin Bieber.
So, congrats to Diane Keaton on fulfilling her dreams of being in a Justin Bieber music video. You can celebrate accordingly by watching the full video for "Ghost," in which she appears to play Bieber's grandma. In the video, she and Bieber are mourning a late grandfather, which may be an allusion to Bieber's paternal grandpa, who passed away at the beginning of this year. The video ends with Bieber setting up his grandma (Keaton) with another man, which feels a little odd, but otherwise, the video is admittedly pretty sweet.
Fingers crossed they released some behind-the-scenes content so we all get to enjoy more of Diane Keaton squealing at the sight of Justin Bieber.
This post has been updated.