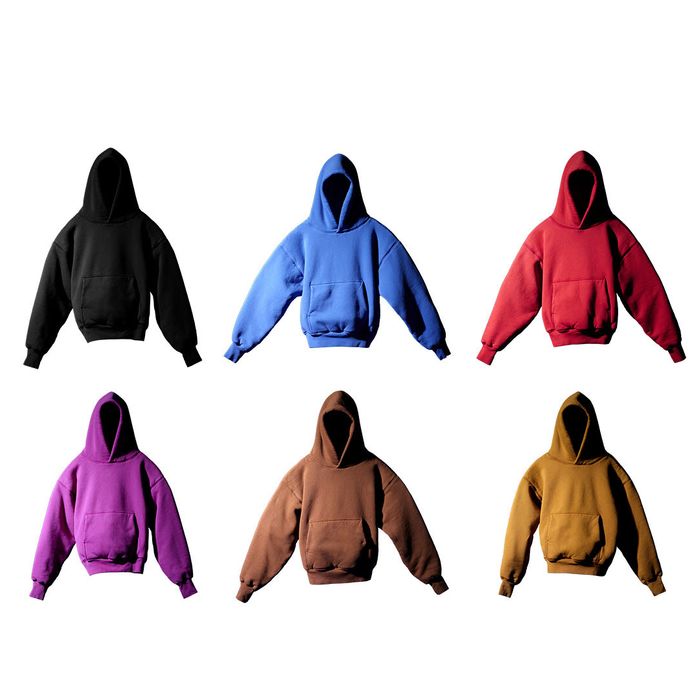 It's here!
Photo: Yeezy x Gap
It must be weird for Kanye West, who lives to frustrate and disappoint and troll his fans and his haters alike (and those of us who are both). He has made something that (1) people wanted, (2) arrived promptly, and (3) is resulting in mostly happy customers.
The Yeezy Gap hoodie is now arriving in homes all over the country, and people … overall aren't mad or sad?
"This actually is the perfect hoodie," wrote one, looking swell.
That does look good, friend!
And yes: Nearly everyone posting about it, or at least posting photos, is a bro. A sampling of man-praise: "I can't get over how good"; "feels amazing"; "coziest sweatshirt in my closet"; "gotta be at least 5 pounds, super warm, soft, the crop fit is perfect."
To this I can add: "Wrapped in its li'l paper bag, and it did not arrive at my house with a weird smell, which I really expected." I dunno why, I just figured Kanye would make them do something strange to it and it would smell gross!
The hoodie already has a strong resale value, going on Depop for fairly random prices between $110 and $1,234.56.
But it's not really made for me, or for lots of other people, even though my human incarnation, just like yours, is a divine and perfect gift exactly as it is. Like this human:
This is not an item that is going to look good on every human body. (That's how you know it's fashion, LOL.) The drop shoulder can make you look slightly wacky — the sleeve doesn't really begin at the edge of your shoulders, but farther down your arm. (It's also youthful, and my experience as a Not Young is that it made me feel like I was trying too hard.) And those of us with long torsos or generous bellies can suffer, too. This hoodie is short and cropped and tight, designed to either ride atop your belt or, if you're living in the early 2000s, atop your lower-back tattoo. As in:
This fellow is six-foot-one and 240 pounds and is wearing an XXL and gives it a meh.
So, as with nearly every piece of mainstream fashion — like almost everything in this world — it mildly favors the young and thin.
If you would like to be talked to about sizing, this is actually a helpful, not-spammy guide to buying something true to size for you.
His best advice: Don't just buy a huge size because you're shy — respect yourself!