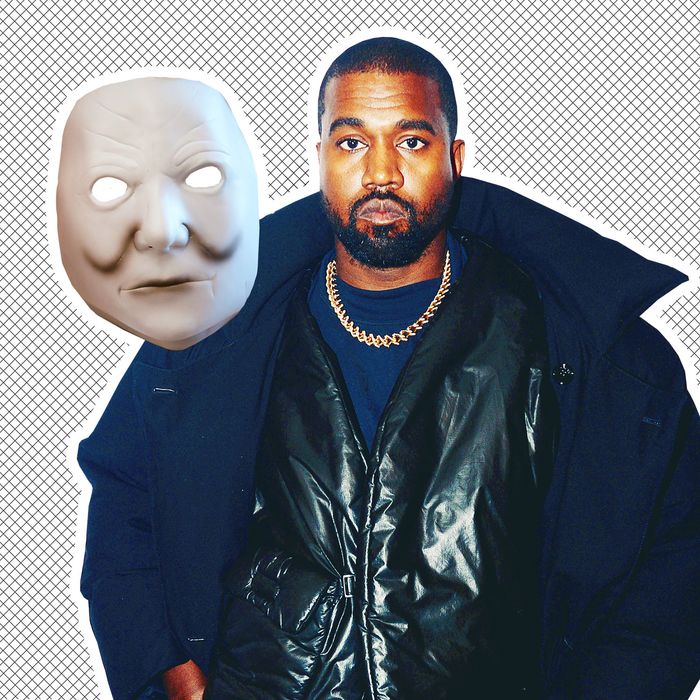 The being formerly known as Kanye West.
Photo-Illustration: The Cut; Photos: Getty Images
When's the last time you checked in with Kanye West? Has it been more than 24 hours? Well, settle in and catch up, because on Monday, Kanye West debuted a new name, a new haircut, and a new, um, face? Quite the busy boy!
Let's start with the most simple of the three changes. West filed for a name change on August 24, citing "personal reasons." Yesterday, a judge approved the rapper's name change, and now, he is just Ye. This is little surprise to anyone who's followed the rapper even peripherally: He's often referred to as Ye and, in 2018, released an album called Ye. The same year, he declared himself "the being formally known as Kanye West" in a tweet, adding, "I am YE." Anyway, the change is legal now.
Now, onto more complex changes. On Monday, Ye posted a picture of the back of his head on Instagram, showing off a new haircut with an extremely complicated pattern. He captioned the photo with a simple "¥," the Japanese yen and Chinese yuan symbol. What does it all mean? What is the pattern supposed to be? Unfortunately, other angles of the haircut don't help answer these questions. For now, I will presume it's one of those magic eye puzzles. Maybe if I stare at it long enough, I'll see a 3-D giraffe or something.
For his grand finale, Ye wore not one but two prosthetic masks. On Sunday, he was seen wearing a pale bluish-green mask that looked like … a knockoff version of Doctor Manhattan from Watchmen? A fish trying to disguise itself as a human? Words don't do it justice. The next day, he was at JFK airport wearing a different mask that looked like a nondescript white woman's face. Whatever image that conjures in your brain, I promise the real thing is worse.
What's next for Ye? A new voice? A different business venture? Will he suddenly be two inches taller? It is impossible to predict what this man will do next.