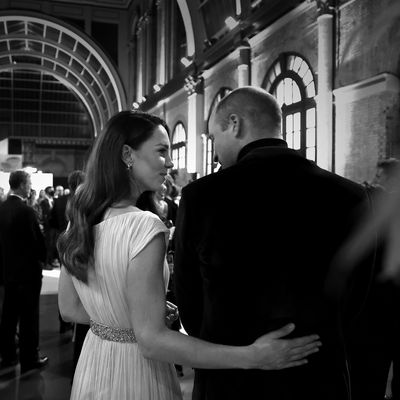 No!
Photo: Chris Jackson/Getty Images
All I want, in many contexts, is a little kiss — for myself, of course, but also for Bennifer, even for Ben Affleck and Matt Damon, though less often for these two, but that's probably down to overexposure. Anyway, if you are going to dangle "rare PDA pics" in front of my nose, I expect some degree of face-on-face action, and I do not think this is just because horndogs such as Machine Gun Kelly and Megan Fox or Kravis reset my expectations. I think the thirst for a little kiss is only natural, particularly when the couple in question almost never touches in front of the commoners. So you will have no problem understanding my disappointment over a raft of headlines promising public displays of affection from Kate Middleton and Prince William when all they can deliver is a brush of the lower back.
Here are the salacious details: At the Earthshot Prize (a new environmentalism award bestowed by William), the Duke and Duchess of Cambridge were seen leaning toward each other while laughing in "behind the scenes" pics. At one point, Kate went so far as to put her arm around her husband's waist and sort of brace his lumbar region — a nice gesture, to be sure, if also a regular-to-platonic one. Truly nothing to see here! Except for the outfit William, allegedly the world's sexiest bald man, selected. His green velvet blazer and black turtleneck are reportedly recycled, and they make him look like a movie villain. I approve.
Cosmopolitan reports that, because royal protocol governs the Windsors' every movement — specific etiquette exists even for Zoom — Will and Kate don't get to kiss in public very often, save their own wedding and a handful of polo matches. Subtle handsiness may be very suggestive in context, but still: Is this just another example of the British royals falling out of touch with their public, the majority of which would likely welcome some light lust from its future rulers? Is the queen, purportedly very young and hip, really so fussed about two marrieds having a kiss? Is this just me getting my hopes up after several tipsters reported to DeuxMoi that Will and Kate were making out, though photo evidence was not forthcoming? I don't know, but do better!