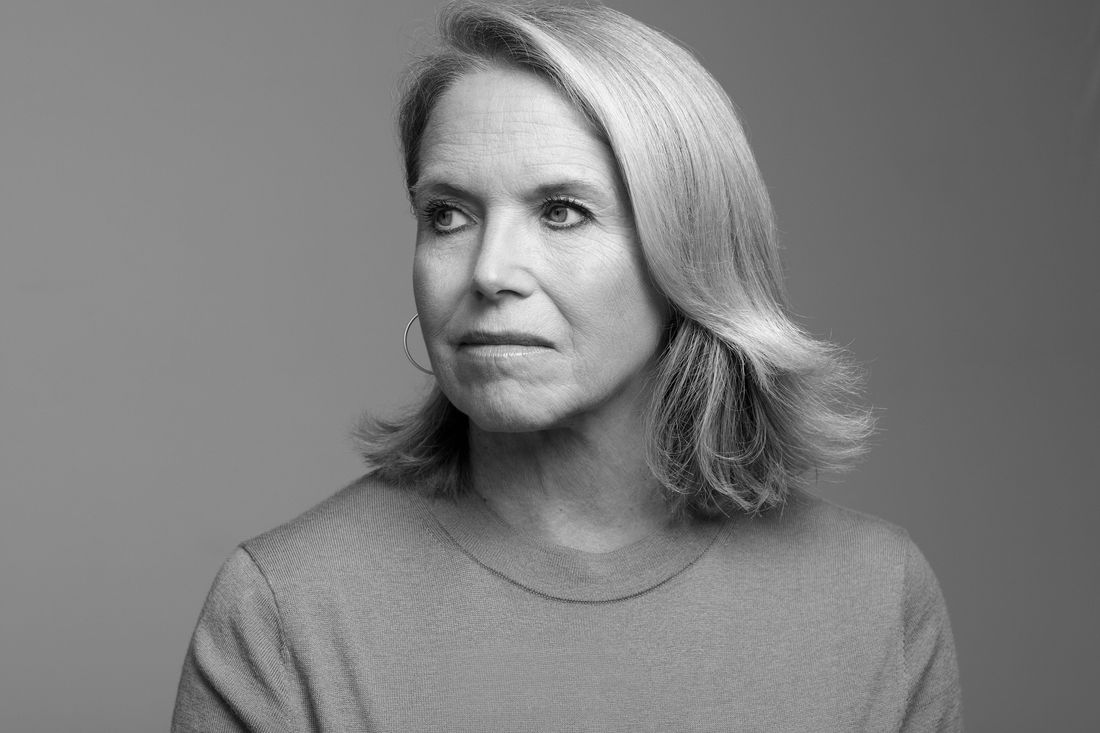 This article was featured in One Great Story, New York's reading recommendation newsletter. Sign up here to get it nightly.
In the weeks before the publication of her memoir, Going There, Katie Couric and I would play a dark little game called Funny or Fucked Up? Over coffee, lunch, and Zoom calls, I would bring up an anecdote from the book — like, say, the first sentence, which is about the time she ate so many carrots in the summer after college that her skin turned orange — and ask her what, exactly, her reader was supposed to make of it. The carrots were on account of the Scarsdale Diet, the deprivational fad to which the 22-year-old Couric had committed because her plan "was to look as good as possible for my wet hot American summer" before "finding a job — maybe even a career — in TV news."
That career would wind up being a blockbuster. At the peak of her fame at the turn of the millennium, which coincided with the heyday of the Today show and the primacy of the morning network-news program, she enjoyed near-unrivaled power. Along with a handful of other women — Barbara Walters, Diane Sawyer, Connie Chung, Oprah Winfrey — Couric was one of the people who determined how American television audiences understood the world.
Nowadays, acknowledgment of Couric's influence may prompt bafflement. She writes in the book about what it's like, having once been prey to telephoto lenses and tabloid headlines about her boyfriends, her bitchiness, and her (alleged) brow-lifts, to go unrecognized. The monolithic media landscape over which she presided has been splintered by cable news and social media; her former co-anchor Matt Lauer was fired because of a sexual-abuse scandal. The Today show, which she helmed for 15 years before embarking on a notoriously ill-fated stint as the anchor for CBS Evening News, has only a fraction of the audience it once commanded. The concept that any morning show could be a bona fide celebrity-maker is now mostly available via overheated fiction, especially the Apple TV+ drama The Morning Show, on which Jennifer Aniston plays a mercenary version of Couric.
But if you know, you know. During an early-September lunch in an outdoor covered booth on the Upper East Side, I noticed two middle-aged women walking past us six or seven times, staring at Couric, who had just come from the hospital where her 25-year-old daughter, Carrie, was being treated for an infection. Earlier in the week, Couric had shown up for a coffee date downtown wearing heels so tall and strappy that they'd drawn the compliments of a man on the street, but today she was makeup free, in sweats, wolfing down a plate of tuna tartare, having eaten nothing at the hospital. At one point, discussing the lurid stories that had been printed about her during her time in fame's barrel, she leaned over our table, pointing to the softly wrinkled skin around her eyes. "I mean, does this look like a face that had plastic surgery?" — and honestly, in a good way, it didn't. After she left to return to the hospital, I realized that the rubbernecking women had taken the booth neighboring ours. They stopped me as I got up: Was it her? Was it really her? They started phoning family members in excitement. Not so long ago, Katie Couric was really famous.
Then, in mid-September, the New York Post began a prepublication campaign against Couric, leaking context-free excerpts of Going There suggesting that the book is a catalogue of her mean-girl exploits, undermining other women and defending bad men. "Katie Couric Eviscerates Diane Sawyer," read one headline; "Katie Couric Reveals Herself to Be a Misogynistic Idiot — Don't Buy This Book," went another. The coverage, of course, only amped up interest in the memoir, and for the first time in a long time, at 64, she was once again being photographed with a long lens walking by herself on the beach near her Hamptons home. Couric told me she wasn't reading the wave of negative coverage as it spread from the newspapers to Twitter, but the rendering of her as cackling score-settler and catfighter clearly bothered her.
The book is a lot of things: a very juicy autobiography, full of sex and gossip and bizarre celebrity encounters and familial revelation, as well as an account of the rampant misogyny within the industry in which Couric rose. Like Couric herself, it is surprisingly spiky and weird and seemingly committed to absolute chaos. It is the work of someone who, if not ready to fully analyze her place in often-abusive hierarchies, is curious enough about those hierarchies to lay out her experiences in ways that are not flattering, either to the news business or to herself. Going There's near-compulsive accounting of journalistic sin hit its news apex in mid-October with the leak of her confession that in 2016, she chose not to air racist comments made by the late Ruth Bader Ginsburg in their entirety in part out of an impulse to protect the Supreme Court justice.
A celebrity tell-all that by its nature should have been interesting only to Couric's longtime fans turns out to be a startling and capacious historic document. Because while the problems of an exceptionally wealthy white woman may not amount to a hill of beans in 2021, the problems that do matter can be understood better via examination of the monstrously influential systems with which Couric is intimately familiar — the institutions that constrained this chipper embodiment of white femininity, while rewarding her with the ability to shape American perspectives on politics, race, gender, war, fame, culture, and money. Couric was, for two decades, at the center of this knot, which she is now trying to untangle in the most public fashion: figuring out, on the printed page, the harm these institutions did to her and the harm she did as a well-remunerated instrument of them.
And it starts with all those carrots. Funny or fucked up?
"Oh, fucked up," she told me without pause, emphasizing that it wasn't just her face but "my body, my skin, everything" that turned orange during that post-college, pre-television summer of caloric self-denial. It was an iteration of the disordered eating, including bulimia, that would plague her through her 20s. A week after our Upper East Side lunch, she reflexively apologized to me for having eaten all the tuna tartare.
You write about how your inspiration for being a journalist came from watching The Mary Tyler Moore Show," I said to Couric in early October, "how you watched 'the ambitious, independent heroine setting out for a career in TV news' and thought, while listening to the opening sequence: 'Gee … I want to turn the world on with my smile too!' I also remember Mary Tyler Moore, and I know you're being funny here, but when I read that line, it struck me hard how fucked up that particular evocation of ambition was."
"Maybe we're treating this a little too seriously," Couric responded with a familiar, come-on-girlfriend tone. Her cadence bounces regularly between light and serious, high- and low-pitched, surely the habit of a woman who for years had to handle transitions between segments on global famine and easy Halloween-decorating tips. "I just liked the theme song. It opened my eyes to know there was more for me out there than becoming Samantha Stephens," from Bewitched. "Mary Tyler Moore and Julia, with Diahann Carroll, told me you can have a career."
"Right, it told you that you could become a journalist. And you become the highest-paid journalist in the world. And the theme song for your ambition was about turning the world on. With your smile."
"Yeah. I guess that is kind of fucked up," she conceded. "Now that you're pointing that out."
Part of Couric's theory of her own case is borrowed from Freud: that anatomy is destiny. She really did turn the world on with her smile, reminding me at one point that that smile "is a very pleasant and palatable packaging for burning ambition." One of the questions that seems to plague her is: Pleasant for whom?
The book can read like a grim reflection on the impact of the male gaze, as when Couric recollects that her glamorous grandmother would walk on the balls of her feet even while barefoot to mimic the calf-flattering shape of high heels. In her house in suburban Virginia growing up, "dieting was a way of life," Couric writes. "My mom and sisters subsisted on cottage cheese and Tab." When she was at the University of Virginia, her mother would write to tell her to stay away from fried and starchy foods, what Couric calls "generational body shaming."
But Going There also subverts that gaze. Couric is fascinated by the visceral realities of female bodies. Her pages brim with descriptions of her self-induced vomiting, her daughter's explosive diarrhea, the surgery to reduce her fibrocystic breasts (the surgeon said that "it was like cutting through concrete"). When she was breast-feeding her children, she writes, her areolae were "yarmulke-size" (funny!); in her version of a "stupid human trick," she would sometimes give herself "a squeeze and squirt milk across the room." And when as a young reporter she drove from Washington, D.C., to Atlanta for a job at a brand-new cable-news network (CNN) in an un-air-conditioned Corolla, she writes that by the time she hit the Georgia state line, "I had a serious case of swamp ass."
But it was that smile — all gums and small teeth — that helped determine her trajectory in the male-dominated world of television. Couric started, right after that beta-carotene-tinged summer, as a peon at ABC News in Washington, where on her first day senior correspondent Sam Donaldson took one look at her, serenaded her in front of the whole office, then whisked her with him to a White House press briefing. Was she being anointed? Or something else? "I mean, why me, right?" she later recalled. "He could have grabbed any desk assistant. I guess I was new. He enjoyed shock value. Maybe he did it for show. Maybe it was like an animal who found his catch. I think it was sort of … performative. I don't know, a little preening and like a power play."
Then came that sweaty drive to Atlanta and her job at the fledgling CNN, where she was told by one executive that he "never wanted to see her on the air again" and by another that she was only successful because of her "breast size." She recounts Ted Turner assembling his troops and proclaiming that "we are going to beam this shit all over the world … because Russia is gonna bomb our ass." (When I laughingly told her that I'd tried to imagine a non-white-guy version of that speech, she replied, "Or a sober version of that speech … I'm kidding. I don't know if he was sober or not.")
After a stint as a Pentagon correspondent for NBC News, Couric became a national news correspondent at Today in 1989, just as it was going through a tricky transition: Its longtime host Jane Pauley was being replaced by the younger Deborah Norville, and its ratings had been slipping. Asked to fill in as a temporary co-host alongside Bryant Gumbel when Norville went on maternity leave in 1991, Couric didn't leave the chair, and Norville never came back.
Ratings surged in Couric's 15 years at Today, and she earned praise especially for some of the moments that complicated her famously "perky" image. After Couric's 1992 "ambush" of George H.W. Bush during what was supposed to be an interior-design tour with First Lady Barbara, Washington Post critic Tom Shales wrote that she had "proved again that she is worth her weight in gold. Actually, more. She doesn't weigh all that much." Couric writes that "in a piece overflowing with praise, that last sentence might have been my favorite part." ("Is your reaction there funny or fucked up, Katie?" "Fucked up.")
The smile was her trademark, her winning, telegenic draw. When she first took over at Today, her reputation for buoyancy was so vast that The New Yorker ran a cartoon of morose Eeyore in a full grin, with the caption "Katie Couric will do that to you." It helped her connect to people but also put her in a kind of box — the literal television box, yes, and a box of one-dimensional expectations. The smile conveyed her relatability and girl-next-door-ness, her vulnerability and good cheer, which was how Americans liked their news delivered over their cup of coffee, warm and cozy.
They liked it less in other contexts. Couric departed Today in 2006 for the storied CBS News division, where she became the first solo female host of a nightly news broadcast and a correspondent for 60 Minutes. It didn't go well. She writes about her five years at CBS with residual anger at some of the men she felt never took her seriously and did not want her to succeed, especially 60 Minutes' Jeff Fager, who, like so many of the male colleagues she worked with across networks, has since lost his job after reported allegations of sexual impropriety. (Couric writes that she suggested to reporters that they look into Fager's history.) "What a dick," she writes of one of the uncomfortable conversations she had with Fager, recalling her internal monologue: "Do not grovel. Do not grovel."
After CBS, Couric briefly hosted a syndicated talk show and then moved to Yahoo. She now runs her own 35-person company, Katie Couric Media. In addition to a daily newsletter of news stories and personal updates (the newsletter tracked every floral and design choice from her daughter Ellie's July wedding; recent weeks have featured regular promotion of Going There), the company develops and produces television and movie projects, including the Netflix series Unbelievable.
It has been a decade since she left CBS, but her frustration and self-recrimination about not landing the plane that was the evening-news broadcast remain palpable. In our conversations, we discussed how CBS could have covered the publication of her book, with Couric noting that it might have been a way for the network to convey some acknowledgment of its own role in the debacle — a way, she said, "to kind of say, 'We recognize some of the mistakes we made, some of the cultural issues we had.' " But then she waved off that possibility. "You know that's a pipe dream. We're still at NDAs-out-the-wazoo everywhere."
Her fixation on her failure at CBS is perplexing in part because the answers are so obvious: The format was dying. Evening news had seen its audiences drop by half by the time she took over, making the CBS job the ultimate glass cliff. As the late reporter David Carr noted at the time, "The fact that networks seem willing to concede that the best man for the job is clearly a woman means that it just isn't the same job anymore." And it mattered that she was this woman: a journalist who had been rewarded for 20 years for approaching audiences in certain feminized ways, thrust into a chair where audiences had been trained for 50 years to crave masculinized stentorian authority. It was a context shift in which all her bubbly femininity — previously her golden ticket — was made to look cringey, the punch line of a joke.
Couric's fizzy demeanor was also a factor in her long-running rivalry with Diane Sawyer of ABC's Good Morning America. At the time, not just tabloids but glossy magazines and newspapers covered the morning-show wars, always focusing on the hissing enmity between the female headliners. "Of course we were competitive," Couric told me, noting that networks had hundreds of millions of dollars riding on their news franchises. While the men of network news conveyed that public wrangling was beneath them, she pointedly asked, "You think Tom and Peter and Dan weren't ruthlessly competitive too?"
She recalls with some pride that Sawyer reportedly once said of her, "That woman must be stopped," and admits to a story that has been reported for years, that she once joked, nastily, after Sawyer landed an interview she'd wanted, "I wonder who she had to blow to get that." Clarifying that she's sure that neither she nor Sawyer ever actually performed fellatio to get a story, Couric explains that the metaphor stood for lots of the things both women did have to do: fluffing, buttering up, ingratiating themselves to sources.
With every description of the times that Sawyer got a leg up on her, there is a shadow of resentment that the former Nixon aide had an extra tool in her kit, and it was a sexualized one. Couric says that she has always liked, admired, and been a bit jealous of Sawyer personally. The way she sees it, their rivalry was predetermined; to paraphrase Jessica Rabbit, they were just drawn that way.
"Just look at the way she looks," Couric told me. "The packaging really shapes your perception. I'm short. I was a cheerleader. Would it be different if I were five-foot-11 and not that outgoing?" Her suggestion is that Sawyer's statuesque glamour set her up for a public role that would be unattainable for Couric herself. "Diane was everything I wasn't," she writes. "I was fun and feisty; Diane was sleek and sophisticated."
But the fact that Couric understands their differences to be determinative speaks volumes about the aesthetic dynamics in play surrounding gender, power, and race, recapitulating an old illusion: that the full range of female possibility extends all the way from Betty to Veronica, Ginger to Mary Ann, Katie to Diane. When, in reality, there's not actually that much difference between Couric and Sawyer, at least not when set against the backdrop of, say, the mass of humanity, who would never have had a chance at the jobs they held. Sure, one is shorter, one is blonder. But in the grand scheme of things: They look a lot alike.
Still, these minor differences between them get blown up and used to set them against each other — a tidy and diabolical way to ensure that even the few women permitted huge degrees of power will work against one another's success. In the New York Post's deranged coverage of Going There, it accused Couric of confessing to sabotaging the career of her younger colleague Ashleigh Banfield and insulting Norville, the former Today host. "I'm really too stunned and, frankly, hurt to comment," Norville told the Post in response. Banfield said that Couric's "words have really hit me hard. She was my North Star … the best morning-show host ever. I'm just gobsmacked."
The back-and-forth now happening between these former colleagues only underscores the dynamic Couric describes in her book, in which professional rivalries between women are incentivized by bosses and fetishized by the press. "Listen," Couric said to me, "they didn't want us to feel too secure. I wrote in the book about how they wanted to hire a woman because they loved her bee-stung lips and the way she looked in the safari jacket, and it just made me realize who was running the show."
I asked her if she ever took active steps to derail Banfield's career at NBC. "Absolutely not." Did she ever ask a producer not to give her a story? "Never. Never." Did she have anything to do with them taking away Banfield's phones, computer, desk, or office, as Banfield has suggested? "Never." (In response, Banfield told me, "I take issue with those answers, and I wish she had been more contrite about her behavior.")
In the book, Couric expresses remorse that the network's dynamics of succession — hiring Norville to push out Pauley; hiring her to push out Norville — discouraged women from being supportive of younger female colleagues. "I often wonder about my part in this," Couric writes, admitting that while she made efforts to mentor young female writers and producers who would not necessarily be in line to replace her, "I was way less welcoming when a charismatic female correspondent entered my sphere … I'd moved into Margo Channing territory: Someone younger and cuter was always around the corner." When she saw Banfield's star on the rise, she writes, "in that environment, mentorship sometimes felt like self-sabotage." Or, as she told me, "I never sabotaged them. I just didn't say, 'Hey, let me help you. Why don't you shadow me for the day so I can show you how I do my job?' " When asked if she had spoken to Banfield, she said, "I haven't talked to Ashleigh Banfield for 20 years, and I don't have a relationship with her."
Couric was not able to play Funny or Fucked Up? when it came to the story of her Jewishness. She was 10 when she first spied the Menorah at her mother's brother's house and it all became clear. In one of the funniest, most-fucked-up moments in the book, she recalls that her childhood thoughts instantly turned to the Tom Lehrer lyrics:
Oh the Protestants hate the Catholics

And the Catholics hate the Protestants




 And everybody hates the Jews.
Couric's mother's family, it turns out, was not Jewish in a way-back-in-the-old-country kind of way. It was Jewish in the her–mother's–grandparents–were–named–Isaac–and–Emma Frohsin kind of way. Couric's mother and uncle were both confirmed in a synagogue. And yet Couric wasn't told, and never spoke with her mother about why she wasn't told, even when, as an adult, she found her mother weeping after some of her friends made an anti-Semitic comment to her, not knowing she was Jewish. Nor did she and her mother talk about it when Couric adopted the conversational tic of saying "Oy" on Today and her mother told her she should stop because it made her sound "so … New York."
When I asked about what I described as her mother's self-loathing, Couric visibly tensed up, got defensive. "I hate to call it self-loathing because I'm protective of my mom," she said. "And I think if I had to analyze it posthumously, I would say it's more protective of my father … I think she worried that it would not be helpful to my dad professionally. Honestly, that's the only thing I can come up with." Couric's father's family was quite Christian, she explained, her paternal grandmother a Sunday-school teacher.
She returned to the subject the next time we spoke. "I started thinking about the term self-loathing, or self-hating Jew, " she said, "which has a very interesting provenance from the late '30s and actually means anti-Semitic Jew. I don't think my mom was that at all." She recalled finding a letter from her Jewish grandfather to her Jewish mother in which he advised her to mix with people outside her faith at school. "I would just ask respectfully to be a little tender with that," she said, "because my mom is no longer alive, and we have no idea how many micro-aggressions she experienced as a Jewish person in a world that was rife with anti-Semitism."
In Going There, Couric is tender with the people she loves most, several of whom are no longer alive: her mother and father, her late husband, to some degree even Matt Lauer (not dead but mercifully still off the air). Yet she is also unsparing in her revelations about them. It is not always clear whether Couric realizes that her compulsion toward rigorous description makes everyone's imperfections gleam, but what comes through is that all her faves are problematic.
Take the case of her father. One day, after his death, Couric's elder daughter, Ellie, pulls a copy of The Clansman: A Historical Romance of the Ku Klux Klan from his bookshelf, inscribed by Couric's grandmother (not the Jewish one) to Couric's dad: "This is such a valuable and beautiful book. Never destroy it. I want someone to own it who realizes how marvelous this book is … It is absolutely true, Mother." Couric is aghast, and her drive to make sense of the racial politics of her father, the son who indeed kept the book and its inscription, is palpable: She describes reading the clips he wrote as a southern newspaperman in the Jim Crow era, searching for clues about his perspective.
"It's not as if I didn't think about it," she told me, recalling how, for a television segment, she had once retraced the family's roots with her father when he was alive. "We conveniently left the uglier chapters of his family history out. I didn't really know that much about it at the time, but I think in the back of my head somewhere, I knew."
Perhaps the most complicated case is that of her first husband, the lawyer Jay Monahan, whom she married in 1989, when she was a Today correspondent. By the time she became co-anchor in 1991, she was pregnant with Ellie. The year after she gave birth to Carrie, in 1996, Monahan was diagnosed with colon cancer. He died in 1998.
A lot of space in Going There is devoted to Couric's intimate recollection of his illness, his decline, and the gutting aftermath of his death. It is deeply sad and intricately rendered. But tucked in are details that resist smooth sentimentality. In the pages before he bends in acute abdominal pain and their life takes a terrible turn, she lingers on the gaps that build in their marriage, on the decline of their sex life, on some of the resentment he feels about her level of fame and earning, and on her own pettiness when he is offered an on-air legal-correspondent gig at NBC. "Stay in your lane," she remembers thinking.
When she first meets Monahan at a party, she writes, he's the kind of guy who had previously dated "tall blondes whose dads had big jobs" — which is a vivid description of a vividly recognizable kind of guy and perhaps not one that Couric's maternal grandmother might call a mensch.
Couric's attempts to make sense of her family hits a truly wild crescendo when she takes Carrie, 2 when Monahan died and with no living memories of him, on a postgraduation tour through the South in 2018 to learn more about her late father's "passion for the Confederacy." Carrie's senior honors thesis at Stanford had wrestled with Monahan's obsessive hobby as a Civil War reenactor, and 20 years after his death, she and Couric meet up with some of his buddies. They unearth an old uniform with a package of Tums — which Monahan had used to medicate his troubled digestion before his cancer diagnosis — still in the pockets.
Even as Couric and Carrie cry at the memories of Jay evoked by his old friends, they recoil as the men argue that the removal of Confederate statuary is "cultural Marxism." Soon, it's all running together, mashed up, memories and realizations and unanswerable questions. There's the 40th-birthday party Couric threw for Monahan with its Old South theme, Virginia ham, and a Scarlett O'Hara Barbie doll. In what Couric calls her daughter's "unsparing" research, Carrie digs up a speech that her father gave to the United Daughters of the Confederacy in which he expressed fury at Senator Carol Moseley Braun's censure of Confederate-flag insignia, calling Moseley Braun's comments "venomous," decrying a press "obsessed with appearing politically correct," and providing his own southern pedigree thusly: "I married a native Virginian — indeed a University of Virginia graduate — who is the direct descendant of two Confederate veterans: one, a member of the … Alabama Rifles, and the other, a member of Nathan Bedford Forrest's Cavalry." Forrest was the first Grand Wizard of the Ku Klux Klan. The native Virginian whose family history Monahan was leveraging with the United Daughters of the Confederacy was, of course, Couric's.
It may be worth pausing here for just a second to consider that this is not your typical media tell-all.
And while Couric should not get too many cookies for publicly unearthing very gothic, very racist, very American family history, it is true that she could have just told the story about an elderly Larry King lunging at her across a couch and the time she once took a whole leftover ham Martha Stewart cooked on the Today set and served it to Monahan's family for Easter (funny!), collected her check, and peaced out. Instead, we're six layers deep into unreconstructed Confederate apologia from a man she loved and still mourns. This woman is clearly compelled to lay it all out, even if she's not terrifically comfortable with what people are going to divine after picking through the entrails.
"I didn't want to write an aren't-I-great book," she told me over Zoom one morning, trying to get moisturizer out of her eye. "I didn't want to sanitize my story, which I think reflects a lot of deep-seated societal issues that I think deserve reckoning and discussion. I wanted to describe a life in full and not sugarcoat things. I don't want my daughters to think I was perfect and always made the right decisions. I want them to know I learned and grew and evolved. Isn't that what we want people, ideally, to do?" ​​
The biggest prepublication controversy involved the revelation that Couric had decided not to publish remarks that Justice Ruth Bader Ginsburg had made about the NFL player Colin Kaepernick in 2016. Couric writes that the day after their taped conversation, a representative of the Supreme Court called and told her that the justice had misspoken and asked her to omit Ginsburg's responses, an extraordinary request that caused Couric unease, prompting her to call two friends, the conservative New York Times columnist David Brooks and former ABC News chief David Westin. Brooks told her to take the response out, since Ginsburg was old and likely didn't understand the question. Westin encouraged her to keep the response intact.
Couric split the difference, reporting that Ginsburg had called Kaepernick's taking a knee — a protest against racism and police brutality — "dumb" and "disrespectful," which earned Ginsburg deserved criticism at the time. But Couric left out a longer portion of Ginsburg's answer, which Couric prints for the first time in Going There. "It's contempt for a government that has made it possible for their parents and their grandparents to live a decent life," Ginsburg said, sounding uncomfortably like her ideological foe, and good friend, Antonin Scalia. "Which they probably could not have lived, in the places they came from … As they become older they realize that this was a youthful folly. And that's why education is important."
Couric's confession sits like a juicy steak for both the right-wing and left-wing press to sink its teeth into: proof that a purportedly liberal media (so liberal that it calls David Brooks for advice!) and empty pop feminism (so feminist that it calls David Brooks for advice!) cover for their own.
Why did she confess? "I think I put it in there because I still question myself," she told me. "I mean, I chose to write about it. I wanted to be honest about the conundrum I faced after her team called up and said she didn't understand the questions, that she hadn't been following the story, that she misspoke. Yet she was on the record, and she did answer the question."
In light of the backlash to the revelation, Couric said she wishes that she had laid out in more detail the harsh criticisms of Kaepernick that she did choose to air over the wishes of the Court and that she'd been more clear that she withheld the portion that she did in part because she found Ginsburg's answer "slightly ambiguous." But, yes, if she were making the choice now, she said she would have broadcast the full remarks: "I would have included it and let her clarify her thoughts afterward."
"It was something I really wrestled with," she said, arguing that journalists "may not want to talk about it, but a lot of them have faced these dilemmas," and that she "thought it was an important window into the fact that we all make these decisions and then make judgments."
And she's right. It is an important window, through which is visible one powerful white woman protecting another powerful white woman and calling two powerful white men for advice on how to transmit, or obscure, an expression of racism. "I've thought about that," Couric said when I described those dynamics to her. "Not as it was happening, but I've thought about it in retrospect. And I think it's a very valid point." Five years later, Couric said, her lens on race and power is very different than it was when she was conducting the Ginsburg interview. Her recollections shine a harsh light on everyone involved, but she said that that was part of the point of her project, as she herself has begun to pick out the patterns that may have only recently become discernible to her, but that she knows have been crucial to how the mainstream media unfurled many narratives during her tenure and beyond.
Couric is acknowledging that many of those narratives have been distorted by power and that she had a hand in the distortion — ranging from the time early in her career when she went undercover as a homeless person ("I'll be atoning for that piece for the rest of my days," she writes), to her participation in round-the-clock coverage of missing or murdered white women, to her slanted reporting of the beating of Reginald Denny after the Rodney King trial — all determined by her own position within racial, professional, and economic hierarchies. And while that acknowledgment may be little and late, this process of self-excavation is as instructive as it is unattractive.
As is her reckoning with Lauer. She writes in Going There that she did not know that Lauer, her close colleague of more than a decade, was having inappropriate sexual relationships with younger women in the office, women who said he harassed and objectified them, driving some out of journalism. She did not know because they did not tell her, even as at least one told other senior talent, including former Today anchor Ann Curry, who passed the report on to management — which in turn did nothing until reporters broke the story about Lauer at the height of the Me Too movement in 2017 and Lauer found himself fired overnight.
Couric's first instinct was to sympathize with him. "Matt, I am crushed," she wrote to him the day the story broke in texts she reproduces in her book. "I love you and care about you deeply. I am here. Please let me know if you want to talk. There will be better days ahead. Love, Katie." Lauer responded with a blown-kiss emoji. But as more of his exploits were reported — giving a junior employee a sex toy as a gift, dropping his pants in front of another colleague, bending yet another co-worker over and having sex with her until she passed out — their text exchanges grew more stilted and distant. It's abundantly clear from Couric-critical pieces written by Lauer's friends that he regards her as a liar and a hypocrite, and she acknowledges in Going There that some of the distance she put between them in the wake of the scandal was to protect her own reputation.
She writes, "My office was next to his. Our assistants shared a reception area. How had this happened right under my nose?" Whatever her wariness about up-and-coming talent like Banfield, Couric had prided herself on mentoring other young women at NBC, including one of Lauer's accusers. "Why had no one ever come to me?" she wonders. Like many of us, Couric struggled with questions of her own complicity and culpability. "The MeToo reckoning taught me a lot," she writes, "including that people aren't all bad or all good."
"We live in such a black-and-white world right now," she told me the day before returning to Today to publicize her book, reflecting on the public estimations of her own goodness or badness in the early coverage. "I think it's interesting that I wrote this book in part because I'd been pigeonholed. And it's ironic that people are trying to squeeze me into a container again."
I told Couric that in our family, we have an oft-repeated phrase, drawn from an old children's book, The Fire Cat, in which the hero Pickles is simply and squarely told, "Pickles, you are not a bad cat. You are not a good cat. You are good and bad. And bad and good."
Couric's eyes lit up. "RBG is Pickles!" she said. "I'm Pickles!"
If the Eeyore cartoon defined the Couric of the 1990s, she writes that she later came to embody a different New Yorker cartoon, this one of two women ice-skating in Central Park, above the caption, "One day I woke up and just couldn't do perky anymore."
Over the course of her career, she went from being rendered in the press as adorable, to tragic in her widowhood, to finally a bitch on wheels. In the New York Times in 2005, Alessandra Stanley wrote that "at the first sound of her peremptory voice and clickety stiletto heels, people dart behind doors and douse the lights."
Couric traces some of the change in perception to the aesthetic alterations she made in the years after Monahan died. "I grew my hair out. I became a little vampier," she said. "I think I sort of liked being considered hot. I had never really been hot. I think I probably was on the prowl, and I wanted to look sexier, and I got a lot of positive feedback for it, which honestly I think I got off on." (In the premiere episode of The Morning Show, an executive pointedly says of Aniston's character, "Nobody wants to watch a widow get fucked.") She added, "I think probably some viewers were like, 'What happened to my next-door neighbor who I'd have a cup of coffee with in the morning, who had that dark bob? Now she thinks she's all that.' " (Couric married the financier John Molner in 2014.)
But the relationship between Couric and her adoring audience was never direct, never real friendship, much less the kind of family NBC was always touting. It was always mediated. Couric regularly stresses that the perkiness wasn't an act, that she was really herself on TV. But she also writes in a forward to the book, "On TV, you are larger than life but somehow smaller, too, a neatly cropped version of who you are. Real life — the complications and contradictions, the messy parts — remains outside the frame."
So vampy Katie was transmitted via tabloids and papers as a kind of transgression against bereaved Katie; hot Katie was a perversion of cute Katie. In the broad public imagination, there is no room for reality, in which one single woman can be angry, loving, warm, erotic, hungry, self-abnegating, demanding, smart, silly, good and bad, funny and fucked up, all in a single instant, because she is a full human.
For decades, it was the job of women like Couric to present not only a flattened version of themselves, but a flattened version of the other powerful women they interviewed. Couric asked Anita Hill why she continued to work for Clarence Thomas even after she was allegedly harassed, asked the trans performer Carmen Carrera about her "private parts," and asked First Lady Hillary Clinton in a 1993 interview, "You don't walk around the White House saying 'Out, damned spot?,' " to which Clinton replied, "Only when I'm trying to wash something" — oh my God, it was all so profoundly unfunny and so super fucked up.
Couric's career arc can be understood not just as about her own perpetuation of sexist tropes, nor about how she changed her hair; it is more broadly an endlessly relevant cautionary tale: what happens when a woman who is embraced as ordinary, one of us, a girl next door … gets powerful because of her ordinariness. And with that new authority, promptly becomes extraordinary, unrecognizable, unrelatable, threatening. "The avatar of the All-American girl became problematic," Couric told me, "as I became more powerful. It's still very challenging to square those two things."
What's a little galling about the criticism that has rained down on Couric in the run-up to her book's publication — criticism that is to some degree deserved — is that she is being pilloried for doing the heavy, ugly lifting of investigating nasty power dynamics and her own participation in them, while her male peers, many of whom have bombed out in their own spectacular ways, aren't sitting around asking themselves hard questions. They're hosting late-night news programs, writing memoirs about having found God, and firing off angry press releases about how all the oral, vaginal, and anal sex they had with underlings at their workplace was "mutual and completely consensual."
Couric feels good, she says, about having written "this holistic account" of her life. "But then I sort of wake up and feel like, Oh God, is this … It makes me feel very … what's it called?"
"Exposed?"
"Yeah but when you cut a piece of chicken? It's flayed. I feel very flayed in a way."
When we first started talking in September, she claimed to be prepared for whatever was to come. She told me that she had recently ordered a wine-mom T-shirt that reads I'M NOT FOR EVERYONE. It's an interesting daily affirmation for Couric, whose career was based on being appealing to, well, pretty much everyone. She acknowledged how deeply it was ingrained in her that her job was to be "likable," which she said often translates into being "as inoffensive as possible, palatable for mass consumption." She chose to write this book, she said, because "now I'm liberated to be who I am, warts and all, and I don't have to worry about somebody saying, 'I don't like her; I'm not going to watch her.'"
I asked her if it's going to be hard to be cast as unlikable. "Is it hard? I think it's life. It's life if you're living it honestly."