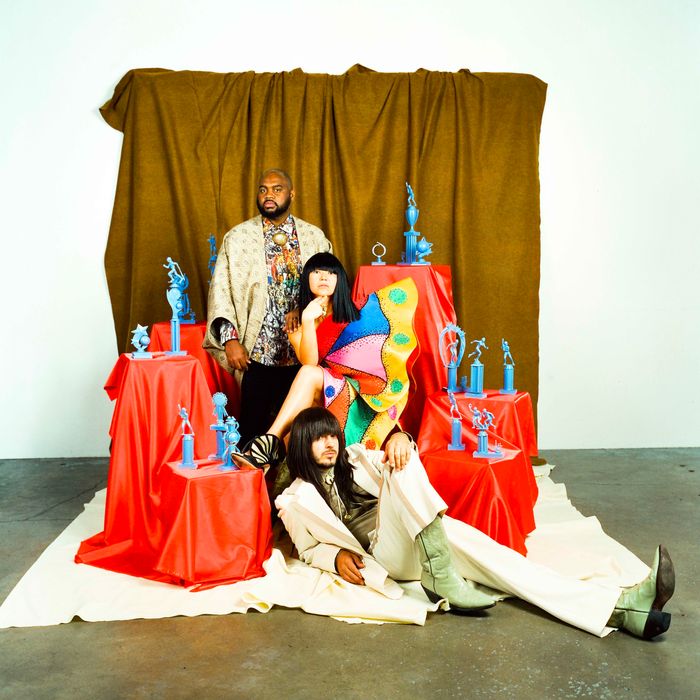 Laura Lee, in the middle, wearing a colorful rhinestone butterfly dress.
Photo: Courtesy of Khruangbin
Laura Lee, the bassist in the band Khruangbin, has worn more than 600 different looks while performing. She made a decision to never wear the same outfit twice in 2011, during her first show.
"If I wore the same outfit for every show, then you really can't tell the difference between shows every time somebody takes a picture of us," she said. "My outfit is the thing that distinguishes every single show from each other."
Khruangbin — a Texas-born band made up of Lee, guitarist Mark Speer, and drummer Donald Johnson Jr. — has released three albums with soul, surf-rock, psychedelic, dub, and funk influences. Their 2015 debut, The Universe Smiles Upon You, drew on '60s Thai rock, while their second record, Con Todo el Mundo, weaved together Spanish and Middle Eastern influences. Their latest album, Mordechai, was released last summer, and the trio is set to tour after the pandemic.
As with Khruangbin's music, which can't be pigeonholed into any one genre, Lee experiments with her personal style. Onstage, in a jet-black Cleopatra wig, Lee is known by her stage name and alter ego Laura Leezy.
"There are so many clothes in the world," she said. "I try things on constantly, which is equally exhausting and fun."
What's the intention behind never wearing the same look twice?
Somewhere between sentimental and powerful is where I land in my clothes. I'm a romantic sap, which I try to communicate through music. My clothes are my "drag" — the thing I put on to feel fearless. But over the past year and a half, since not being onstage and going through what the whole world went through together, I wanted to come back acknowledging that had happened. I didn't want to come back wearing a sequin bodysuit and knee-high boots, because it didn't feel right. We needed to honor what we had just been through. I also wanted to honor a change within myself, feeling more grounded. So I'll wear more tailored suits with shoulder pads and have more of an elegant push. Not to say that I won't wear hot pants, because I'm sure they will come out.
Your drag?
I love drag so much. It's what I watch to get inspired for shows, really, because they perform with such intention and focus, and they really give all of themselves up there. What I can do, too, is bring it visually and smize and have dance moves.
Do you do it all yourself?
I met stylist Megan Boyes, who is a godsend, before our very first proper tour. Ever since I met her in the bathroom of a club, she's been with me. At three in the morning, she gave me her number, and we connected. She really fought hard for me, especially at the beginning, when we were brand new and nobody knew who we were. She would really have to beg people to lend me clothes.
Talk me through figuring out what outfit to wear for each show.
Megan and I have been working together for years, so now she has a handle on what is really feasible for me to wear onstage because of my guitar. She will send me a box before a tour or while I'm on the road. Once I get it, I try on every single thing and take pictures on my phone of every single outfit, which is like my own archive. Then when I get to the venue or see the stage at a festival, I'll look through the photos and think about which one is the right one. That can be based on inspiration from the venue itself or literally just how I'm feeling or if my thighs are wanting to be bigger than usual. Megan always pushes me because there are definitely things she sends that I wouldn't pick out for myself.
What's one of the wildest things you've worn?
When we played Brooklyn Steel two nights in a row, I had just become friends with Virgil Abloh, and he got me two pieces to wear for both of those shows. One of them had a giant skirt that had four petals, kind of X-shaped. I couldn't fit through the door, and we had to have several people help me get to the stage. The next night, I was in head-to-toe chartreuse snakeskin. The dress was long-sleeved and had a big, poofy bottom. The whole thing was basically in the dark, so when certain lights were on me on stage, I was like a giant gorgeous snake blob. I remember the next week being at the grocery store and seeing Serena Williams in the same dress on the cover of a magazine. I was like, Oh my God, I wore the same dress that Serena wore!
Who's your style inspiration?
My mom, who I'm seeing more in myself. For being on the lower end of the income spectrum, she really made the most out of what we could afford. She had Patrick Nagel prints on the wall and these white-and-black-striped sofas with red pillows. It was such a bold statement, but in a simple way. She loves patterns and colors, which are two things that are featured quite heavily in my wardrobe. And I also love Carmen Miranda, David Bowie, and Prince — people that pushed the boundaries. They're also all fun, which is an important aspect for shows.
This all seems pretty opposite of Khruangbin's chill music.
That was by design. When we first started playing live, a concern was that people would fall asleep. I mean, not really, but at the time, it wasn't like people had the albums at home and digested them and knew the songs. So we asked ourselves, What are we going to do to draw people in? With the instrumental nature of the music and a lot of the songs being on the moodier side, we wanted to counteract that with big looks onstage.
What about your bandmates? How do you all fit together?
Mark always wears a suit, and DJ always wears some sort of poncho or cape. They both wear cowboy boots. It's all really starting to develop. In the same way that you hear our songs and know unmistakably it's Khruangbin, we should look that way too. From the beginning, I've thought there's nobody else that looks like us. Before we had production and fancy outfits, we were recognizable through our multicultural-ness. It's an important facet of who we are because we came together to make something unique and beautiful. We don't all come from the same community; we didn't all go to the same high school. And we kind of hoped that our audience would reflect us in that way. It's really beautiful to look out into a crowd and see all walks of life. It feels really special.