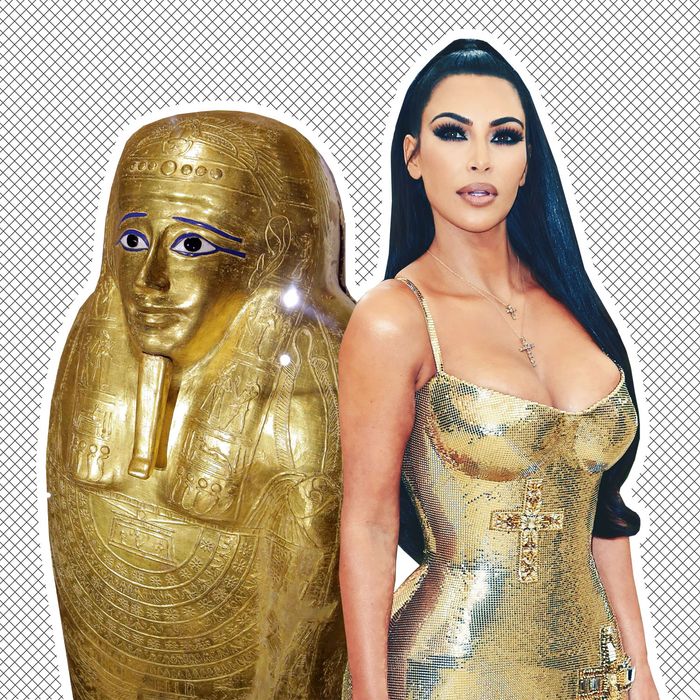 The golden coffin of Nedjemankh (left) and Kim Kardashian West (right).
Photo-Illustration: The Cut; Photos: Shutterstock, Getty Images
Reality-TV personality, attorney in training, shapewear wizard — professionally speaking, Kim Kardashian West has range, but did you know she helped catalyze the return of a stolen coffin to Egypt? Huh?? What??? How.
The artifact in question: one golden coffin of Nedjemankh, purchased by New York's Metropolitan Museum of Art in 2017 and repatriated in September 2019, after the district attorney's office discovered it had been looted from Minya during the 2011 revolution. From there, smugglers trafficked it through the United Arab Emirates and into Germany, where the manager of Hamburg's Dionysos Gallery, Roben Dib, allegedly restored it and furnished fake export papers. From there, the coffin (which once contained the mummified corpse of "a high-ranking priest of the ram-headed god Heryshef of Herakleopolis," per the Met) went to France, where antiquities dealers arranged its sale to the Met for $4 million. None of which is news, but maybe you are wondering what, or who, put the coffin on the DA's radar to begin with. That would be Kim Kardashian West.
At the 2018 Met Gala, Kardashian West posed with the coffin, seemingly because it matched her golden dress, and probably not because she had any idea she was about to crack this case wide open. According to an episode of the podcast Art Bust: Scandalous Stories of the Art World, a photo of Kardashian West and Nedjemankh's casket (captured by photographer Landon Nordeman for the New York Times) caught the attention of one original thief, who "had been double-crossed by his partners," per the podcast. A source with direct knowledge of the situation emailed the photo to the head of the DA's antiquities-trafficking unit, Matthew Bogdanos, explaining that the looter had never been paid for digging up the coffin and secreting it out of Europe; now, this person was ready for revenge. When he looked at the photo, Bogdanos recognized the "glittering icon" standing next to a celeb and looking "bemused," its "eyebrows raised as if mildly surprised by the surroundings in which it found itself awake for the first time since it was buried 2,000 years ago," the podcast explains. As it turned out, Bogdanos had been after this smuggling ring for five years.
Investigators went back and hammered out the sales chain, the artifact's true identity confirmed by the mummified finger bone (!) left lurking in the coffin after thieves dumped its priestly contents. Anyway, the Met complied with the probe and Nedjemankh's final resting box went back to Egypt, thanks in part to Kardashian West's influencing. Famous for nothing? Try famous for inadvertently blowing the lid off an antiquities-trafficking operation, thanks.