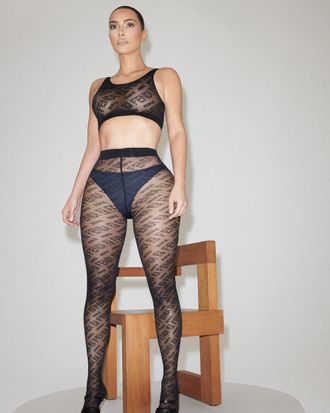 Fendi artistic director Kim Jones is collaborating with Kim Kardashian West and her loungewear brand, Skims, on a collection featuring leggings, dresses, and undergarments. Should we call the collaboration Fims or Fendims? We don't know, but we do know a few things about the capsule.
While Skims is usually on the more affordable side — shapewear starts at $28, and loungewear (including cozy robes) starts at slightly over $100 — the price point of this collection is a lot closer to Fendi's, with leggings going for more than $1,000 and a puffer coat with a logomania interior for $2,950. The most expensive piece is a $4,200 leather dress, Kardashian West's favorite item in the collection.
Skims is undeniably great. According to Jones, he knew he wanted to do a collaboration with Kardashian West when, during a Fendi meeting, all of the women at the table stopped to look at their phones — they were awaiting a Skims release.
The pair took inspiration from Karl Lagerfeld's 1979 Fendi collection with its twisted tube tops and pops of color. Kardashian West refers to the juxtaposition of the brands as "tension." "It's the tension that excites me," she said in a press release. (She's referring to the innovation of Skims' fabrics and formfitting apparel coupled with the luxury, quality, and neutral tones of Fendi.)
Kardashian West gave a sneak peek at the pieces on her Instagram Stories yesterday, and there's lots of logomania. The collection includes a vibrant fuchsia swimsuit adorned with the iconic Fendi F, athleisure, body-hugging dresses in an array of colors, sheer undergarments, and loungewear like bodysuits and jumpsuits. Apparently, a lot of the pieces are reversible.
And it's not only clothing. The capsule features some Fendi accessories, including its Peekaboo and Fendi First bag in bright new colors.
The collection will be available November 9 at 9 a.m. ET on the exclusive e-commerce site fendiskims.com, and if this drop is anything like a normal one from Skims, it's going to sell out immediately.