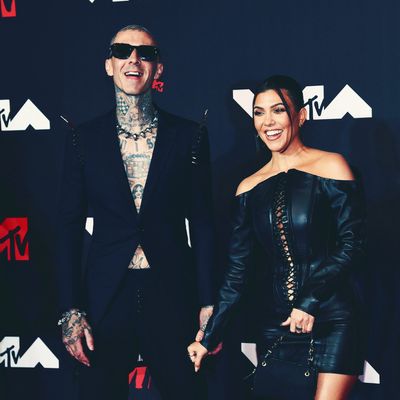 A match made in Hot Topic.
Photo: Evan Agostini/Invision/AP/Shutterstock
After months of touching tongues and being as openly horny as Instagram would allow, Kourtney Kardashian and Travis Barker are engaged. Sunday night, Kardashian posted a couple pictures of herself and Barker on the beach surrounded by roses and candles, captioning the photos, "forever." Lest there be any confusion, Barker also commented, "FOREVER," and Kim Kardashian West dropped some ring emojis in the comments. Modern love is wild.
Per TMZ, the couple got engaged at a hotel in Montecito, accompanied by a handful of friends and family who were there to celebrate. Judging from TMZ's photos, a few passersby were also there to witness the beach engagement, which … can you imagine taking a walk with your dog and just stumbling into this proposal? Anyway, Barker's 15-year-old daughter, Alabama, also shared some photos from the evening on her Instagram Story, including one that shows off Kardashian's huge oval-cut engagement ring.
Though Barker and Kardashian only started dating at the beginning of this year, their engagement doesn't come as much of a surprise. The two have made out on red carpets, given each other haircuts, posted about their personalized orgasm candles, and morphed their styles into one beautiful goth wardrobe. It was only a matter of time before they made it legal. Fingers crossed MGK and Megan Fox follow suit, so we can get the chaotic double wedding we all deserve.
Congrats to these two and, once again, apologies to Scott Disick, who I'm sure will have something to say about the news.