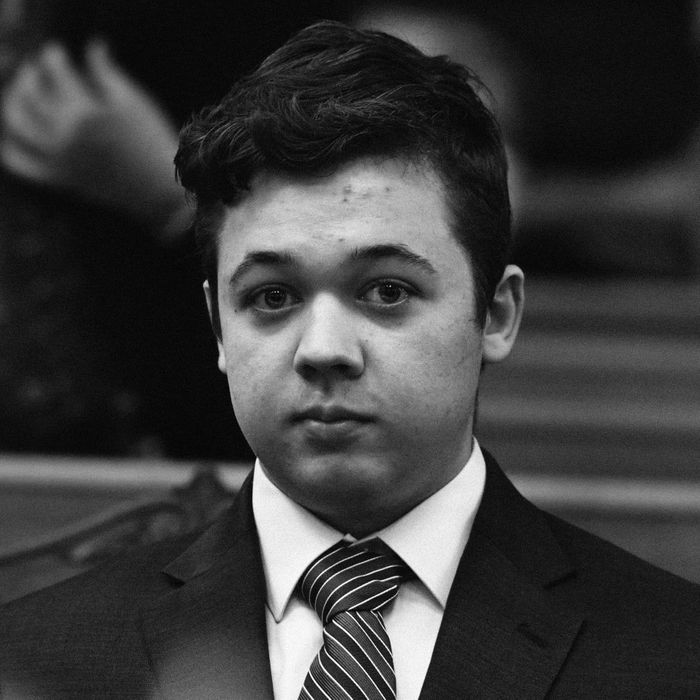 Kyle Rittenhouse
Photo: Mark Hertzberg/AP/Shutterstock
In August of last year, a teenager named Kyle Rittenhouse reportedly embedded himself in a self-proclaimed militia standing outside a Kenosha, Wisconsin, gas station — purportedly protecting it from protesters calling for police accountability in the shooting of Jacob Blake. After the demonstrators reached the gas station, a chaotic confrontation followed. According to video footage from the event, Rittenhouse, armed with an AR-15 rifle, fired off a series of shots as he was chased away from the scene. Now, Rittenhouse faces homicide charges for the two people he allegedly killed — Joseph Rosenbaum and Anthony Huber — and attempted homicide for allegedly wounding Gaige Grosskreutz.
When Rittenhouse's trial begins next week, however, the judge will not allow attorneys to refer to Rosenbaum, Huber, and Grosskreutz as "victims," though he is open to "rioters," "looters," and "arsonists," context permitting.
"The word 'victim' is a loaded, loaded word," County Judge Bruce Schroeder said Monday. "'Alleged victim' is a cousin to it." On Wednesday, Schroeder affirmed that ruling, adding, "If more than one of them were engaged in arson, rioting, looting, I'm not going to tell the defense you can't call them that." According to the Chicago Tribune, he warned Rittenhouse's defense team against using disparaging words in their opening statements, but granted that if their evidence supports their claims by the time closing statements arrive, defense attorney Mark Richards "can demonize them if he wants, if he thinks it will win points with the jury."
Rittenhouse has pleaded not guilty to the charges, and per the Tribune, his team plans to paint the shots fired as self-defense, and to target Rosenbaum as the aggressor that night. The Tribune also reports that Schroeder will allow "evidence of bad behavior that night" to show the jury how Rittenhouse may have perceived the people he shot. Assistant District Attorney Thomas Binger reportedly disagreed with that decision, saying, "This is an attempt to tell the jury that Mr. Rosenbaum was a bad guy who deserved to die." Binger also pointed out that the terms "looter," "rioter," and "arsonist" are loaded, too. "Riot" was the term often used by those on the right — and the police — to ascribe violence and lawlessness to widespread demands for justice throughout summer 2020. Yet Grosskreutz, the only person shot who survived, was not charged with any crimes.
Tucker Carlson, for one, has described Rittenhouse as a "hero." It's also worth noting that Rittenhouse's social-media presence reflects an ideological alignment with "Blue Lives Matter," a pro-police countermovement to Black Lives Matter. On the night in question, it appears Rittenhouse was one of the armed men who received water from police handing out bottles to the militia. His trial begins on November 1.