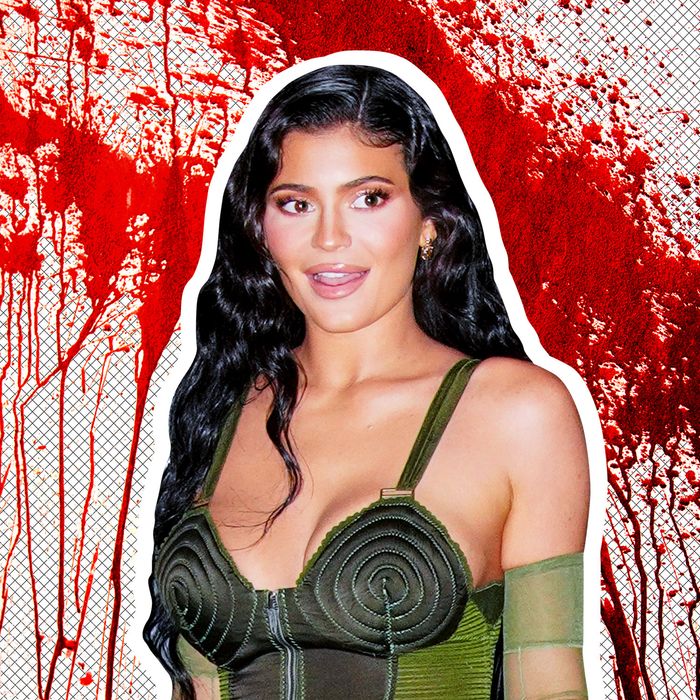 Photo-Illustration: The Cut. Photos: Getty Images
So you did it. You clicked on the link about Kylie Jenner's bloody photo shoot. What happened that brought you to this point? Did you remember to use an incognito browser? No need to feel too ashamed! I'm here as well. Anyway, now that you've joined me, here is Kylie Jenner naked and covered in fake blood:
Satisfied? Disturbed? Concerned about our collective mental well-being? A little bit of all three? Perhaps it will make you feel better to know that this is, in fact, a promotional photo shoot for Jenner's newest makeup launch, Kylie X A Nightmare on Elm Street Collection, which will be available today at 3 p.m. PST. Did that make you feel better? What if I tell you there's a shimmery red eye shadow called Come to Freddy and a lip-and-cheek stain that looks like gloopy fake blood? Does that help?
If you turned to the Instagram comments to find … I don't know, solace? An explanation? You likely came up short. Half of the comments are heart eyes and fire emoji. The other half is some iteration of "Me when I sneeze on my period." Khloé Kardashian called her sister "my beautiful baby," which just shows the power of familial love.
To me, the bloody photo shoot is giving a little bit of Jennifer's Body. It's giving some Carrie (Karrie??). It's mostly giving that vampire facial Kim Kardashian got once. Regardless, it's mesmerizing, and I cannot look away.