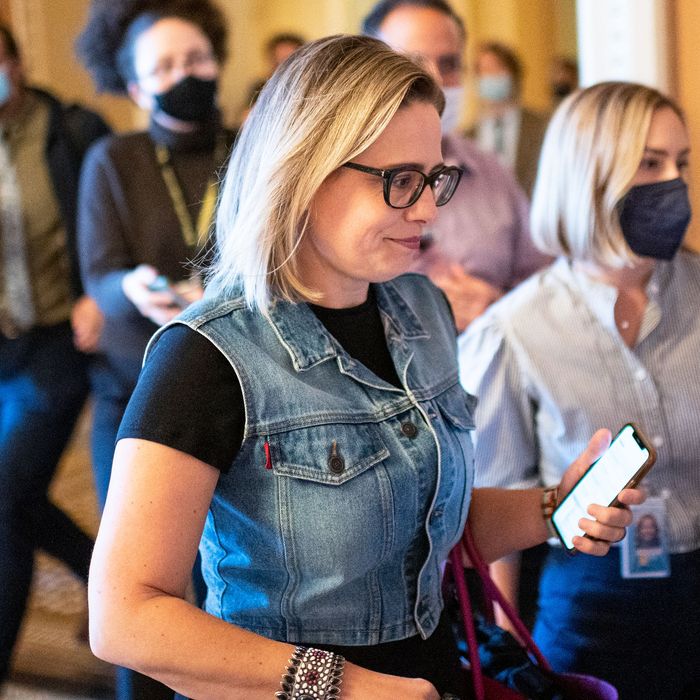 Photo: Bill Clark/CQ-Roll Call, Inc via Getty Images
Yesterday, our nation's most cheugy senator, Kyrsten Sinema, gave a sassy thumbs up to the idea of wearing a denim vest on the senate floor. Like many of Sinema's outfits, which may gently be described as "wacky," the vest has caused an uproar.
It's difficult to pin down exactly what is so deeply offensive about this fashion choice. A few journalists have pointed out that there is a sign forbidding denim from entering the Senate chamber. Honestly, I couldn't care less about the dress code, but it is nice to know that higher powers than the Arizona Democrat are also vehemently opposed to her wearing this garment.
But back to the vest itself. It is, on the surface, not criminally bad. It's not bedazzled, which is a low bar, but still. It does have some kind of heart-shaped, vine-y embroidery going on, which isn't working in its favor.
You know what? I feel bad for this vest. It's not the vest's fault that Sinema threw it over her Ironman-sculpted shoulders (with a cap-sleeve tee) and strode boldly into the Senate chamber in flagrant defiance of the universe's codes of conduct. Is the vest set on denying Americans health care and a minimum wage? I don't think so. I bet it even supports Biden's spending bill.
No, this vest was just sitting in a rockabilly Etsy collection, minding its own business, when Sinema scooped it up with the fervor of one thousand pastel wigs. I want a better future for this vest. Too bad Sinema will probably vote no on that one, too.