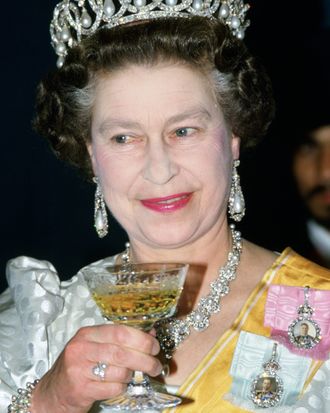 Photo: Tim Graham Photo Library via Getty Images
When you are the literal queen of England, one would assume you'd have free rein to do whatever you please. While this is mostly true — I mean, why else would we all be okay with this 95-year-old woman carrying around a meat hook in her purse — there is at least one group of people the queen must answer to: her doctors.
According to Vanity Fair, Queen Elizabeth II has been advised to give up alcohol ahead of next year's Platinum Jubilee, which will celebrate her 70th year as queen. She will be the first British royal to hit the 70-year milestone, which is why her doctors want her to be in tip-top shape. Unfortunately, that means she will need to forgo her nightly martinis, an evening ritual the queen has become known for — so much so that Buckingham Palace released its own brand of gin last year.
"It's not really a big deal for her, she is not a big drinker," a family friend told Vanity Fair, which is contrary to previous rumors that the queen drinks four cocktails a day. (Imagine: Her Majesty, sipping a White Claw with her afternoon tea.) Still, the family friend said, "it seems a trifle unfair that at this stage in her life she's having to give up one of very few pleasures." You'd assume that someone with the level of wealth and power as the queen would have more than "very few" pleasures, but I agree: This 95-year-old lady should imbibe however she pleases. It's been barely six months since her husband died, and she has already outlived British life expectancy by 14 years. Let Lilibet have her little drinks!
For what it's worth, it seems the restriction is temporary and just to ensure she's healthy for her "busy autumn schedule" as well as the Platinum Jubilee celebrations next June. She's also still allowed to have drinks for "special occasions." And you know what is a special occasion? Being the queen! Give Her Majesty a martini, you plebes!