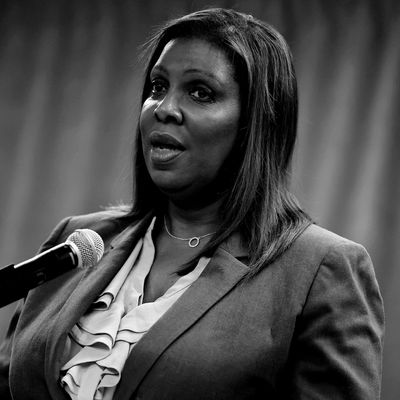 Letitia James
Photo: Michael M. Santiago/Getty Images
New York Attorney General Letitia James is running for governor, having officially announced her bid with a campaign video on Friday. She is the first Democratic challenger to incumbent governor Kathy Hochul, who took office after Andrew Cuomo stepped down in August — a decision catalyzed by the probe into sexual-misconduct allegations that James's office led. If elected, James would be the first Black woman to become governor in the country.
"I'm running for Governor of New York because I have the experience, vision, and courage to take on the powerful on behalf of all New Yorkers," she wrote in a tweet alongside the video.
Though speculation that James intended to run has circulated for weeks, her official announcement comes one day after the Albany County Sheriff's office filed a criminal complaint against Cuomo. An investigator accused him of forcible touching for allegedly having groped staffer Brittany Commisso's breast at the governor's mansion late last year. Commisso's account is one of many included in a report James's office released in August, saying Cuomo had "sexually harassed several women," his misconduct allegedly including inappropriate "suggestive" language, unwanted physical contact, and assault. Cuomo, who now faces a misdemeanor charge stemming from Commisso's case, continues to deny wrongdoing through his lawyer, Rita Glavin. She says her client "never assaulted anyone" and that the complaint against him amounts to a political power grab. James, meanwhile, said, "The criminal charge brought today against Mr. Cuomo for forcible touching further validates the findings in our report."
James became the first woman of color to hold statewide office in New York in 2018, when she was elected attorney general. Before that, she served as New York City's public advocate, the first woman of color to hold a citywide office. She also sat on the City Council after working as a public defender for the Legal Aid Society. Right now, the contest is between her and Hochul, formerly the lieutenant governor and now the first woman ever to run New York. But according to the New York Times, current NYC public advocate Jumaane Williams and Mayor Bill de Blasio may also get into the race.