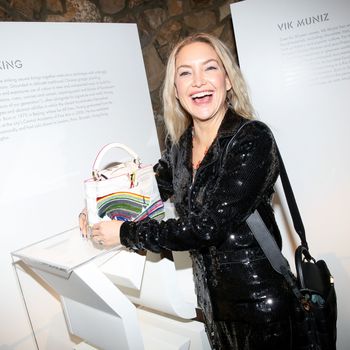 Photo: Marc Patrick/BFA.com
On Wednesday, Louis Vuitton launched its third release of the ​​Artycapucines collection. The 2021 collection features different artists' takes on the Capucines bag, a crossbody known for its distinctive shape.
The latest release includes designs by Gregor Hildebrandt, Donna Huanca, Huang Yuxing, Vik Muniz, Paola Pivi, and Zeng Fanzhi. To celebrate this launch, Miranda Kerr and Jamie Mizrahi hosted a dinner on behalf of Louis Vuitton to display the bags and show off the range of design each artist employed.
A sampling of the bags is shown below. Huanca, an interdisciplinary artist, used 3-D printing and embroidery to create the design and texture of her bag. Muniz, an artist and photographer, inlaid 154 icons to his design, some made of reused leather. Pivi, a multimedia artist, used embroidery to add the leather leopard onto the canvas. Each bag will be available in a limited edition of 200 and released in stores worldwide on October 29.