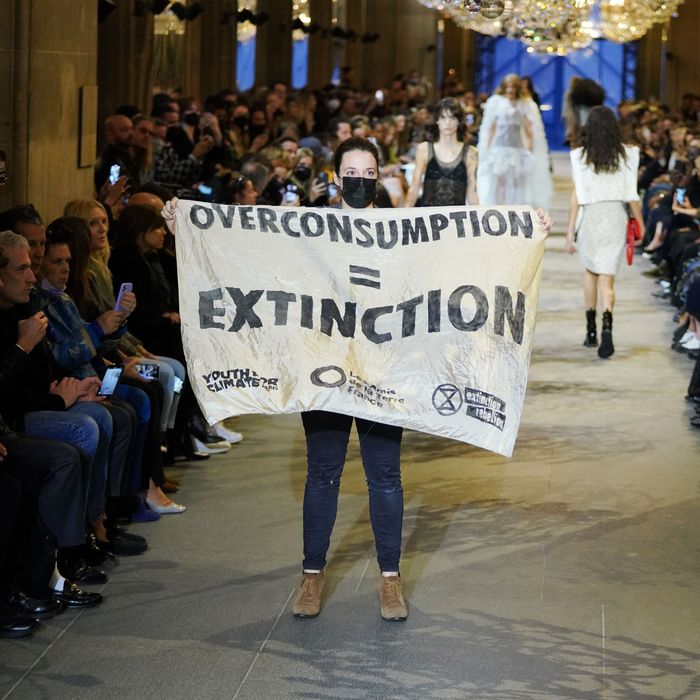 Photo: Francois Durand/Getty Images
It is a long-standing tradition that Louis Vuitton closes out Paris Fashion Week and, in turn, a long month of runway shows that starts in New York. But the grand finale of the spring 2022 collections was a little different this season. On Tuesday afternoon, a protester joined models on the catwalk, carrying a large fabric sign that read, "OVERCONSUMPTION = EXTINCTION." Eventually, the protester was tackled by security guards and carried off.
Three climate activist groups were mentioned at the bottom of the protester's sign and have publicly aligned themselves with the action: the French chapters of Extinction Rebellion, Youth for Climate, and Friends of the Earth. A group of protesters with signs also gathered outside the Louvre, where the show took place.
"La planète brûle mais la mode regarde ailleurs," wrote Extinction Rebellion France in an Instagram post. This translates roughly to "The planet is burning, but fashion looks elsewhere."
At the show, models walked down a chandelier-lined catwalk to a fittingly ominous soundtrack. The collection was an "invitation to le grand bal of Time," according to a press release, and mixed Marie Antoinette–style panniers and classic French opulence with more modern, casual garments like blue jeans. The brand has yet to make a public comment on today's events.