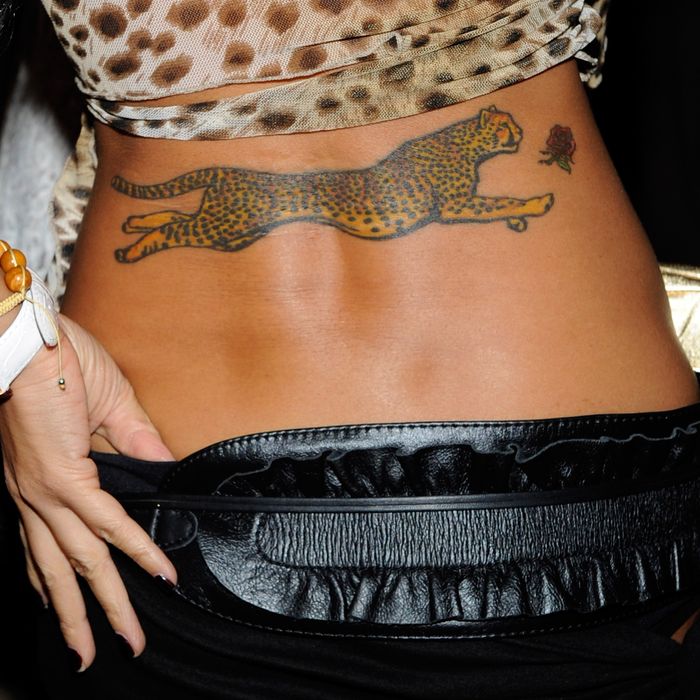 Photo: Ethan Miller/2010 Getty Images
In the last year, Austin C. Pratt-Fusari, a tattoo artist at Sacred Tattoo on Broadway, has noticed a resurgence in lower-back tattoos. Women in particular, he said, are coming in and asking for so-called "tramp stamps" again — more than they have in about a decade.
"When I first started tattooing around 2005, they were quite common," recalls Pratt-Fusari. "But then, probably around 2011, they just stopped."
Men and women have been tattooing their lower backs in one way or another since forever. But the "tramp stamp," specifically, became a thing in the late '90s and early 2000s, when the era's biggest celebrities — Britney Spears, Aaliyah, Nicole Richie, Lindsay Lohan — all started getting tattoos of butterflies and crosses and such on their lower backs, and flaunting them with fashions of the day like crop tops and low-rise jeans.
Inevitably, the Y2K aesthetic fell out of favor — not to mention the word "tramp," which is steeped in misogyny — and the pendulum eventually swung toward a more minimalist, more covered-up style. By 2013, Nicole Richie had gotten her lower-back tattoo removed, saying, "It just means a certain thing, and I don't want to be part of that group."
But now, after a year and a half of a pandemic, the tramp stamp is being welcomed back with open arms, it seems, along with Y2K style in general. Earlier this year, Paloma Wool released a capsule collection that was an ode to lower-back tattoos of the '90s. "Time to Get a Tramp Stamp," read a Jezebel headline in April of 2020. And just this past month, Collina Strada showed belts inspired by lower-back tattoos for its spring 2022 collection.
"The jewelry we did this season is not only a nod to Y2K trends but also a cheeky gesture to a lot of my friends, some of whom are embracing the tattoos they got as teens, and others who are revisiting the idea now that they're adults," designer Hillary Taymour told the Cut.
Miley Cyrus also revealed what seemed to be a fresh a lower-back tattoo this summer. "I don't know what y'all wanna see more," she wrote in an Instagram post. "My back tat or me in concert!"
Years ago, trend forecasters predicted that low-rise jeans would return in 2020, as Gen Z discovered the Y2K aesthetic for the first time, and as the siren song of unflattering pants began to wear off on millennials. But did low-rise jeans and crop tops and exposed thongs come first, and then lower back tattoos? (This is what happened in 2002, according to the Wall Street Journal.) Or was it the other way around?
"I think on a surface level, there's the Y2K thing with low-rise jeans," said Phoebe Satterwhite, a 21-year-old full-time hand-poke tattoo artist living in Bushwick, who decided to get a "tramp stamp" earlier this year when another artist, whose lower-back work artist she admired, announced that she was visiting New York. (She's certainly been wearing more low-rise bottoms than she was before she got the tattoo.)
"But on a deeper level, it's also about sexual liberation and taking back the idea that being a tramp is a bad thing," she added of the trend, pointing to the rise in 2020 of "Bimbo TikTok" (or BimboTok for short), an online community aimed at reclaiming the word, and celebrating hyper-femininity.
Ella Rene, 20, a student in New York who has been thinking about getting a lower-back tattoo this year, noticed that when she brought up the idea to her friends, they were a lot more accepting. "I used to get weird looks, but now every time I mention it to someone, they're like, 'Oh, yeah, definitely. Do that.'" Originally, she wanted a flaming butterfly on her lower back as an ironic joke, inspired by the influencer María Bernad, who got something similar in June. "But the more I thought about it," Rene said, "the more I was like, Wait, this is actually really cute."
The images may be the same — butterflies, lotus flowers, filigree — but the design of lower back tattoos today is generally much thinner and softer — more flow — according to both Pratt-Fusari and Phoebe, who says this aesthetic will "probably age better."
In many ways, a lot has changed in the last ten years. It's generally accepted that having a tramp stamp doesn't make you a "tramp" — but if that's what you're going for, that's cool, too. Tattoos have also become less taboo in general, and continue to grow in popularity.
"They've become more of a fashion statement, without really the thought of the permanence of the idea," said Pratt-Fusari. Lately, he's been doing cover-ups for clients who got a tattoo maybe three months ago, as opposed to three years ago, and who just want to try something different.
Mary Anderson, who runs her own consulting agency, started working with Ephemeral, a "made-to-fade" tattoo parlor this year. "I've always liked the idea of a tramp stamp," she said. "I'm a Millennial. I'm a child of that era. But it was a huge commitment." A tattoo that faded over time, however, felt like less of a risk, and she was finally able to go for it. "I was like, I'm going to lean into it and get the most ridiculous tramp stamp that I can get, which is a Playboy bunny. My teenage 'hot girl' desires came full circle."
If she were to ever get it done permanently, she'd get it a little higher, she said, seeing that she's not a huge fan of low-rise bottoms.
The return of low-rise jeans may have been inevitable, but what no one predicted was that 2020 would also bring a global pandemic. A year ago, Pratt-Fusari would have told you that his industry was never going to bounce back. "I was convinced that no one was going to want to risk doing anything mildly dangerous," he said. Tattooing is intimate work, with bodily fluids involved.
But he was wrong. Following lockdown, not only did people want tattoos again, they also seemed to crave being something of a "hot mess" as well, to borrow a popular Y2K phrase. They wanted to show some skin, and celebrate their bodies, as opposed to shielding them. They wanted to take risks, within reason.
"I have an urge to be more fun and experimental with my appearance in general," said Rene, who got five tattoos in the past year, after moving out of her parents' house. "I just care so much less about what people think because I had so much time at home alone to experiment."
"It's empowering to know that we have these bodies that survived this," Pratt-Fusari concluded. "And maybe we want to decorate them with some designs, whether they have to do with the pandemic, or not."