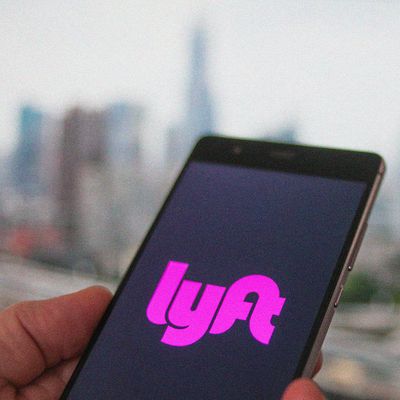 Lyft logged more than 4,000 sexual-assault complaints in a three-year period.
Photo: Jaap Arriens/NurPhoto via Getty Images
The rideshare company Lyft disclosed some long-awaited safety statistics on Thursday, including more than 1,800 sexual-assault reports in 2019. Between 2017 and 2019, the app logged over 4,000 such reports, including 360 rape complaints. As Lyft itself acknowledged in a statement, "sexual assault is chronically underreported," so the true numbers may actually be higher.
"While safety incidents on our platform are incredibly rare, we realize that even one is too many," Lyft's head of policy development and research, Jennifer Brandenburger, wrote in a blog post about the findings. "Behind every report is a real person and real experience, and our goal is to make each Lyft ride as safe as we possibly can."
Lyft's report breaks down sexual assaults into five categories and, for each one, says alleged offenses represented a fraction of one percent of its total rides. And although the overall number of assaults rose from year to year, Lyft maintains that because the number of riders also increased, the assault rate actually dropped 19 percent. Regardless, it does not necessarily inspire confidence that the incidence of misconduct has grown with the business.
And then, Lyft has dragged its feet releasing the data: According to CNN, both Lyft and Uber pledged to release numbers on their platforms' safety in May 2018, amid rising reports of sexual abuse in rideshares. Uber's data, which published in December 2019, documented at least 3,000 sexual assaults between 2017 and 2018 that the company knew of. The Washington Post says Lyft did not comment on the report's timing, but maybe it is worth noting that dozens of customers have filed lawsuits against the company (and against Uber), arguing that Lyft did not do enough to keep them safe, nor necessarily help them if they chose to file claims.
Brandenburger's statement says the company is "always working to make Lyft as safe as possible," having implemented background checks for drivers, location-sharing features, and emergency assistance from a 24/7 safety team. But Rachel Abrams, an attorney representing about 1,000 complainants in these cases, told the New York Times that Lyft still failed to adequately address concerns: "They are not implementing the safety measures to prevent this from happening, and it's just going to keep mounting."