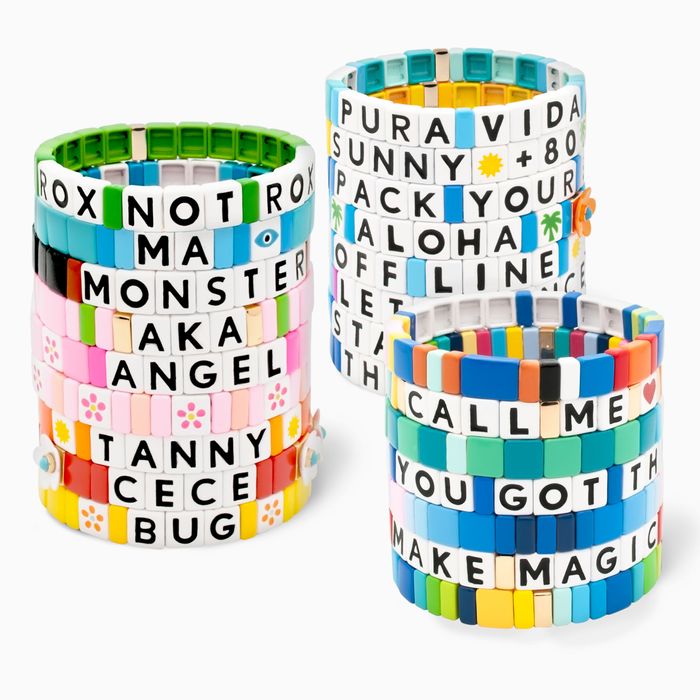 Photo: Courtesy of Roxanne Assoulin
Roxanne Assoulin has been making accessories since the 1970s and has worked with brands like Oscar de la Renta, J.Crew, and Marc Jacobs. In 2016, the New York–based designer founded her eponymous label with three bracelets and two chokers. Assoulin's mission has been to make life brighter and make people smile with her jewelry: bold, graphic, and joyful trinkets made with candylike enamel tiles mixed in a variety of ways.
Last week, Assoulin launched RA Your Way, a create-your-own-bracelet shop on the website where you design bracelets from all different colors, letters, numbers, and symbols. It's an elevated take on making friendship bracelets at summer camp, allowing adults to be playful.
"Everyone is unique, and that's the beauty of all of this: Each bracelet is unique to that person," Assoulin said in a press release. "It's an activity that gives me so much joy. And now people have the ability to feel the same way."
How it works is you're first directed to a page where you select your wrist size. From there, choose from six templates made of squares, rectangles, and skinny rectangles that you'll then fill from the selection of 40 colored tiles. There's all the letters of the alphabet, all numbers, 11 symbols, and 11 flowers. Mix and match blocks and symbols however you want. The prices range from $150 to $180. Check it out here.