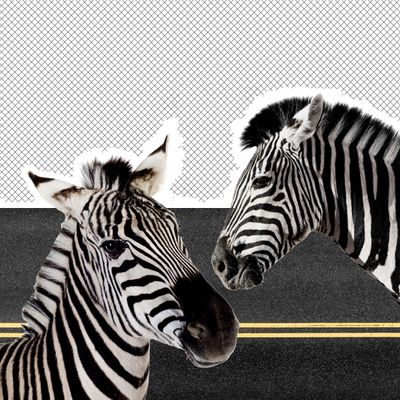 Long may you run, zebras.
Photo-Illustration: by The Cut; Photos: Getty Images
You catch more zebras with zebras than with … I don't know, but Maryland animal authorities plan to find out. They have dispatched two stripy lads as bait to lure in their fugitive zebra associates who have been running roughshod over Upper Marlboro for one and a half months. The Washingtonian deems this a honeypot strategy, which feels accurate, but will the zebras be so easily deceived?
My guess is no: The zebras in question have evaded the Prince George's County Animal Services Division since breaking free from a private breeder in late August. Animal control attempted to capture the bandits by slowly building a pen around some feeding stations and gradually adding to the enclosure at a snail's pace that they believed the clever, sensitive zebras would be less likely to perceive. The tactic hasn't proved successful, which may be a little embarrassing for authorities given that residents of Upper Marlboro frequently report zebra sightings. "I don't think they're trying hard enough," one local man who wandered into a zebra's path in September said of the tracking agencies. "I found them that easy."
So the new plan — which allegedly comes backed by veterinarians — is to introduce more zebras into the mix: Maryland's Department of Natural Resources will enlist two additional members of the escapees' herd, placing them in an enclosed paddock in the middle of their corral. The hope is that the double incentive of snacks and old friends will coax the outlaws into the trap. According to the Washingtonian, the plan has been under way since October 15, though it's unclear if progress has been made. One of the original five runaways died in an illegal snare last month, so time is of the essence. Sure, throw more zebras at the problem. What could go wrong?