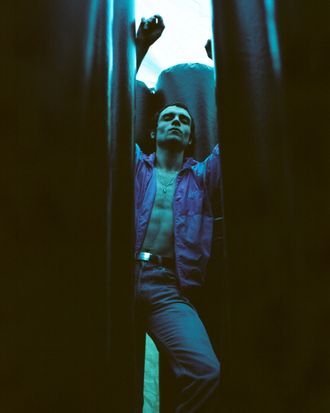 S. Holden Jaffe — known as Del Water Gap, his aesthetic project name and music persona — answers the phone by asking how I am. When asked in return, he says he's eating a peach. For him, and his music, it's the simple things that inspire.
The 28-year-old's music is intimate, probably because he does it all — songwriting, producing, singing. Though at one point Del Water Gap was a band, it has grown into a solo project. If you've heard Del Water Gap before, it was likely "Ode to a Conversation Stuck in Your Throat," which garnered attention when actresses Margaret Qualley and Kaitlyn Dever had a virtual dance party to it during the height of the pandemic. Jaffe remembers his phone blowing up in his parents basement the night it happened. Today his debut album, Del Water Gap, was released, which includes the aforementioned song and another popular single "Sorry I Am." The album feels like a culmination of the work Jaffe has been doing as an artist, trying not only to forge a way for himself in the music industry, but also as someone who just seems happy to be sharing his music with the world.
While Jaffe's career has changed with his newfound popularity, his whimsical and romantic approach to life and music has not. He talked to the Cut about his upcoming New York concert, his grandmother's sense of style, and working with Maggie Rogers.
What's going through your head ahead of your album release? 
I'm really trying to remind myself to have gratitude and be present and honor the last two or three years of work that went into the album. You put all this work into making a record and making videos and promoting it. And by the time the album actually drops, it's a little bit of an anticlimactic feeling, but I'm really trying to stay present.
Where are you most excited to play? 
Honestly, Bowery Ballroom in New York. I went to NYU, and the first shows I went to when I moved to New York were at Bowery Ballroom. That room will always feel like the biggest room in the world to me. My parents are coming and they haven't seen me play live since I was 16 and my grandma's coming.
I was going to ask about that because I know you're close with your grandmother.  
[Laughs.] It's funny, she just gave me a pair of white jeans. She thinks we're the same size even though we're definitely not. She's a 97-year-old tiny woman. And just yesterday, when I was in rehearsal, she was calling me incessantly being like, 'Did the jeans fit?' I don't think anyone else has this problem with their 97-year-old grandmother, that she's wanting to share clothing. But after we get off here, I actually am gonna need to put these pants on and take some photos of myself for her.
Is she very fashionable or are these old clothes that she's trying to get rid of? 
It's fashionable old clothes. She's been an artist her whole life. She lived in Paris when she was a teenager and then just sort of bopped around for a few decades in New York and was making films. So she has a lot of really weird, cool, bohemian stuff. She's really the only other artist in my family. It was always very relieving to talk to her about the strange things that come up as an artist and trying to turn that into a career.
She worked at the Metropolitan Opera for a few decades so she gets rehearsal tickets for the opera every year. So we would just go to the opera like three or four times a week, hang out and have existential breakdowns in the lobby.
Did you get any inspiration from the opera for your music?
I think listening and working on music all day, it's very relieving to consume music that is not the music that I would ever be able to make. I would go and see the opera with her, and it's nice because it's just such a different musical experience. It's often in Italian or another language, so I can just enjoy the actual sound of the music and not have my analytical producer brain going.
So tell me, what are your other New York city muses? Are there any other areas that inspire you?
When I'm thinking about New York, missing New York, the place that really comes to mind is Lil' Frankie's restaurant. There's this guy, Frank Prisinzano, who is a brilliant chef and he's got a great Instagram. He has a restaurant called Lil' Frankie's on First Avenue and it's this perfect dark, romantic Italian restaurant where you can get spaghetti limone and tuck away into the corner. I have sat there for hours eating pasta and journaling. It's messy though, you get pomodoro all over your journal.
I'm a big Maggie Rogers fan, what was working with her like?
 [Laughs.] Yeah, me too. We went to summer camp together when we were like 12 in Maine. We used to sail against each other and then when we got to NYU, we walked in the first day, saw each other, and we spent about 25 minutes trying to figure out how we knew each other. And then I went on Facebook and I was like, Oh, shit. You are Maggie from sailing camp. 
Early in college, we made a bunch of music together and she actually played in the earliest version of the Del Water Gap project. So we reconnected a couple years ago and started sharing art and talking about music. And then about a year ago, she approached me about putting out "New Song," which is a song that we had recorded in college, around 2014.
I can't even imagine going back and reading something I wrote in 2014. What was it like to listen to that again and release it? 
It's like seeing a really old picture of yourself. Listening to that song and playing it, I feel a mixture of emotions. One is immense pride, that that's what I was doing and thinking about when I was 18. I'm happy that song was what my brain made when I was that age and that I was thoughtful and already focused on writing. But also embarrassment. Your taste and your ability to represent yourself through your work changes as you grow older. But it's mainly nostalgia and gratitude that the song came out because that song in particular was always one that I felt very connected to. I'm really happy that one got out into the world and people can hear it.