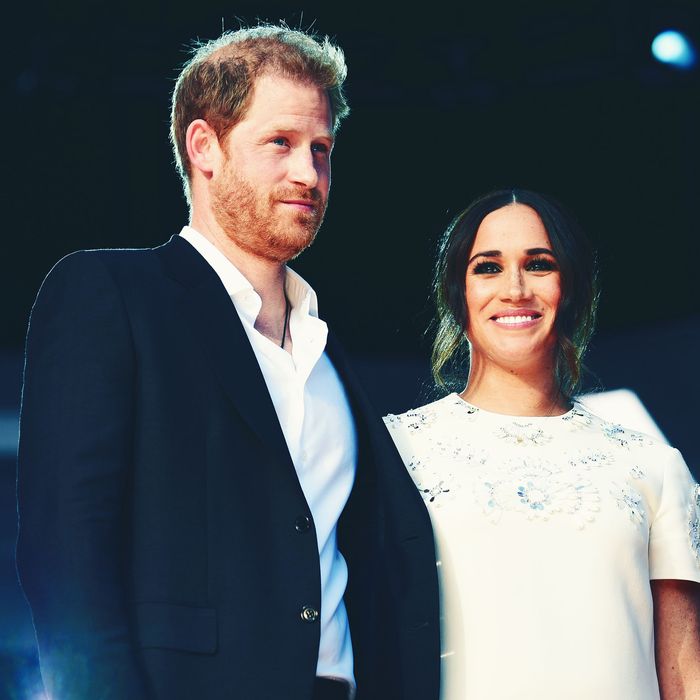 Harry and Meghan.
Photo: Kevin Mazur/Getty Images for Global Citizen
Remember the period right after Meghan Markle and Prince Harry announced their departure from royal life, and their critics wondered who would pay for their (presumably) lavish lifestyle now that they were poised to become "financially independent" from the monarchy? Well! Suck it, haters; these two have proven themselves to be extremely employable, racking up jobs left and right. There's the giant Netflix deal, the podcast network, their respective books, Harry's pivot to impact. To that long and still somehow incomplete list, Meghan and Harry will now add yet another bullet point: They're getting into finance. Specifically, these two influencers want to make investing more accessible, particularly to young people.
The couple told the New York Times about their decision to join Ethic, "a fintech asset manager in the fast-growing environmental, social and governance space," per the paper. Naturally, they will hold the title of "impact partner," though they will also invest. Ethic encourages investment in companies based on criteria like environmental sustainability, labor practices, and commitment to racial justice. "You already have the younger generation voting with their dollars and their pounds, you know, all over the world when it comes to brands they select and choose from," Harry told the Times. Why not do the same with investments?
Sure! Seems like a natural next step for them. According to the Times, this will be their largest corporate partnership yet, but (and here I am guessing) probably not their last.