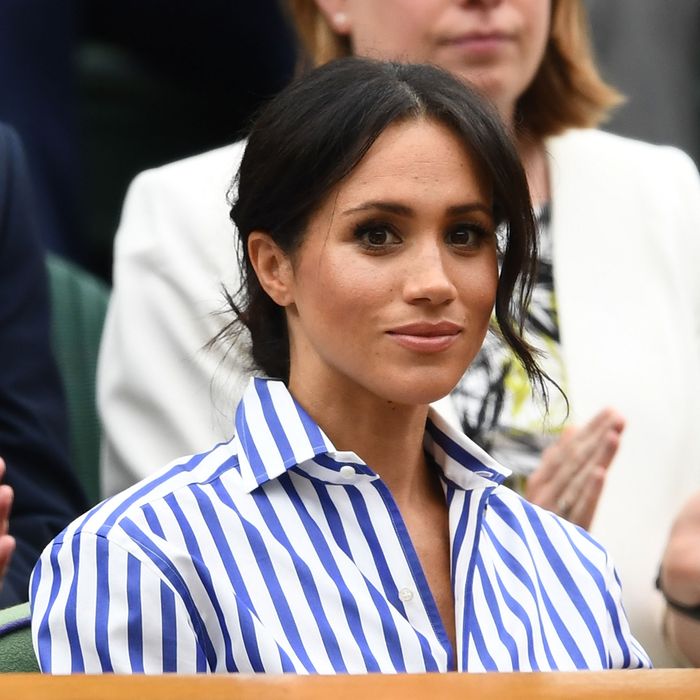 Is anyone busier than Meghan Markle? Since leaving royal life behind, she's launched a podcast company with Prince Harry; been named one of the most influential people in the world; authored a book; gotten into the world of finance; had a second child; and now, she's writing to Congress. This week, the Duchess of Sussex sent a letter to Senate Majority Leader Chuck Schumer and House Speaker Nancy Pelosi advocating for national paid parental leave in the U.S.
"In June," she writes, "my husband and I welcomed our second child. Like any parents, we were overjoyed. Like many parents, we were overwhelmed. Like fewer parents, we weren't confronted with the harsh reality of either spending those first few critical months with our baby or going back to work." She acknowledged that staying home with a baby should not be a privilege reserved only for people in her financial position, adding that she and Harry didn't need to make "impossible choices about child care, work, and medical care that so many have to make every single day."
"No family should have to choose between earning a living and having the freedom to take care of their child (or a loved one, or themselves, as we would see with a comprehensive paid leave plan)," she writes. She acknowledged the ways the "pandemic has exposed long-existing fault lines in our communities," widening the economic gaps for parents, particularly women, in the workforce. It's no secret that parents are even more exhausted during the pandemic, and the lack of support when it comes to child care and paid parental leave has only exacerbated the problem.
"Comprehensive paid leave should not be a place to compromise or negotiate," Markle writes, noting places like Estonia that have robust paid-leave programs, giving parents months of time to spend with their child. Despite broad support among Americans for such programs, the U.S. is one of the only major countries without government-mandated paid leave. This is even more disheartening in the context of studies that show how paid leave keeps more women in the workforce, can lead to a positive impact on children's health development, and benefits the economy overall.
"Paid leave should be a national right," Markle concludes in her letter, emphasizing that supporting families "includes a strong paid leave program for every American that's guaranteed, accessible, and encouraged without stigma or penalty."