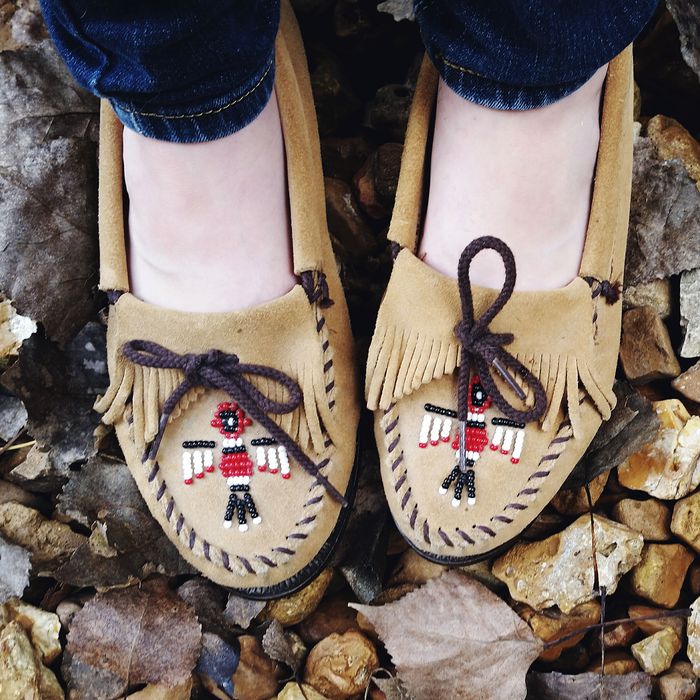 Photo: Sarah Swinford/EyeEm/Getty Images
Minnesota-based brand Minnetonka has been selling moccasins and other Native-styled shoes and products for over 75 years, a fact it did not explicitly acknowledge until last year. On Monday — Indigenous Peoples' Day — it yet again apologized for profiting off Native American culture and discussed the changes it would be implementing going forward. 
"We recognize that our original products, some of which are still sold today, have been appropriated from Native American culture," said David Miller, Minnetonka's CEO, in the company's public statement. "Minnetonka deeply and meaningfully apologizes for having benefited from selling Native-inspired designs without directly honoring Native culture or communities."
The brand first publicly acknowledged its appropriation of Native culture in 2020, clarifying that the company is not Native owned, an acknowledgment it recognized was "very long overdue." Prior to that, in 2008, Minnetonka dropped the word moccasin from its logo.
While the brand says it has been quietly supporting Native efforts for years in its home state, this is the first time Minnetonka has shared its future goals to support the Native community. The company said it has hired a reconciliation adviser — Adrienne Benjamin, who is a local activist and Anishinabe artist — to lead its newfound effort to hire and work with more Native brands in all capacities, such as designing, sourcing materials, and business partnerships.
Still, many remain skeptical, and even Benjamin herself said she was hesitant at first. "There's so much of the appropriation [in fashion] and what follows are empty apologies," she told Footwear News. "The main factor in why I chose to work with Minnetonka was because I feel like the Millers have genuine hearts and care and the understanding is there."
According to Footwear News, Minnetonka's steps to make amends will include financial reparations to Native American schools, nonprofits, and tribal entities, including an initial $25,000 donation to the Urban Indigenous Legacy Initiative.