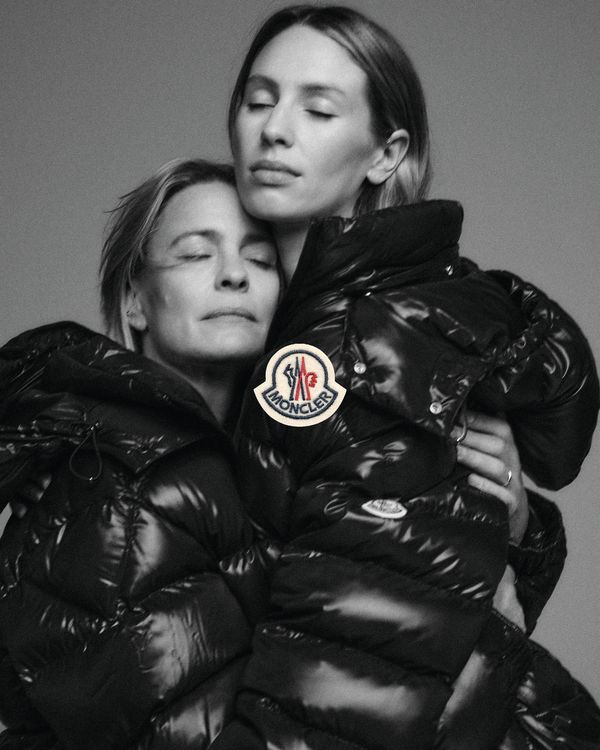 Robin Wright and her daughter, Dylan Penn.
Photo: Chris Colls/Moncler
Generally speaking, I would not call myself a "hugger." People I'm close to know they have to chase me down and lock me in a sort of wrestling position to get me to engage in physical touch. But there are some circumstances in which I will allow — and maybe even encourage — a warm embrace.
A lot of it has to do with outerwear. Now that it is officially fall, I find myself staring longingly at anyone wearing a lush fleece or cashmere sweater. If they opened their arms, I would not deny them, especially if I was in some form of soft outerwear myself. But winter really brings the best hugs of all. If you come at me wearing a big puffer coat … I may never let you go.
Moncler, of course, understands the value of puffer coat hugs — and hugs in general — which have only become more cherished during the pandemic. For their latest "We Love Winter" campaign, they invited friends and family members, including actress Robin Wright and her daughter Dylan Penn, to don a coat and give their loved ones a big embrace. (Others include musical artist Lala &ce and her mother Noëlle; Japanese race-car enthusiast Mai Ikuzawa and her sons Arto and Milo; dancer Bats a.k.a. Mamadou Bathily and models Mao Xiaoxing and Mika Schneider.) It's hard not to look at these images, shot by Chris Colls and not want to do the same.
What makes a good hug? "When you feel they mean it," Wright and Penn told the Cut in a joint statement. "When you hold it until you both can breathe into it."
When asked who in the world they wished they could give a hug to, Wright said, "All the people in the world who are suffering." But Penn was a little more specific. "I'd like to be hugged by Harry Styles," she said. Same.
Below, a behind-the-scenes look at the Moncler campaign shoot, where lots of hugging (safely) took place.