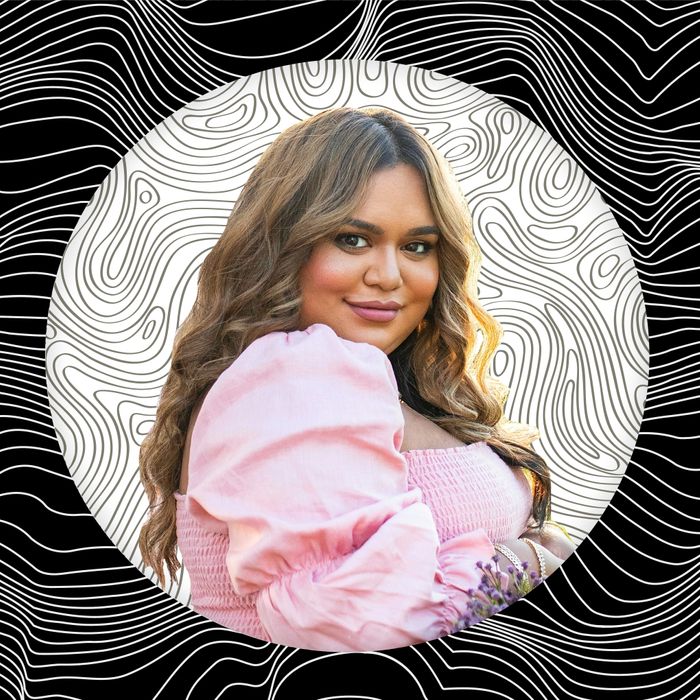 Photo-Illustration: The Cut; Photo: Courtesy of the subject
Nabela Noor believes that every day "carries a few moments of goodness and we deserve to enjoy them," no matter how small. So throughout the pandemic, the YouTube creator, author of the children's book Beautifully Me, and designer at the label Zeba shared her "Pockets of Peace," the small moments of joy she experienced each day, on TikTok in an effort to encourage her followers to look for their moments of cheer during a scary and heavy time. "It could be, 'I was able to bake this' or 'I was able to sleep in' or 'I was able to clean my whole house,'" she explains. "There was so much bad happening in the world, and I didn't want to take those moments for granted." The practice became a fundamental part of her wellness. Now, Noor is pregnant — she was vocal about her miscarriage earlier this year — and as she prepares for the arrival of her baby girl, her "Pockets of Peace" look like therapy, keeping a gratitude journal, and slow mornings. Read on below.
On her definition of wellness: When I think of wellness, I think of fullness, of truly feeling well rounded in my life. Sometimes people associate wellness specifically with their physical journey, but your overall health also includes your mental and emotional health and your social life. And remember: Wellness doesn't have to look like your neighbor's or your peer's or your friend's. It doesn't have to be going to the gym five times a week. Maybe for you wellness means going for walks. Maybe for you it's taking time to meditate in the morning. Learn to discern what feels good for you and do that when possible.
On small-town living: My parents immigrated to the United States from Bangladesh, and they nestled in Queens, New York, where I was born. We migrated to Maryland for a little bit and then finally landed in York, Pennsylvania, where I live now. When the opportunity arose to move to Los Angeles to further my career, it felt like, What's the point of a career if I'm not able to enjoy my day to day with my family, who are my fuel? So a big, conscious choice that I made was choosing my wellness by staying here, where the people around me fill me up, rather than choosing something that may advance my career further but compromised my well-being. I also think that if I were in a fast-paced environment, I would naturally overrun myself; because I'm in a place that is really slow, it helps me slow down and take a breath, especially during the pandemic. And let's be real, the cost of living is so much more affordable in a small town.
On keeping a gratitude journal: I started mine in 2018. At first, I was just making bullet points of things I was grateful for and things that went well because I was not a journal keeper and it felt like too much of a task. When you take off the pressure of full sentences and you're just bulleting things, it makes everything so much more manageable. Over the years, I started writing full paragraphs and it became a sort of reflection.
What I think is helpful for people who might not be consistent journal keepers is to not give themselves the pressure of doing it every day. I write only on a day that feels special, whether something big or small happened — because it shouldn't have to be big, right? Just let it be free and fluid whenever you feel inspired.
On slow mornings: Some mornings are different from others. Sometimes I'm up until the wee hours of the night so I sleep in, and other mornings I'm up around 8:30 a.m. I love the process of welcoming the day — in the spirit of not comparing ourselves to others, when I hear other people say, "I wake up at 5 a.m. and I go to yoga," I'm like, "I wake up, and I'm like, 'Thank you Lord for another day,' and then I stay in my covers." I take my time and put my rain sounds on. I cuddle — that's so important because I love touch. I have to make my bed — that's a nonnegotiable for me, because when you make your bed, you've already fulfilled your first task for the day.
On dealing with online hate: I've experienced a lot of body shaming, a lot of vitriol and cyberbullying. A few years ago, I was so overwhelmed by the comments and by the messages that I received, but now I'm at a place where I know that someone else's opinion of me is not my business. I keep reminding myself: It's no one's job to like me. Does it pain me when people resort to bullying and name-calling? Sure. But I know in my heart that no one can be fully happy and fulfilled and do something like that. I gave them my attention for years, and I would respond and clap back, but I've learned through therapy that there is no use in explaining yourself to somebody who is committed to misunderstanding you. You are wasting your breath.
On therapy: I've been in therapy for three, almost four, years, and it really changed my life. One of the most vital things that my therapist taught me is something called "margins." The way she described it: When you have a piece of lined paper, there are margins, right? We don't spill over onto the margins when we're writing, so why do we do that in real life? Why are we not making space for ourselves and not making boundaries that we don't cross? Why aren't we making margins for ourselves to breathe? Before I started therapy, I was working seven days a week, never taking a day off and constantly finding and placing my value in what I was pushing out and creating. It was so harmful. When I learned about margins, I realized how important it is to give myself weekends, to end work at a certain hour in the day, to learn to ask for help.
The Book