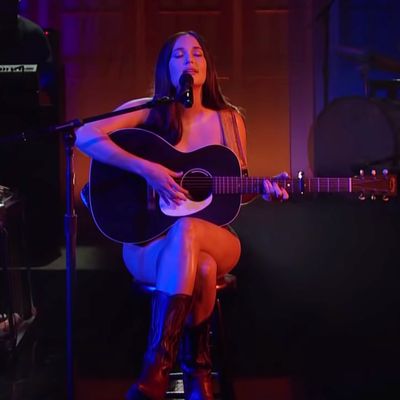 If you're already panicking about what to wear for Halloween, singer Kasey Musgraves has some sage advice: Don't wear anything at all! Well, except cowboy boots. Can't give away the feet for free!
Musgraves was the musical guest on this weekend's season 47 premiere of Saturday Night Live. She performed her song "justified" butt-ass naked atop a stool, wearing nothing but boots and a strategically placed guitar. She later confirmed on Twitter that the outfit — or lack there of — was an homage to Jenny's nude acoustic performance in Forrest Gump. In other words, should you choose to go as Musgraves on SNL for Halloween, you'd technically be dressing up as two people at once. An incredible feat for a pair of cowboy boots and a guitar!
To recreate Kasey Musgraves's SNL performance, here's what you'll need:
Cowboy boots

A guitar (optional: the ability to actually play guitar)

The attitude of a scorned lover

A lot of SPF, probably
Voila! The perfect Halloween costume to make all your exes say, "She seems like she's doing fine!" If you prefer your costumes to have more clothes, you can always take inspiration from Musgraves's visual component to her newest album star-crossed. Bonus points if you shave your eyebrows, wear a wedding dress, and/or run alongside a very fast horse.
Should you prefer your Halloween costumes to have more clothes and communism, you can always dress as Grimes reading Karl Marx's The Communist Manifesto. Perhaps you could include her Met Gala sword and a plea for a green card as well. Truly spoiled for choice!