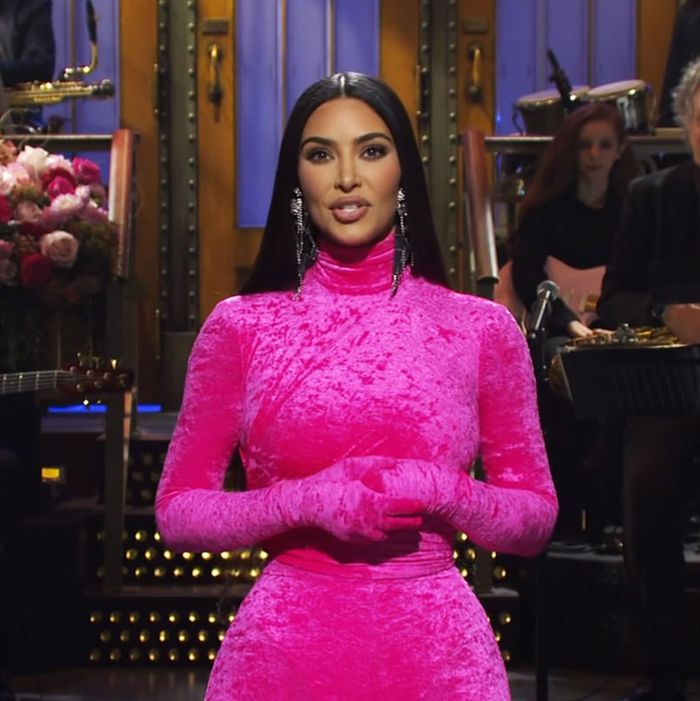 Kim Kardashian West hosting
Saturday Night Live.
Photo: NBC
This weekend, Kim Kardashian West made her Saturday Night Live hosting debut. Despite plenty of initial skepticism, her episode was … perfectly fine. She was confident in her monologue, even poking fun at herself and the only movie she is known for. She joked that SNL's audience of 10 million was nothing compared with her 360 million social-media followers, explaining, "Tonight is just a chill, intimate night for me."
However, not everyone was a fan of her opening bit, which referenced the O.J. Simpson trial. Robert Kardashian, Kim's father, was a close friend of Simpson's and served as one of his defense attorneys. While talking about her passion for freeing wrongly accused people from prison, Kardashian West said she is "following in my father's footsteps." "It's because of him that I met my first Black person," she said, adding, "Want to take a stab in the dark at who it was?" Kardashian West acknowledged that "it's sort of weird to remember the first Black person you met. But O.J. does leave a mark. Or several. Or none at all — I still don't know."
Kardashian West's offhand mention of the murder of Nicole Brown Simpson, O.J.'s ex-wife, came across as "beyond inappropriate and insensitive" to Tanya Brown, Nicole's sister. Tanya told TMZ she thought the joke was "distasteful" and questioned how much the Kardashians cared about her sister. The Kardashians and the Simpsons were close friends prior to Nicole's murder in 1994. Kris Jenner has talked about how she still feels guilty about her close friend's death and implied she thinks O.J. is responsible. (O.J. was famously acquitted in the criminal trial but has since appeared to confess his guilt, only to later recant the admission and call it "hypothetical," then publish a book titled If I Did It.) Given the families' history, Tanya felt Kim's jokes were in "poor taste." Kardashian West hasn't responded to Tanya's comments.
If you missed Saturday's episode, it's probably for the best that you skip the monologue and just watch this cut-for-time sketch in which Kim sings about Costco hot dogs instead.