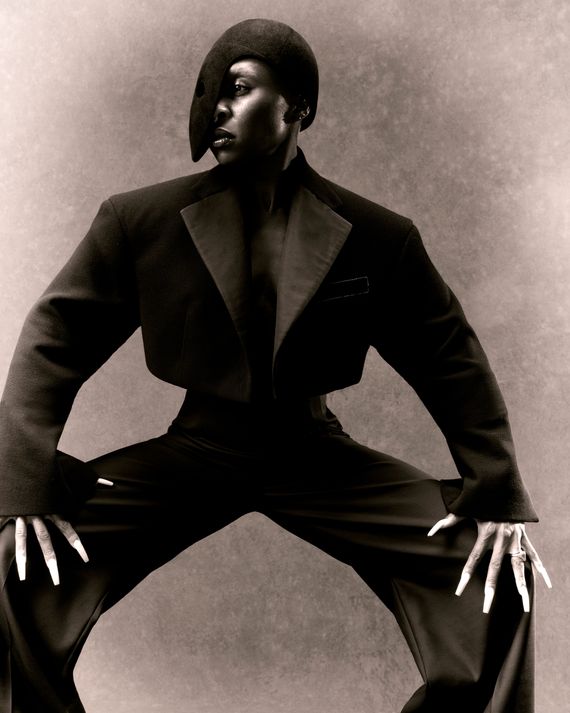 Schiaparelli
tailored jacket with exaggerated shoulders and satin collar, high-waisted pants in wool and silk, wool hat, and shoes.
Photo: Amber Pinkerton
One of the best parts about my job is talking to women about how they make their lives happen, what they're passionate about, and what keeps them going. Getting past the usual How are you? and into the But how are you really? is a vulnerable but meaningful space.
Over the summer, while simultaneously rushing to dinner and hopping on and off calls to make our Naomi Campbell and Simone Biles covers happen and running through a CVS-receipt-length to-do list in my mind, I met our cover star, Cynthia Erivo. What started as a casual conversation quickly became about the importance of finding moments of peace and pause. It was as if Erivo could sense that I needed a moment of stillness, and hearing her own story of having a jam-packed schedule — from performing on Broadway to making her debut at the iconic Hollywood Bowl, writing a book, and working on multiple films and a debut album — was profound.
And when I met our cover writer Misty Copeland a few months later, our conversation had the same effect on me: the feeling that I could take a deep sigh after a long day. In both conversations, it was a relief to know from these incredible women that, unlike whatever Hollywood or social media may tell you, just because you're doing the things you love doesn't mean things get easier all of a sudden. The weight of it all does not, in fact, become lighter. There's an unspoken bond between us as women, and especially as women of color, knowing there's so much work to be done. But through these talks, you can take the load off a bit, relax your shoulders, and unclench your jaw because you're in a safe space and a place where you can process the triumphs and shortcomings.
Both Erivo and Copeland have raised the bar of what people thought was possible in their respective industries — Copeland changed the face of ballet as the first Black principal dancer with the prestigious American Ballet Theatre and is now focusing on being an author and philanthropist as well as working behind the scenes to make things better for the next generation of dancers. Cynthia, the multi-hyphenate who is one Oscar away from an EGOT, was recently nominated for an Emmy for her portrayal of Aretha Franklin in National Geographic's Genius: Aretha, stars in the new sci-fi romance Needle in a Timestack alongside Leslie Odom Jr., Freida Pinto, and Orlando Bloom, and is releasing her debut album, Ch. 1 vs. 1, and her new children's book, Remember to Dream, Ebere.
For the Cut's October cover, Erivo and Copeland sat to talk about dreaming their lives bigger than they thought possible, combating stereotypes around being strong Black women, and learning lessons the hard way.
Misty: I'm so glad we're getting a chance to talk, because the first time we met — in 2015 at an ABT Gala — was quick, and then you came and sang when I was dancing to Ella Fitzgerald's "Summertime." That was the best gift ever.
Cynthia: I was just so happy to be there. It was so much fun just to watch you dance and continue to rise over the past couple of years.
Misty: You've had a phenomenal rise — and especially this year. What were your motivations and conversations with yourself to be able to go after all of these intense projects at once?
Cynthia: I don't know that I necessarily planned the timing of it all. But I do make a list for myself of the things that I want. And then I sort of test the universe to see if it will let me go as far as I can go.
Misty: What does testing the universe look like?
Cynthia: Things will happen — amazing things have happened in my life that have been dreams, and then when those things happen, I think to myself, How far can I go with this next set of dreams? How much can I push the boundaries on it, and how outlandish can my dreams be, and will the universe respond to me and say, Okay, I'll give you something back? And I think that all of it happening in the one year was just sort of kismet because it's everything from not just being able to be in the series and playing Aretha but being nominated for it and the album and the book. It's things like performing at the Hollywood Bowl and then performing at the Disney Hall with Gustavo Dudamel and L.A. Philharmonic.
It's all of the things that pop up out of the blue that I didn't know were going to happen, but I realized I had to get specific even if it seemed crazy and put out into the world that I want to have huge milestone moments.
Misty: When it's your time, it's your time.
Cynthia: Also when you allow yourself to even think about having things happen, it's like telling the universe or God — whatever you believe in — that you're readily available for those things to appear.
Misty: In knowing that so many young Black girls are looking at you, we are both acutely aware of the systemic inequalities that oppress women, especially Black women, in both of our industries. Is that something you're thinking about, and how does that inform what projects you say yes to?
Cynthia: It's something that I can't help but constantly think about. There are ideas about what Black women should be when they show up on film or TV, and though we've moved forward, I don't necessarily think those ideas have gone anywhere. They've sort of molded and shifted into something else. And so what I try to do is find pieces that aren't any of those stereotypes, that don't fit the norm, because I'm not interested in abiding by what is thought to be the typical idea of what a Black woman is. I'm interested in expanding the concept of what a Black woman is and can be and opening up the conversation about us as human beings.
One of the characters I fell in love with, The Outsider's Holly Gibney, is on the spectrum and trying to just sort of work out how to connect with people. I don't know if there's ever been a Black woman who is on the spectrum that has ever been on TV before. If they have, I haven't seen her.
What I realized after playing her — after so many Black women reached out to me because they were on the spectrum or their children were on the spectrum or they had friends who were on the spectrum — they had never seen themselves represented in that way before. And that's what I'm looking for. The idea is that we are a myriad of different people. We are a myriad of beliefs and behaviors and lives across the world. And why can't we see some of those ideas show up on television? It's not that I always want to play the hero; I just want to play people who feel real. That's the best way to see ourselves.
Misty: We are not a monolith, and I desperately wish I had that fortune in ballet. There are minimal stories to choose from, but it's something that I'm continuing to push in the conversation even within the boundaries of classical dance. Me portraying Juliet was such a massive role as a Black woman because we just aren't seen as romantic characters worthy of falling in and receiving love.
Cynthia: In Needle in a Timestack, the story line is that my character and Leslie's character are married, but my character was once married to Orlando Bloom's character. Orlando keeps jumping through time to try and get my character back. So when Orlando's character goes back in time and changes the timeline, my husband, who would be Leslie Odom Jr., ends up married to Freida Pinto but wants to go back still and find my character. And I read this review that said something like, It wouldn't be a bad thing to be married to Freida Pinto. I don't know why he would be jumping back from time to go and get Janine, my character. And I don't know that this writer, a white man, realizes that what he's saying is that Leslie's character ends up with someone who is more desirable than the Black woman. And that's something that keeps coming up: whether we're worthy of desire and love.
Misty: That's a good transition to your album because there's so much about love and relationships on Ch. 1 vs. 1, which you've described as a new beginning. What are you most proud of about it?
Cynthia: There are 12 songs on that album, and I have co-written every single one of them. And it took a long time to get it done — and effort and finding the right people to collaborate with. I didn't have the luxury of having ten people on the song. So it was me and the stories I know and the experiences I've had. For such a long time, I just wasn't given a chance to create the way I wanted to when it came to music because there is a veering away from the Black female vocalist. I don't think Black vocalists have as much real estate as our other counterparts. And so this just felt freeing to be able to sit and write some songs that felt like me.
Misty: You were shooting the Genius: Aretha series while you were recording the album. Did that influence you at all or were you trying to keep it separate?
Cynthia: I was able to separate everything except while I was finishing up all the vocals. I guess my voice, whether I wanted it to or not, had to be influenced by the way I was singing every day on set. Even now when I listen to it, some of the sounds sound different from what I would normally sound like just because of where it was placed so often.
Knowing Aretha's story and learning about her and playing her gave me a little confidence to go back and say, "Hey, I want to be a co-producer on this album." Some people don't realize that you can ask that especially if you are writing more than 50 percent of the songs on the album. And I only asked that because we were shooting the "Amazing Grace" episode of Aretha, which is the first time she's given credit as executive producer on the album.
Misty: The bravery of one woman always helps another woman even if they never know it. But it's difficult because we also have to be incredibly strong as Black women. How have you reconciled with that?
Cynthia: I was lucky because I had a fantastic acting teacher who subverted that early in my career. Because I thought that's all I was supposed to do: the roles where we have to play strong both physically and mentally, and you're the strong earth mother of everybody. And my acting teacher was like, That's not your strongest quality. Your strongest quality is being able to show your vulnerability to people. That's the strongest thing to do.
Misty: That's so important for other Black women to hear — that what we may think of as a weakness or shortcoming is a strength. And showing our vulnerability, tapping into that side of ourselves, is essential. You're very fortunate to have learned that early on.
Cynthia: I don't know where I would've been if she didn't stop me in my tracks because it's the opposite of what the world teaches us. And we are showing the world that Black people are relatable, that we're human and not robots. And we fall and have to get up again. And sometimes when we scrape our knees, we hurt, and we cry in pain. It makes me think of the studies around racial bias in pain assessment, which is scary. So when I play these characters, I have to make people aware that you feel pain like we feel pain.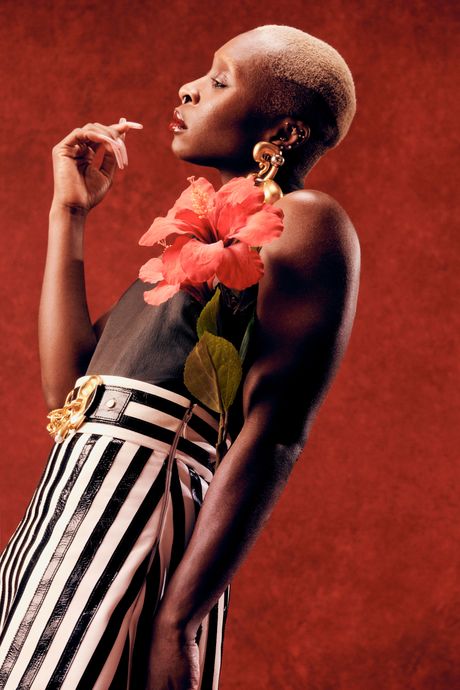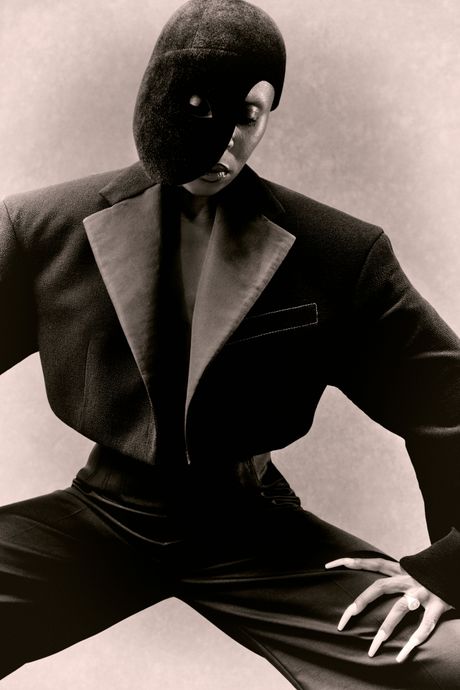 Misty: I've read those studies, and it's unbelievable and terrifying. I struggle with that myself, being a Black woman and being in a field where if I feel like if I show any weakness or any emotion, I'm not going to get an opportunity; they're going to think I can't handle it. And I feel like it's almost done me a disservice in some ways when I think about it.
I came back on stage within eight months after having the most severe injury of my career and then went on to be promoted to principal. But it makes it seem like, Oh, well, she can do it. The assumption is too often that you're tough, and this is normal to expect of someone when it's not.
Cynthia: We don't all function in the same way. Your body did what it needed to do for you. Another person's body might not do that. Maybe they need ten months; maybe they need a year.
Misty: It's been almost five years, and I'm still in pain.
Cynthia: And that's the thing, people just think, Oh, she'll be fine. But when we start to force people to acknowledge that we are humans and need time to heal and feel just as much, we begin to have conversations that allow us to be human together.
Misty: A lot of what we're talking about is that we don't have a choice but to try to show this humanity because it has to be better for the next generation. You've used your platform to be a stepping stone for others, which I know is important to both of us as I have two children's books out and am releasing Black Ballerinas in November while you just released Remember to Dream, Ebere. It's important to show young people, especially young Black and brown children, that we can be anything we can dream of. So why was it necessary to impart that knowledge to the next generation for you?
Cynthia: I wanted to share something that I had lived myself. And it's not just about dreaming big for me; it is about seeing your dreams and all the detail in them. I'm not afraid of really imagining all of the nuance, colors, and elements in a dream because it makes it feel more real. And sometimes we get terrified of dreaming in detail because we're scared that it won't come true if we do that. It's such a simple story about a little girl who keeps having to go back to sleep and remember in repetition, almost like a meditation of just remembering things. Remember to dream all the things that make your dreams come true.
Misty: As we both are fighting for inclusivity and diversity in so many spaces, from helping the younger generation to making a body of work in our respective fields, do you ever get tired of talking and explaining and educating people on what needs to change?
Ballet is run mostly by old white people with a core audience and leadership who are out of touch with the art that people want to experience. So I find myself having these moments of complete fatigue, but at the same time, this racial reckoning that we've experienced in the past almost two years has been a tipping point for the ballet industry.
Cynthia: I honestly don't know what the tipping point will be in Hollywood to move us past this cycle of, We will give them the nomination to have them at the party, but we won't give them the award. But I hope that whatever it is, it shows up soon because there's only so much you can do. You can show up to work and do the right thing, but you have to be included at some point.
It's also the casting process and making writers think broadly about their characters instead of writing specifically. Often there'll be a script written specifically for a white woman, and when you read the script, you think this could be any woman. And if those are the roles that keep going to white women then those are the roles that will keep winning.
I went to the Academy Museum a couple of weeks ago, and they had all the acceptance speeches playing. And it got to Halle Berry's speech saying that it was 74 years in the making as it was the first time a Black woman won the Best Actress award. And it's been almost 20 years since then.
Misty: Does that make you want to produce or write?
Cynthia: I don't know that I'm made to write for TV, but I do have a production company, Edith's Daughter. My mother's name is Edith. We've started working on different scripts and ideas and having people come in and create things, but it's an uphill battle even in that pitching process to networks.
But I'm so ready and prepared to continue doing that until we get great things to be onscreen. And we're lucky enough to be at the beginning of starting to get into production with some cool pieces that will allow everyone to see us in different spaces, spaces in which we exist.
Misty: So what have you learned throughout all of this work, both in the industry and in your journey?
Cynthia: This past year has been probably one of the most adventurous of my life. But I've learned to stop and appreciate what's going on and take each moment as it comes. I'm on set right now shooting Luther with Idris Elba. I just shot Pinocchio with Disney, and that came out of nowhere, and it's wonderful. Seeing some of my dreams come true with my album and the book makes me look forward to what is to come this next year.
Misty: I learned so much from talking to you, and I'm also just excited about where things are headed in our industries. To have moments like this, stepping into leadership roles out of my comfort zone but exactly where I think I should be — it's scary and exciting.
Cynthia: It's the things that make us nervous and excited and happy; that's what I'm looking for more of.
Listen to the latest installment of In Her Shoes, in which Cut editor-in-chief Lindsay Peoples Wagner speaks with Erivo about portraying legendary women, what it's like to be so close to an EGOT, the challenges she faced in creating her brand-new debut album, and more: