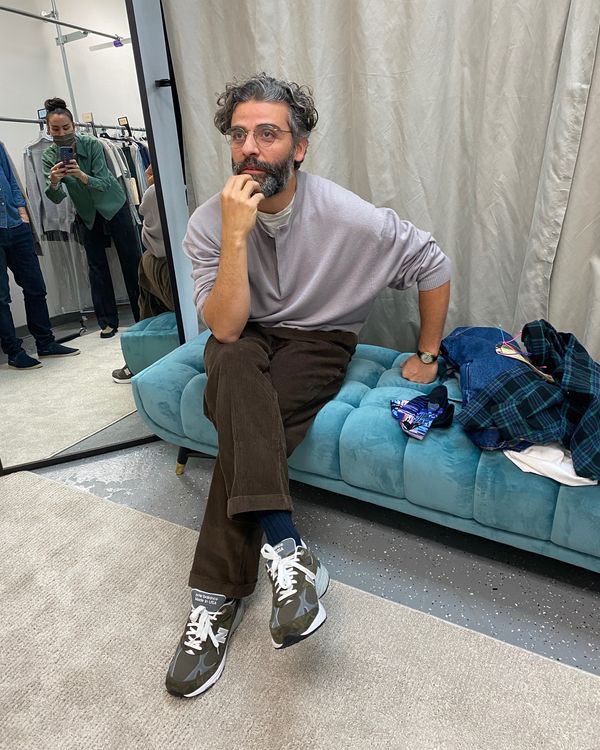 Over the weekend, when costume designer Miyako Bellizzi shared some behind-the-scenes photos from her work with Oscar Isaac on HBO's Scenes From a Marriage, the reaction was overwhelmingly thirsty.
The images show Isaac posing candidly in various soft-looking garments, his salt-and-pepper curls tousled (one has to imagine) from taking said clothes on and off. In some, he gently rests his fingers to his lips; in others, he scratches his beard, making them all the more tactile.
Of course, Bellizzi's comments section immediately blew up with heart-eye emojis, flames, and drooling faces. "Truly nailed hot dad in a way that is hard for me to recover from," wrote stylist Gabriella Karefa-Johnson. I was personally devastated that I could not inhale them like they were Jessica Chastain's underarm.
"I was very surprised how much people loved this, and how viral it's been," Bellizzi told the Cut earlier this week. (Her first post now has over 20,000 likes, and she's since shared more photos.) But she knows how much people are obsessed with Isaac — with Dune also in theaters, he's hot in every way right now — and she's not blind herself. "He's like a hot daddy, you know," she said with a laugh. (And, in this case, a hot divorced daddy.) "Even when we would take the photos, I'd be like, Oh my God, he's so cute."
A hot divorced daddy is nothing without his soft sweaters, corduroy trousers, and New Balance sneakers, though, and, as Karefa-Johnson said, credit must be given to Bellizzi for putting together such evocative outfits for the miniseries, which is a remake of the 1973 version written and directed by Ingmar Bergman.
Bellizzi said she began the process by looking at Isaac's character's backstory: He grew up Orthodox in Brooklyn, and she subtly incorporated that influence by putting him in more classic silhouettes, like a wider pant leg. (His brown corduroys are from a "secret old-man brand" that she doesn't want to reveal.) She also, of course, drew inspiration from his dynamic with his wife, Mira (Jessica Chastain), who makes a good amount of money and probably shops for her husband, hence the Loro Piana and Dries Van Noten tags. She's also the first person he dated after leaving the Orthodox community, so perhaps he's "dressing in the way that he thought that she wanted him to look," Bellizzi explained.
Bellizzi's favorite sweater is the one Isaac wears in the first episode — a collaboration between Fear of God and Zegna. "I was drawn to the shape and the way it hangs on his body," she said of its broad, round shoulders. You can tell that Isaac's character is comfortable — perhaps too comfortable — and over the course of the miniseries, as he goes through a divorce and starts dating other (younger) women, his style evolves as well. His silhouettes get slimmer, his sweaters more polished, and he even experiments with Nikes. (Cool, Dad.) By the end of the show, he's wearing a sharp Prada suit and a Gucci black-and-white coat.
"For me, he comes full circle in terms of his style," Bellizzi explained. "He goes back to this modern Orthodox look, where he's in black and white. I wanted to show that maybe he wasn't really being himself, and then in those final episodes, you see that he's really well-off now, he's doing really well, but he's also accepted who he is."
This is not the first time Bellizzi's work — specifically with middle-age Jewish men — has resonated with viewers. She's also the woman behind Adam Sandler's tinted glasses, mustard polo shirt, Ferragamo belt, and leather jacket in Uncut Gems — a look that has since reached Halloween-costume status, as GQ fashion critic Rachel Tashjian pointed out on Twitter.(When asked about the possible connection between Sandler's mustard polo and Isaac's mustard Loro Piana sweater, Bellizzi said she only realized the similarities this weekend. In the context of Scenes From a Marriage, it was intended as a nod to the color palette of the 1970s original.)
With both Sandler and Isaac's characters, Bellizzi wanted to convey the sense that these men "don't really shop," which is funny, considering the strong reaction online from both men and women who very much do. This is Bellizzi's unique talent, though: She's not just a costume designer but also an anthropologist, picking up on subtle dress codes from the Diamond District to Brooklyn, to the suburbs of Boston. The looks she puts together feel authentic and therefore doable for the average person. (At least on Halloween.)
It's no wonder, then, that Isaac wanted to hang around for so many fittings. "You can really tell it was part of his process, too," Bellizzi said of their mini–photo shoots. "We'd try every outfit in different places around the stage. Like, we'd go over to the living room and take photos to see the lighting in different areas. We did one sitting where we just tried on clothes with different glasses. He was into it. We had a lot of time together. He was my guy in this."
Well, now I'm just jealous.