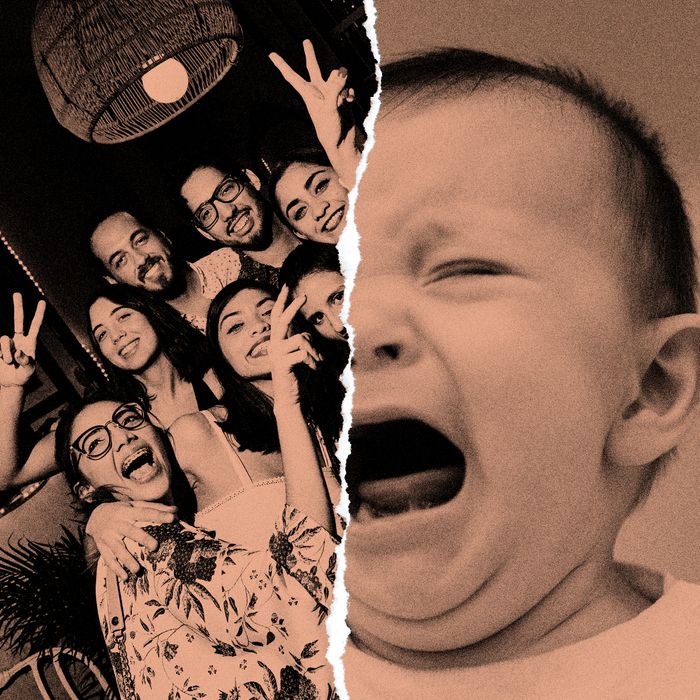 Photo-Illustration: by the Cut; Photos Getty Images
When the pandemic first began last year, most of us who were able went into lockdown; as New York City started to "flatten the curve," it became easier to justify hanging out with friends again. That was less true for many parents, though, who had to weigh the potential risk, even if slim, of infecting their children with COVID-19, let alone the risk of exposing any nannies, babysitters, day cares, or in-person school situations they were lucky enough to have open to them.
Once vaccines became available, the chasm between parents and non-parents grew even wider. As the vaxxed and childless hit the bar (inside! and unmasked!), booked vacations, and went back to normal-ish life, some parents of young, unvaccinated children are feeling trapped in a bubble watching society moving on without them. And parents of older, vaccinated kids are just as overtired, stressed out, and scared.
Turns out, even a vaccine isn't enough to make you feel safe when there are no guarantees about how well it will work for your child, or for how long. For every toddler parent who assumes, perhaps enviously, that life gets much easier when your tween gets vaxxed, there's a parent of a teenager worried about how COVID-19 has robbed their child of crucial life experiences, and wondering if it'd have been easier to have a baby at home who'd never even remember a world before masks and quarantines. In the end, they're both still trying to figure out how to protect themselves and their families — all while still trying to, you know, live — with very little guidance in the midst of a terrifying pandemic.
Needless to say, for many moms, dates and friends have sadly fallen a little low on the to-do list. We talked to two — one a parent to young children and the other a parent to tweens — about how they are managing (or not) to hold on to their social lives during COVID-19.
"The world is up and running, and I feel like I'm back in 2020." — Beatriz Munozcano, 35, Brooklyn, mother to a 3-year-old and 1-year-old
My husband and I pushed to keep our social lives going after we had our first baby in 2017 — we shifted from nightlife to brunch life.
The pandemic began just after my first trimester with my second child. I'd already decided to have a home birth with midwives, and they were super-strict about our behavior, understandably. So we didn't see anyone but them until we got vaccinated. Not even picnics. Back then, we didn't have the data showing how safe being outdoors is.
I remember very well the day I was fully vaxxed: My husband and I went for dinner outside. It was the best thing in the world! Somebody actually picks up your plate after you're done with it!
What changed everything back was Delta. As soon as we started seeing vaccinated people getting sick, we decided to see other people only if it was super necessary, and only outside. The only risk we're taking, because we think it's worth it, is sending our daughter to school. Until my children get a vaccine, everything else that is indoors feels high-risk. My son just turned one and he's never been inside a store.
I'm lucky that I'm in a position in my job — I work for a spirits company and manage a bar as part of that — where I get to say where I meet people (outdoors) and where I'm not going, like to a bar. I'm not getting COVID-19 because I went to a bar. My team is almost exclusively young and without kids. They'll say, "But you're vaxxed!" And I say, "My children are unvaxxed, so you have to treat me as an unvaxxed individual."
Most of our close friends know our boundaries and they don't invite us to things that we don't feel comfortable doing, like going to a museum, even with masks. I do feel jealous sometimes. Most of my friends have been going back and forth to Mexico, where I'm from — I'm not judging them. Maybe if I only had one child, I'd consider it, but my son is too young to wear a mask, so I'm more conservative.
Mostly, I'm jealous of their risk tolerance. I wish I wouldn't worry as much as I do. It's so isolating. I've been so afraid my children are going to get COVID-19. Every day, I go online searching for news on a vaccine for my kids, almost like if I'm tracking it, it will magically come closer.
"The fear is still there. I don't know when it will lessen." — Lili Zarghami, 45, Brooklyn, mother of 14-year-old twins
Socializing had gotten a lot easier in the three years prior to the beginning of COVID-19. My twins had become old enough that I didn't feel guilty about leaving them, and my coworkers were a big part of my social life.
I separated from my husband in September 2019 and we were just figuring out what co-parenting would look like when the pandemic hit. Then I got laid off. The idea of socializing went out the window, let alone anything as radical as dating. In no way did I want to meet anyone outside of my immediate family for fear of whatever virus they might have.
I did decide at the beginning of the pandemic that my best friend would be in my bubble, so we'd see each other while sitting outside. But I was alone much of the time — I'd go on super-long walks where I'd have superficial conversations with strangers and pet every dog I saw to alleviate my loneliness.
I got my second vaccine on April Fools Day and felt like, "Okay! We're over it now!" I ate inside with my friend and then outside on a date. But my social circle is still really small now. So many people left the city because they could — I have very good couple friends who don't have kids and in April they went upstate, in the summer Vermont, and now they're going to North Carolina. Others left the city for good.
My kids didn't hang out with other kids that often either. I tried to encourage them to talk to their friends, and they had a friend down the block that we pulled into our bubble. But I wouldn't push it. If they'd wanted to go somewhere on the bus I don't know if I'd have wanted them to.
To be honest, the demands of having to keep my kids alive and fed and at school and to try to find some gainful way to support us all were enough to occupy my brain that I don't even know what I missed out on socially.
The worst impact of COVID-19, researchers say, is on teenagers, because they are supposed to be going out on their own and separating from family in a healthy way. My kids have inherited a genetic predisposition for anxiety. They're old enough to read the news. My son did not leave the house for two months because he knew there were germs out there and it was scary. Sometimes we'd go on a walk but that was a bit much for my daughter for a really long time. I'm curious to see the effects on them during such a formative time.
They got their vaccines in June and I know their risk isn't dire so that makes me feel a lot better. But there's still a lot of holding your breath right now, a lot of, "I guess I'll do that and see how it goes!" Now that they're starting their first year of high school, I think that's going to change the level of risk I'm willing to accept by necessity. They're on the subway every day and in classrooms. I wonder how many kids there aren't vaxxed.