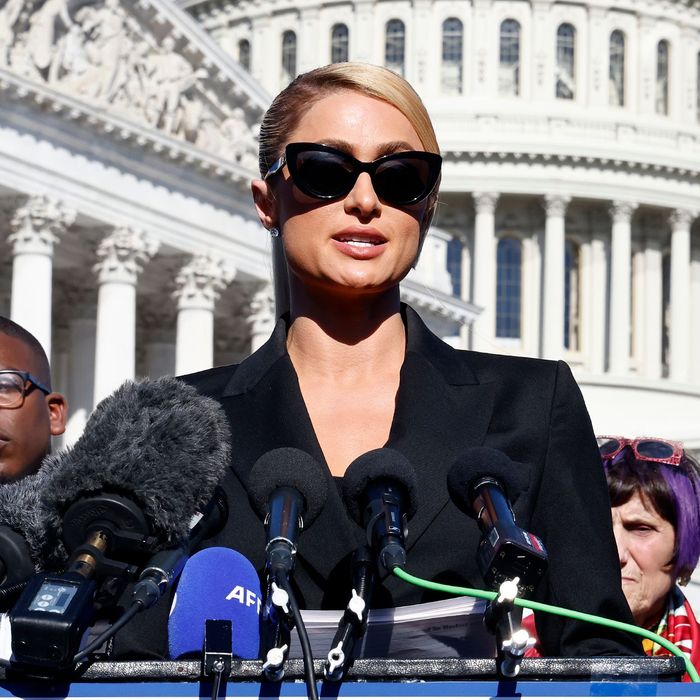 Paris Hilton
Photo: Paul Morigi/Shutterstock
Paris Hilton took a moment out of her wedding month to meet with members of Congress on Wednesday, pushing for legislation to protect children living in congregate-care facilities. Specifically, Hilton wants lawmakers to crack down on what she described in a recent op-ed for the Washington Post as the "troubled teen industry" — institutions like the Utah reform school where she says she suffered physical and emotional abuse as a teenager. Facilities like these, Hilton said, have "been able to mislead parents, school districts, child-welfare agencies, and juvenile-justice systems for decades. The reason is a systemwide lack of transparency and accountability."
Hilton first began speaking publicly about her 11-month stint at Provo Canyon School, a Utah boarding school and "behavioral-health center," last year, in interviews and her This Is Paris documentary. Hilton wrote in her op-ed that she landed at Provo Canyon after a parent-approved kidnapping, in which "two men with handcuffs" woke her up and "asked if [she] wanted to go 'the easy way or the hard way,'" allegedly carrying her screaming from her home. Her parents, she says, wanted help curbing her "rebellious" behavior.
"I had no idea why or where I was being taken against my will. I soon learned I was being sent to hell," she writes, adding that staff "monitored and censored" her communications with the outside world, precluding the possibility of calling for help. Hilton maintains she was subjected to solitary confinement "in a room where the walls were covered in scratch marks and blood stains," per her op-ed, and regularly berated by staff who would allegedly hit and throttle the minors in their care. She says she endured similar violations at three other facilities in her youth, writing that she was medicated without a diagnosis as well as "choked, slapped across the face, spied on while showering and deprived of sleep."
Though Provo Canyon's current owners have distanced themselves from Hilton's allegations, other former residents have come forward with similar complaints. And last week, the National Disability Rights Network released a damning report on the for-profit residential-treatment industry, spurred by the 2020 death of a 16-year-old at a Michigan youth academy who suffocated to death after staffers piled on top of him to restrain him. The report catalogued rampant abuse at for-profit facilities nationwide, "from broken bones, fight clubs and sexual abuse by trusted staff, to forced isolation, shaming and the complete failure by some facilities to provide the mental health treatment that prompted placement in the first place," just to name a few examples.
For her part, Hilton has called on President Joe Biden and federal lawmakers "to enact a basic federal 'bill of rights' for youths in congregate care." On Wednesday, California representative Ro Khanna and other Democrats said they were working on legislation that would set standards around hygiene and nutrition as well as create outlets for residents to report abuse. Per NBC, it would also bar the use of cages, closets, and solitary confinement and ban facilities from starving children of food and/or sleep in order to punish them. "This is not a messaging bill — this is a bill we need to pass," Khanna said.