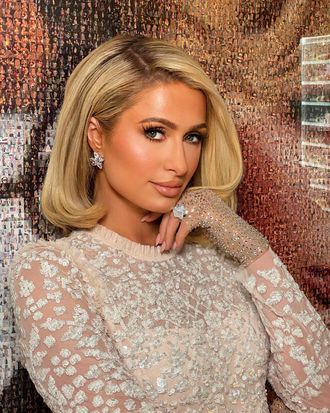 Photo: Courtesy of Paris Hilton
Paris Hilton's wedding is fast approaching, and if you are at all familiar with her passion for nuptial celebrations you know to gird your loins for a marathon event. While there are so far no loose $2 million engagement rings involved, the festivities kicked off last week with a Vegas joint bachelor-bachelorette party, where I trust many expensive things were misplaced in clubs. There was both an indoor zip line and cans of rosé emblazoned with the slogan "Bach that ass up." A promising start!
This weekend, the adventure continued with a "Paris in Wonderland"–themed bridal shower, organized by Hilton's mother, Kathy, her sister, Nicky, and her friend Tina Chen Craig. The theme translated to many enormous roses and polka-dot mushrooms, a life-size statue of the Queen of Hearts, and a real-life actor playing the Mad Hatter. Inexplicably, a Moët & Chandon vending machine was hauled into Hilton's parents' house for the event, which isn't very Wonderland-y but is extremely hot.
Among the guests in attendance were numerous Real Housewives stars, including Garcelle Beauvais, Kyle Richards, and Lisa Rinna, in addition to two of Hilton's miniscule dogs. Hilton's entrepreneur fiancé, Carter Reum, appears not to have been present, but his face was there via a cake, where he too was depicted as a Mad Hatter alongside Hilton as Alice. Also on this cake, because why not: an enormous teacup.
The actual wedding events (yes, there are multiple. Have you been paying any attention at all?) start on November 11, which means we have at least 24 more days of elaborate themed fêting to take in. The entire process will be chronicled in detail for a 13-part Peacock docuseries called Paris in Love. While this would normally feel like a stretch, I actually believe in this case they will have too much material to shave down to 13 episodes. I just hope Paris can keep track of her engagement ring throughout it all!