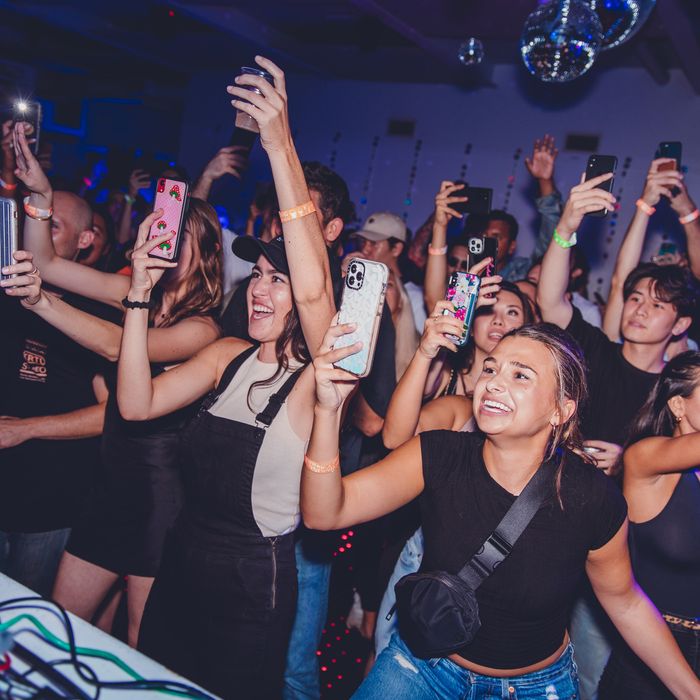 Apparently, this is how much cryptokids love Disclosure.
Photo: McGill Productions/Tom Morbey
Let me tell you a not-so-secret secret: I sometimes wish I had one of those nice, well-paid boyfriends who work in tech. Like, I have a total crush on my roommate's man, D. He's tall, handsome, charming, and, oh yeah, he works in cryptocurrency, which I know basically nothing about, other than it seems to be something that is making some computer nerds rich. So when he told me last week that there was a crypto conference in town, and that there would likely be some late-night letting loose after spending all day revolutionizing global finance at a Marriott in Times Square, I knew I had to go down to a Men in Crypto Business Conference after-party to size them up for myself.
On Wednesday night, D and I headed to Bogart House, a polished rent-a-loft–rooftop venue in East Williamsburg, for a party hosted by Delphi Digital, "an independent research boutique providing institutional-grade analysis on the digital asset market," in honor of one of their newly acquired start-ups, Yield Guild Games, which is all about "bringing players together to earn via blockchain-based economies." If you can't quite follow, it turns out that's how all of these people talk, saying utopic, fatuous things like "We're at the precipice of what's about to happen" and "I feel like I have a real opportunity to make an impact" and "This is nation-state building." From what I could tell from the party, they are mostly a bunch of clean, nice-looking, conventionally privileged, and well-educated 20- and 30-somethings who, in a refrain I heard all night, are "bored" by "traditional finance." Which I took to mean they think they've hit on a mysterious-to-the-normies way to make a great deal of money (and/or "change the world"). As one guest told me, "I think everyone is just trying to make a quick buck … but what you are seeing is the beginning steps of digital-first societies. And for now, the society is around making money and partying."
Though the (digital) invite noted "THIS IS NOT A NETWORKING EVENT," those crypto kids just couldn't help but talk shop all night long. It was the first time many of the guests had boozed together in person, having previously known one another only by their online avatars and company mission statements. "Basically the theme of the party is: the best night of your life. So have fun," said the co-founder of Delphi, who added, unnecessarily, "Crypto parties aren't usually that fun."
8:14 p.m. | D and I arrive at Bogart House, where the cryptokids are getting their vaxx cards checked in a line outside. Waiting on an elevator to go upstairs, I overhear a very pretty girl wrapped in a shawl talking about "knowledge paradigms" and "knowledge integrations" to a man whose body language suggests he's either really into her or really into all that woo-woo tech talk, or maybe both (cryptoflirting). "As soon as the alcohol starts flowing, you'll hear the libertarian talk start up," D warns me.
8:20 p.m. | Upstairs, the flashing, rainbow-colored dance floor is empty while guests plunder the open bars, which are serving themed cocktails including a "Wagmi" (according to Know Your Meme, Wagmi is an acronym for "We're All Gonna Make It," "typically used in the online trading sphere to show camaraderie with fellow investors after good news related to their holdings"), which is really (ironically?) a Moscow mule. I opt for a "Smooth Love Potion" ("a game token used primarily to feed the creation of digital pets … in NFT's hit game, Axie Infinity"). Thank God it tastes like a negroni.
8:30 p.m. | I'm immediately drawn to a glittering curly-haired woman standing out in the crowd with her silver body-hugging dress, accented for approachability by a baseball cap (free party swag). She's a 28-year-old bitcoin PR girl and half-jokingly calls herself a "tech socialite." She's giddy about all of the "recently discovered wealth" here and eager to see it spent in the real world. Just last week, when her friend flipped a $300,000 NFT, they celebrated by blowing $20,000 at Saks and another $5,000 clubbing at Acme. The spoils of her spree? A full outfit: a top from Balmain, a skirt from Dior, Louis Vuitton heels, and a Saint Laurent purse. I wonder whether all of those monograms would actually look good together, but she reads my mind and shows me a picture. "It's such an energy. That's the vibe. But not for everyone. We just do that because we actually care about clothes and stuff," she says. "It's like Pretty Woman meets The Great Gatsby, but with crypto." (Gatsby? What Gatsby?)
8:38 p.m. | Most of the party is hobnobbing on the roof, and my new friend, the "socialite," is happy to point out the scene's celebrities — like a woman in space buns whose claim to fame is creating Fortune magazine's first NFT cover or a fast-talking gamer girl–CEO decked out in Dolce & Gabbana who tells me her company just raised $5 million to "put NFTs in the hands of people around the world." She's an acronym-tossing Girl Boss, and explains that the "bitcoin space" is full of bros, but her preferred blockchain, ethereum? "They were like fucking let's go! Women energy! Get you on stage. Everything. Supportive. Inclusive. Inclusivity."
8:47 p.m. |As for the men … D encourages me to chat with a bearded babe in a Playboy hat and a T-shirt advertising something called SpankChain. Apparently he's the CEO of Spankchain, a "crypto company for adult sites." When I ask for his elevator pitch, he describes himself as a more pragmatic crypto guy, rattling off, rather robotically, "People were talking about all sorts of weird, utopian bullshit. I felt personally that sex workers could benefit the most from crypto." How, exactly, was unclear, though I do know people use cryptocurrencies to pay for things which are illegal, so maybe, though decriminalization might be more immediately helpful? When he starts talking about bull markets, "payment channels research," and Coinbase, I zone out and consider the fact that he seems exactly like the kind of bro to make crypto porn.
8:55 p.m. | I nearly choke on a very cold, very chewy stick of chicken satay someone serves me on a silver platter and question why the hosts couldn't afford better hors d'oeuvre. When I order another drink I notice the tip jars are mostly empty — the repercussions of a party built on fake money, I suppose. Or maybe libertarians are just bad tippers.
9:00 p.m. | I run into the tech socialite again and make a clumsy joke about coming here to find a wealthy beau. She takes me seriously: "If you want to find someone with money, it's everyone in the fucking room. Except … some people just think they have money." I ponder this quandary.
9:41 p.m. | Jostling toward the bar in a sea of long-sleeve T-shirts, sneakers, and backward ball caps, I meet a music producer in a ripped jean jacket and red-tinted sunglasses (there are many, many sunglasses-at-night here) who tries to explain his job, which involves some kind of metaverse where users (?) buy NFTs (not tickets!) to gain admission to "holographic" concerts. "If this was a music party, it would be the really cool Phoebe Bridgers indie-music party at the Grammys," he says when I ask him to describe the scene. "This is the indie-music side of venture capital and finance, and they have unbelievable amounts of money. Hundreds of millions of dollars." What do they spend all that "cash" on, I ask? "NFTs and cryptocurrency," he answers, not to mention "all the other dumb shit: vacations, drugs, fucking, sex, dating, hot people." I tell him I did notice that everyone here is surprisingly good looking. "Hot people follow money, always," he says. I'm learning a lot tonight.
9:55 p.m. | After a few more drinks, I ponder how young these apparently quite rich kids are and start questioning my decision to pursue a gender-studies major rather than computer science. But then I meet a 31-year-old venture capitalist who encourages me to not believe the hype — at least other people's hype besides his own. He's "super-OG," he tells me, whereas everyone around us is "super-new" — "They're chasing the money, but they don't have the money. All these projects? I've never heard of them in my life, and they probably won't amount to anything." He tells me he's been messing around with crypto since 2011 (Bitcoin was invented in 2009), when he was a college student trying to buy drugs online. He claims to have sold his very first idea, a social network for anime lovers, to a publicly traded company before he turned 18. He says he's got real money: "My thing is to ride this wave and then turn it into real cash. That's my whole play here. I've made a lot. Enough to buy multiple homes in L.A. and New York." But underneath all that greed is a classic American Dream: He was born in China without much. "Anyone who has come from nothing, they're going to turn this into real assets," he says. He hopes to build "generational wealth" for his children and their children, who presumably can then afford to be gender-studies majors.
10:46 p.m. | Eventually, everyone starts migrating downstairs to the dance floor, because the electronic music duo Disclosure is playing an 11 o'clock set. One of the hosts, a delicious boy in a soccer jersey, bounces over to tell us how exactly they managed to swing a Disclosure performance: "We bought their NFT a couple months ago for $140,000. But then we started talking to them, and now we're best friends." When the subs come on, he word-vomits, "It was so nice meeting you guys! We're going to have a great night!! Thank you for coming!!! Get fucked up!!!! We're going to have a good time!!!!!" before literally running away.
11:03 p.m. | The dance floor is now packed with straight guys pumping their arms in the air. One couple makes out in a corner, though there's a surplus of men here so I don't spot any other hookups. "The wealth inequality tax is this room," a company founder tells me on my way back to the roof, where I briefly chat with a svelte K-pop artist and self-described "nomad" who wants to be the "BTS of NFTs." Like a surprising number of people, she's here with her dog. His name is Karl. D reappears, telling me, "I even networked in the restroom line."
11:37 p.m. | I have to admit, for a bunch of self-anointed masters of the metaverse, the crowd is friendly and well mannered. People toss around shots and compliments ("I love your energy") like loose change, introducing me to their friends and, in the case of one generous woman, offering to "rain magical NFTs" on me. Then again, maybe this has less to do with cordiality and more to do with networking the reporter. The founder of another blockchain thingy puts his arm around me and points to the crowded dance floor, saying, "This is a glimpse of the future. There's so many beautiful people here that have so many unbelievable stories to tell, from all over the world. It's so wonderful. I'm just so thankful you're here." And I half-believe him!
12:30 a.m. | I'm approached by a tall, flirty man who is attractive except for his crossbody fanny pack. He's a venture capitalist here to network with founders he might be interested in investing in. "I'm here for deal flow, bro," he says, lighting a cigarette and launching into a 12-minute spiel about the "definition of freedom," ending most of his long-winded sentences with "Does that make sense?," which I always say yes to, with a kittenish flicker of my eyelashes, even though I have no idea what he's talking about. Still, some things make sense, but in the way that he's just describing the world of haves and have-nots as it has always been: "You need to have money to experience true freedom in this world. Whether or not it's fucked up, let's ignore that. So long as I have a sufficient amount of money to do what I want to do and to be able to enjoy life in the way that I want to enjoy life, I'm in a good state. To get to that point, I see crypto as the most credible and the most efficient path." In other words, he definitely didn't vote for Bernie. I nearly spit out my drink when he tells me he's a 21-year-old student at the University of Pennsylvania. A few minutes before I leave, he hovers very close to my face, and just when I think he's going to kiss me, he says, "I think it's best if we don't know each other's names. I don't need the SEC knocking at my door."