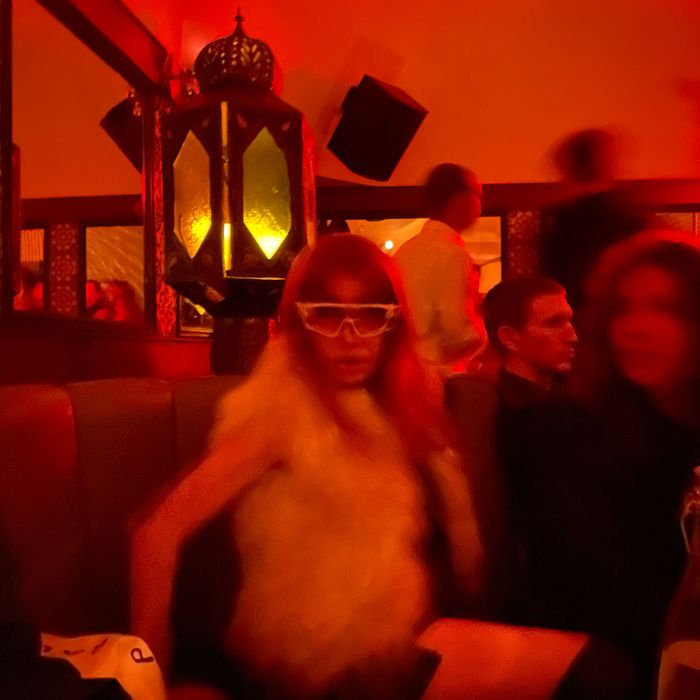 Sophia strikes a pose in her booth at Paul's.
Photo: Courtesy of Brock Colyar
"I approach the night like it's the first time I've gone out in my life," says Sophia Lamar, the 66-year-old actress, model, performer, and OG club kid. "You never know. A lot of things can happen. You can get killed. Or you can be loved. Or both."
A trans émigré who left Castro's Cuba at 24, Sophia arrived in New York (by way of Miami, Dallas, and San Francisco) in the 1980s and met the late party promoter Michael Alig almost as soon as she got to town. She was there when Alig's club kids ruled nightlife (until Alig killed another club kid and went to jail, a tale told in the movie Party Monster, starring Macaulay Culkin as Alig) and held court at Peter Gatien–owned clubs like the Limelight and Tunnel (Gatien was later deported to Canada for tax evasion.) But between mayors Guiliani and Bloomberg, their fashion-y DIY era of nightlife came to an end. And yet, Sophia survived, and she prefers not to talk about the past. The party hasn't stopped, and she still wants in — at least if it's the door of Paul's Casablanca.
"I'm one of the last breed of people who make a living doing nightlife," she tells me, challenging hypothetical detractors. "A job is a job. And I'm very happy doing what I'm doing. If I was spraying perfume in Macy's, would you be happy for me?" Still, she's not eager to say much about her fellow working nightlife veterans, even though many of them are still very much around town: You can find Amanda Lepore at Gitano, Susanne Bartsch On Top (of the Standard), and RuPaul on your TV. This week, Sophia took me along to her hosting gig at Paul's for their famous Sunday Morrissey night.
"I'm here to tell you, nightlife has always been the same. It's always been the same bullshit, the same play with different actors. Nightlife. Has. Always. Been. The. Same," she tells me, emphasizing her distaste for nostalgia of any kind. "I have seen the same kind of people over and over and over and over, like they come from a factory." And Sophia, waiflike and composed, endures. "The past doesn't exist. The future, who knows? The only thing that's important is this moment, you and me."
10:01 p.m. | I grab a table at a quaint restaurant down the street from Sophia's apartment in the West Village where we're to meet for a prework pregame. She arrives like a celebrity, commanding diners' attention with her knee-high leather boots, silvery eyeshadow, and flaming red hair while also shunning it, keeping her head down as she walks over to the table. She's "shy," she says. "I have to drink when I work because I have to be at that level of people's mentality," she says, ordering a negroni and replacing the gin with tequila so she can stick to one liquor tonight. "I drink because otherwise I become a serial killer." She's not technically supposed to be boozing right now because she's still taking meds from her forehead lift last week. Fortunately, her doctor reported that her liver is doing surprisingly well for several decades of being a party girl so … *clink.*
10:20 p.m. | As I've never been to Paul's before, Sophia takes the opportunity to flatter her employers. Her favorite thing about Paul's — or "Casa," as the boys inside say — is that they have standards at the door. "When you get in, you feel special because you were chosen to be there," she says, noting that it's also a good business practice. "You select the people you know are going to buy a bottle: beautiful models, the freaks, elegant people. It's like casting for a Fellini film." Sophia hosts at Paul's because it doesn't feel "contrived," to use one of her favorite words (though a doorman who "casts" the customers does make it technically "contrived"). "I don't go out for validation," she adds, which seems like a jab at someone. "Freebird" comes on for the second time, which feels oddly appropriate.
11:05 p.m. | Sophia's shift started at 11 p.m., so we head over. On the way out of the restaurant, Sophia tells me that she used to sleep with its owner 20 years ago. "I have 99 problems, but not that one," she says with a grin when I ask if she's currently dating. That's something else she finds far too "contrived" for her no-frills, Gemini-woman personality. "I have sexual encounters, but I don't date. When someone says I want to take you to dinner, I say, 'Dinner?! I know what you want. Let's have sex. I'm not hungry.'"
11:11 p.m. | We arrive at Paul's and the clean-cut guy at the door squeals, "Happy solstice!" before rolling his eyes at me and grunting "I don't know" when I ask if today is really the solstice (the equinox was four weeks ago). Sophia struts inside, saying hello to the fawning regulars and staff, some of whom are all-too-appropriately wearing Blondie and Joy Division T-shirts for Morrissey night. There aren't many people here yet, but everyone who is here moves around with the chilly aloofness of movie stars, avoiding eye contact and sipping on dirty martinis in the "Morocco-inspired" heavily tiled, very dark rooms. None of the booths are currently available, so Sophia plops down in a quiet corner in the back, telling me that she gets "overwhelmed easily."
11:39 p.m. | A cherub-faced boy comes over to pay obeisance to Sophia, snapping a picture with her and — shockingly — taking a big gulp of her drink. The denim-clad girl with him tells me that he's a model who just got back from Paris Fashion Week and has decided to switch careers and become an actor — exactly the kind of thing I'll hear all night long. I watch him sip another stranger's drink and do a little jig for Sophia — who waves two fake candles in lieu of clapping — and his friend tells me he's super drunk, unnecessarily. "I feel more like an adolescent 14-year-old boy than a woman," Sophia tells me when the model stumbles away. "He has the je nais se quoi." I agree; it's easy to see why he's invited to walk for the likes of Balenciaga. I ask what her type is, and she replies, quickly, "Skaters, rockers, and intellectual Jews."
11:50 p.m. | The manager kicks three burly men out of one of the booths near the dance floor, and Sophia takes over. It soon fills with tall, gangly boys, all more or less her self-diagnosed type, each eager to join in on her bottle service. They all smell deliciously of musty cologne and cigarette smoke. To my right, a gay guy from Colombia (the country) cozies up to a chiseled, self-described "creator world person" in Oakley sunglasses who tells me that he's straight, but he met this friend on Instagram last night, and he's trying to give him the "best night of his life" (he's been awake for 24 hours, since partying here, at Paul's Casablanca, last night). I suspect their relationship involves a few conditions.
12:11 a.m. | The table runs out of tequila, and another bottle arrives immediately. I ask the "creator" boy where else he likes to go out, but the question seems to confuse him. "Ummm, I don't know. Baby Grand?" he replies, meaning Paul Sevigny's other club, Paul's Baby Grand. Across the room, the model falls down, and Sophia mutters, "I was waiting for that." The DJ plays "Panic," which is the first time I've heard them play an actual Smiths song.
12:20 a.m. | An older woman with neon-blue hair joins the table and, even though the "creator" boy warns her not to talk to me, she says she's happy to chat with anyone as long as they're not Michael Musto, famous for his longtime Village Voice nightlife column. The woman says she's known Sophia since she was dancing in cages, when they would go out "Monday, Tuesday, Wednesday, Thursday, Friday, every night." Unlike Sophia, she's quick to tell me that I missed out on the actually fun days of New York clubbing. "Bottle service killed nightlife," she complains, adding that the "fucking millennials" didn't help either. It's getting better, though, she says more optimistically, because of my people. "Gen Z really understands us, people like Sophia and me. They're like us, but with more freedom."
1:00 a.m. | Yet another leggy, well-groomed boy joins Sophia's court, and when I ask why he came out tonight, he says, "I had coke, so why not?" When he asks some of us to partake, I say, "Why not?" We light cigarettes under the table, hiding them from the flashlight-wielding security guy, and when A Flock of Seagulls song comes on, several kids take to the dance floor, their arms and legs flailing under the disco ball. The lights bounce off the tiles, and for a brief moment, if I squint my eyes, the whole thing feels out of time and place. "I'm so fucking tired of feeling like I'm high," creator boy tells me. Desperate to figure out who he really is, I ask his friend, a girl wearing a long T-shirt as a dress. "For the last three years, he's been a constantly closing door," she responds. "But look at that face." Sophia advises, "Make out with him. He's not straight."
1:33 a.m. | I start to chat with Sophia, but her animated, perfectly manicured hands knock my contact out, so I head downstairs to the restroom.
1:35 a.m. | On the dance floor, I run into a boy I took home once because he reminded me of my roommate in college whose defining personality trait was that he really liked the Smiths. So I suppose it's appropriate we're meeting again at Moz night. He tells me he spends many a night here, at "Casa." "Coming here is like going to church on Sunday. I wear my finest clothes because I respect the establishment," he says, peering at me over his Prada sunglasses. "I don't think anyone is looking for much, which is the beauty of this place. It's very finite. And very easy. I come here to relax. I do a couple bumps of coke, I have a beer, and I sit here. I relax." I invite him over to Sophia's table, but apparently the two of them don't get along very well. Back in the booth, a pixie-cut blonde girl looks right into my eyes and tells me, "I can tell you're pure."
1:50 a.m. | Sophia continues to hover around her booth, making small talk with friends and calling the employees over when they run out of Patrón. One of her boys declares that we're proper "island girls," by which he means Manhattan. Another guest greets me by shoving his tongue into my mouth and inviting me to do shots with the security guard and the bartender. "It's been a hard night," the guard says, throwing the tequila back and popping a hip to a dance remix of "Dreams" by Fleetwood Mac.
2:00 a.m. | I'm told it's a relatively quiet night, and sure enough, when I walk outside, there's no line — only a girl stuck in a K-hole, plopped down on the sidewalk, and a pomeranian named Slayer, tied to the velvet rope. Smoking a cigarette, I meet a broad-shouldered, self-described "old head," who says he's been coming here for over 15 years. "It's the best Sunday night in New York," he praises, before cautioning that the music isn't as good as it used to be. Tonight they're playing the hits for the kids — "Heart of Glass" and "My Charming Man" and "Dancing Queen" — but it used to be all "Britpop," he says. "Nightlife now is either rich dumb fucks bottle service shit, or it's rehashed. And this is a little rehashed. But what are you going to do?" he asks, saying that the best nightlife these days is either in Mexico City, Berlin, or Brooklyn — as if one of those places is across the globe and not across the river. We walk back inside to the DJ playing Florence and the Machine, which kind of proves him right.
2:35 a.m. | A friendly person on the scene comes over to say hello and a few nice words about Sophia. "She got a man to build her boobs and make her pussy tight," he says of one of her "colleagues" about town. "But Sophia made a name for herself. She's an icon." Above us, the "old head" from outside hops on top of the booth to shake his ass to an ABBA song. He seems to enjoy the music much more than he let on.
3:01 a.m. | No matter where you go out, some things are always the same. I think that when "Dancing on My Own" comes on and everyone on the dance floor starts jumping around. Sophia lays back in her booth, drinking it all in, an approving club mother.
3:10 a.m. | The girl in the T-shirt dress sits down beside me and asks if we can text, though, when we start texting, she doesn't have anything to say besides "how are you," which she could've asked out loud. Sophia leans over to whisper in her ear for a minute, and when I ask what she had to say, the girl says Sophia was complimenting her: "I can tell you're not horny, and you're not trying to attract intentionally. You're a warrior. Fight for yourself."
3:22 a.m. | When things start to wind down, Sophia stands up to take her leave with a long-haired boyish person in a hoodie who she's been whispering with most of the night. Before I go, I lend the security guard a smoke ("Baby, do you mind if I have one of those?") and say good night to the door guy, who rolls his eyes at me one last time. And I leave, too, neither killed, nor loved, nor both, for one more night.