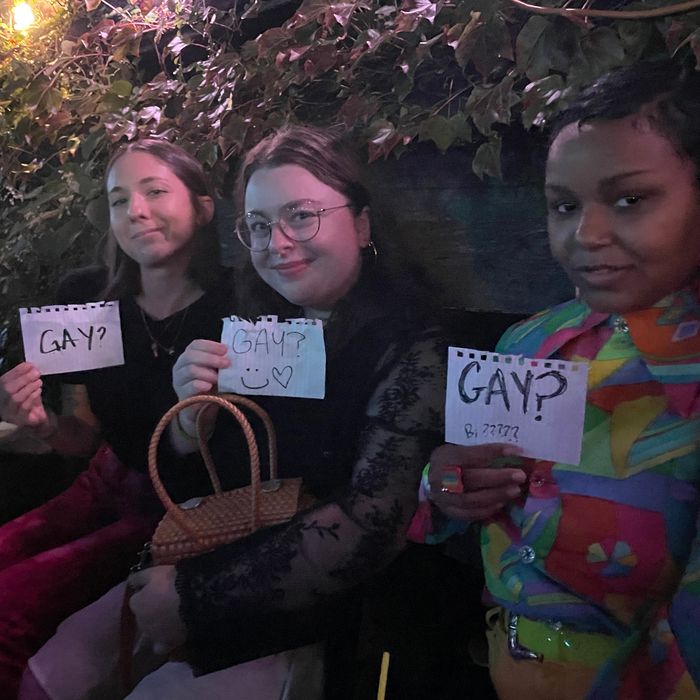 It's the hard-knock life for us.
Photo: Courtesy of Brock Colyar
At the beginning of the summer, our supposedly (and eventually kind of) sexy summer, I tried something new: I deleted all of my dating apps. Like everyone else in their 20s, I don't really remember a time when I was having sexual urges and wasn't on Tinder, Bumble, Hinge, and/or Grindr — looking. But for what? Sometimes I wonder, like we all do: Is an app even the best way to find whatever that is, exactly? Not to sound too Carrie Bradshaw about the whole thing, but I kept thinking that in this massive sea of 8.4 million fucking fish, surely, for God's sake, there must be an easier way to meet someone who isn't awful. But you've all heard this before.
I'm not alone in this, of course. Twenty-seven-year-old Randa Sakallah saw this "swipe fatigue" as a sign that her generation needed new ways to date (even if they're still, inevitably, online). "People find real relationships off apps," she says. "But it's lost its luster. It's not fun anymore." With her pitch down, she created a Substack last October called Hot Singles. In the mold of old-school personal ads, Randa started sending out a weekly email blast advertising a Q&A with one "hot" person in New York looking for everything from a "Communicative Cutie" or a "Woman Who Appreciates the Past" to a "Current or Future DILF" or a "Man Who Affirms Himself." Seeing that it might be a trend, the New York Times wrote about it.
But let's face it, these are still online personals. So last week, Randa threw the first in-person Hot Singles bar party in Williamsburg, and I decided to go witness all the horny desperation. Meanwhile, my app avoidance only lasted a few months, and I'm back online.
9:00 p.m. | The singles party is at Blinky's, a Williamsburg cocktail bar with a gravelly backyard and near-perfect bisexual lighting, and I arrive an hour late, because who is going to be tipsy enough to flirt before nine o'clock? The woman at the door rewards my single status with a drink ticket for a free shot and brands me with a neon-green wristband that reads "single and ready to mingle." There are also red wristbands, for the friends who came here to lend emotional support to their lonely pals (or maybe to attract the type who is up for a challenge). Already, the bar is packed, and when "Fergalicious" comes on, I spot a scruffy boy wearing a men's romper, decorated with flamingos and SpongeBob SquarePants. I take it as a sign that my prospects will be slim tonight.
9:19 p.m. | The crowd is very, very Williamsburg: professional-leaning college grads and a number of boys with skinny 'staches and ambiguous sexualities. Squeezing my way to the bar, a curly-haired girl informs me that she was once a "Hot Single," but she ended up meeting her boyfriend "the old-fashioned way, on Hinge." Waiting on a drink, I make small talk with the mulleted man next to me, and he tells me he's an extrovert and that I seem like an introvert, which I don't find to be a very good pickup line.
9:30 p.m. | The string-light-lit backyard is full of awkward clumps of three, always a pair of friends getting to know strangers in who's-the-wingperson-here tandem. I meet a nerdy-looking girl who tells me she's taken (she met her beau on Tumblr, back in the day) but that she's here with her GBF; we're interrupted by a 34-year-old divorcée in a sheer lace top who initiates conversation by explaining how much she wants to get laid and also asking us if she should get a nose job. "People get offended by me when I say shit," she says, before asking a series of intense gender questions, and, apparently satisfied, declares, "To me, I respect everything. I love fucking." I pretend like I need to go find a friend.
10:10 p.m. | We may all have wristbands that publicly mark us as single, but some are starting to wish we had wristbands advertising what exactly we're looking for … you know … down there. Over the music, I hear a bunch of giggly yelps coming from a trio of sweet-faced girls on a bench in the corner of the yard who have discovered a solution to this problem: little torn-out journal papers held above their heads that read "GAY?" "We're doing our own investigative journalism. It's not going well," one of them tells me. Recently, she was ghosted — "We all go through it" — by someone she'd met on Lex, a queer-women-focused personals-based dating app. "People post such interesting things," she says. "They get real personal and honest. They really bare themselves. It's so lesbian." I ask her what she's looking for specifically tonight, and she responds before I can ask the full question: "Sex. I just want to have sex. I got out of a pretty long-term relationship, so I'm vibing, you know? I'm at events like this, waving a gay flag."
10:26 p.m. | For others, the night is early, but something about being in a room of available people is proving to be anxiety-inducing. Everything is all soft smiles and feigned enthusiasm and constantly forcing yourself to talk to someone new. Oh, and not a small amount of brutal self-judgment in the guise of judging others. "The result of this night will be that I text my ex," a friend of mine says, angry with herself already, only a few minutes after she arrives. "I don't even need a good ex. Any ex. This is too much." She DMs a fuck-buddy, asking if he's at home, but his response is difficult to decipher: "Lol yes but in bed." We brainstorm possible responses with a committee of strangers.
10:35 p.m. | In a booth near the bar, a trio of girls down their drinks and get up to leave, complaining, "We're getting out of here. It's full of tiny people. It's a tiny people's palace."
10:40 p.m. | Back in the yard, a straight guy in a corduroy jacket stumbles through a group of onlooking girls, practically yelling, to no one in particular, "This is hell on earth. I think this is actually purgatory. You're stuck here and generally confused about what to do. WE'RE IN AN ARENA!"
10:54 p.m. | I spot a girl who looks like a Fanning sister in close conversation with an exceedingly plain-looking boy and decide to inquire whether or not they met each other tonight. Apparently, they did, and when I ask if they're hitting it off, he says, "Yeah," but she says, "Not really." Both of their friends are off flirting somewhere, so they've found something in common to talk about in the meantime: a love for music, or, as she puts it, "expression through different types of rhythms and instruments." They're also getting along because they're both emotionally unavailable. He's looking to "explore" right now (read: He wants to have sex), and she's addicted to the independence that comes with being single, even though she's open to meeting someone who "feels the same vibrations" as her (read: She wants to have sex, but probably not with this guy).
11:11 p.m. | Elsewhere in the yard, I meet a too-drunk blonde in a tight-knit top who was also featured in Hot Singles, which somehow led to only one, bad date. ("He was short, a finance bro, and an interrupter. I was like, Throw me off a bridge.") Tonight, however, she and her less-tipsy friend are having "a lot of fucking fun." Both of them recently deleted all of the dating apps off their phones, in an attempt to meet people in person. "They were genuinely making me feel horrible about myself. I know in my soul, if I meet the love of my life, it's in person, baby," the blonde slurs. "Hinge is dead. Tinder is dead. Bumble is dead. We have to talk in person." Like almost everyone I've talked to tonight, both of them insist that they love being single ("I'm obsessed with it," "I've kind of recently discovered that it's actually super-fun to be single," "It's so liberating," "I'm not a relationship person"), but I suspect they'd also much rather be someone's girlfriend. "My only complaint about this party, if anything, is there's too many people. I can't slink around and meet people. I'm trying to slink," one of them tells me, before I slink away myself.
11:20 p.m. | The terrible news about Alec Baldwin killing someone begins to push-notify itself across phones in the yard. It seems to inspire a mingling-conducive conversation prompt.
11:25 p.m. | I'm intrigued by two mid-20s bros sitting alone, both wearing white baseball caps and cross-body fanny packs. They refer to themselves as each other's "adventure buddies" and say they haven't spent a day apart in five years, both saying "five years" at the same time. It's all rather touchingly homoerotic. The hotter boy tells me he actually just started dating for the first time. "She was going to be queer after her last failed relationship, but then she met me and we've been going strong. It's physical. It's emotional. It's spiritual." That's convincing! Still, the four-month-old fling isn't without its hiccups. "She says a lot of strange things like, 'There are such things as open relationships,' but then she says, 'You can't be with anyone else. Because I'd cry myself to sleep,'" he shares, blaming her narcissistic manipulation on the fact that she's a quadruple Pisces and telling me he thinks they're about to move across the country together. Great idea! His friend, however, is just starting to date again after lockdown. "I vehemently oppose dating apps," he says. "I prefer something like this, where you actually meet someone and get to see their essence and their energy instead of doing a really superficial prescreen of how they look online," he explains, though he fesses up to two recent Hinge dates. "I really think I want to explore, like, sharing the journey that is life with someone else. Because I've never really done that before." His friend whispers, "That's beautiful." Of course, maybe not starting tonight. "I'm 24 and just came out of a year of not fucking anyone, and now I want to fuck everything that moves … respectfully." Everything? "Girls," he clarifies. "But I wish it was everything! It would broaden my horizons a lot!" I think to myself that they should probably be dating each other.
11:31 p.m. | I've heard a rumor about a man in a rainbow hat with a dead tooth who's been scouring the bar looking for, according to one partygoer, someone to dominate him and watch him "eat off the floor." When I spot a girlfriend across the room, stuck in a conversation with him, I swoop in. He tells me he's been here since 7 p.m., and he had no idea tonight was a special singles night. What is he looking for, I ask? "A girl who's into something that's sexually adventurous."
11:45 p.m. | At the bar, I order a final drink with two girls who have the same name (Ann) and also, they claim, the same type ("guys with mustaches and mullets, bisexual men, hot women"). I bet they're both active on lesbian TikTok. Taller Ann, with baby bangs, has been single for four years, which she blames on a mix of "self-sabotage," "living in Bushwick," and "only dating skater-boy twinks." "I can't quite fit into the lesbian scene, and I don't quite fit into the straight scene," she tells me. "In a situation like this, you can't really tell who's a queer woman, other than guesswork. Going off how they dress and their vibes." I point her toward the women with "GAY?" signs in the yard, and she directs my attention to a C-list actor, but I know better than to pursue those. Shorter Ann, with a shag, on the other hand, says that her former boyfriend of 2.5 years, whom she broke up with five days ago, is standing a few feet away. "He and I had not had sex in months. It was over before we broke up. There he is, in the booth," she says, pointing at him nonchalantly.
Midnight | The backyard closes for the night, sending dozens and dozens of now-drunk, horny still-singletons inside the bar. I finally spot what seems to be a success story: a teeny blonde standing on her tiptoes to kiss a tubby guy with curly little bangs, who's grabbing her ass. Eager to confirm the in-person love connection, I wait for them to come up for air and ask what attracted them to each other when they met at this contrived event. "She's been traveling around the country, and I thought that was kind of hot," he says. "I think he's very fun and nice and personable. A very considerate guy, too," she says in turn, which makes up for its lack of specificity in its general sweetness. I ask them if they are going to go home together tonight, and they both nervously shrug, before she works up the courage to bat her eyelashes and say, "I don't know. Maybe. You tell me." But is this long-term? He bleakly informs me that she's moving out of the city in a week. "I'm done with New York," she says, telling me about her upcoming trips to Atlanta, Joshua Tree, Aspen, and Hawaii. But, of course, the only thing worse than being single is dating long-distance. A little tipsy now, and leaving alone, I get in my Uber and take a peek at the singles in my area.