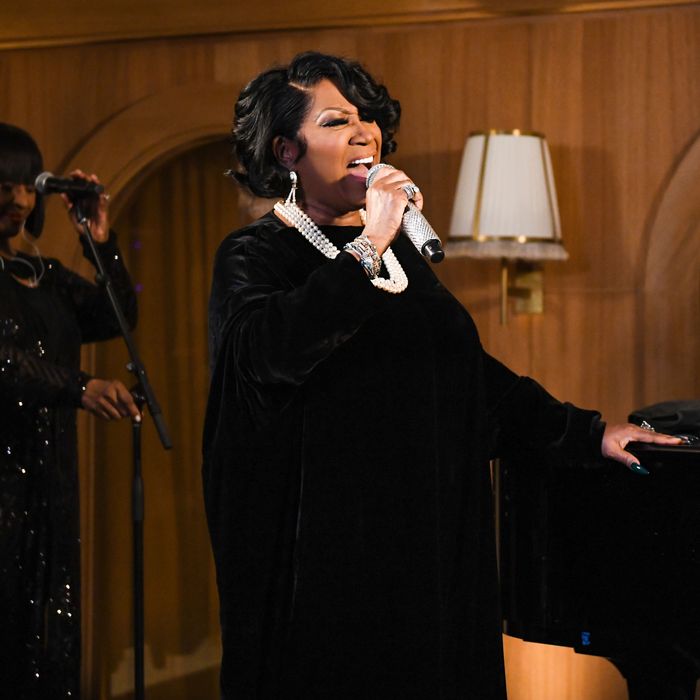 Photo: Joe Schildhorn/BFA.com
Patti LaBelle is no longer interested in keeping stressful things around her. Her ultimate goal? "To be stressed less," said LaBelle as she sat in Saks Fifth Avenue on a recent day, wearing long hunter-green acrylic nails, hair curled and makeup flawless: seamlessly blended eyeshadow, wispy eyelashes, a peachy nude lipstick, and light blush. At 77, LaBelle, who likes to be referred to as Ms. Patti, performed for the Saks Foundation to bring awareness to mental health, a topic that she cares about deeply.
LaBelle is intentional about her days: She usually starts with thanking God every morning and then dips her feet in her pool (even though she doesn't swim, moving her feet in the water gives her a nice exercise). Throughout the day, LaBelle finds happiness in the smaller things (in fact, she thinks she's pretty "basic") like walking her 77-year-old (in dog years) Shih Tzu. He's "bad," but she loves him. She also loves to clean, even though she has a housekeeper. What is the thing she loves waking up to more than anything? Shiny floors.
Floral arrangements are also on the list of what brings her bliss. "Beautiful flowers bring me so much joy, and that brings me happiness throughout the day. That's my wellness," she told the Cut. She buys them biweekly and makes her own arrangements, often with casa blanca lilies and gardenias. Having floral arrangements make her home feel "euphoric," she said, especially when she has guests over to eat.
Supermarkets carry meals from her line of packaged southern food, from greens to macaroni-and-cheese and, of course, her famous sweet-potato pie. In fact, another one of her main sources of joy is when people love her food. She makes a menu every week for breakfast, lunch, and dinner, Sunday through Saturday. Don't ask her to pick a favorite, though, because she loves them all — even though she's diabetic and can't eat a lot of what she cooks. "Everybody loves my macaroni, and my potato salad, and my fried chicken," she said, and she can keep going on and on. Her only rule when she cooks for you? "If you don't ask for seconds, you can't come back."
But she knows that mental health and wellness take more work than just appreciating the simple things. She wants people, especially in the Black community, to stop stigmatizing mental-health treatment. "We're afraid to say that we have a little issue and people saying we're crazy," she said. She opens up about the first time she went to therapy after her group, Patti LaBelle and the Bluebelles, split up. "I thought I wasn't going to be able to sing anymore because I didn't want to go out as a solo performer," she said. The fear crippled her and she sought professional help. When she finally got back onstage, she got a standing ovation and was able to perform again. But she knows that not seeking help could have derailed her career.
Now, in addition to all the things that make her happy, she asks her son, who is also her manager, not to bring her problems she can't solve. She's learning to stay away from things she can't fix. Talk about self-care.