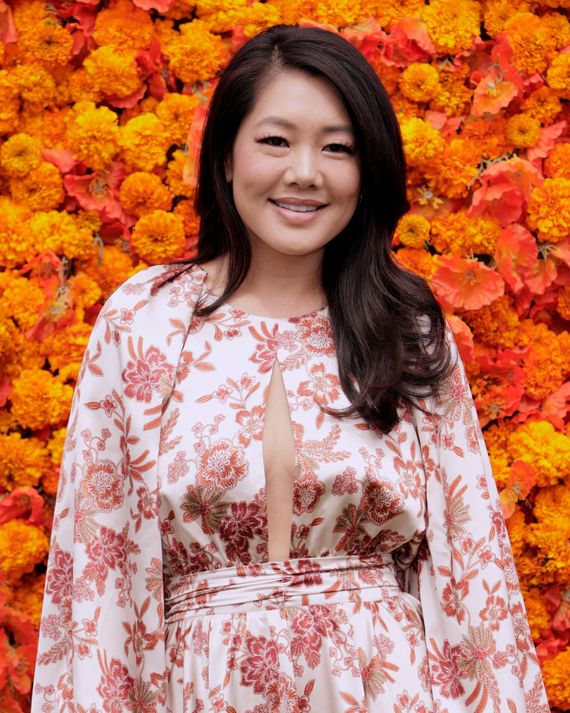 Photo: Frazer Harrison/Getty Images
"Don't use your favorite knife!" Crystal Kung Minkoff warns. This unfortunately isn't a scene from her first season on Real Housewives of Beverly Hills — as high-drama as the Bravo reality series may be, cutlery doesn't usually get involved. No, we're smashing cucumbers over Zoom. Minkoff is showing me step-by-step how to prepare the classic Chinese dish huang gua, a refreshing appetizer made with cucumbers, plenty of garlic, and a mix of various condiments.
Minkoff easily floats around her kitchen in a white-and-blue tie-dye top, framed in front of the same pristine stove with red knobs we first see her cooking at when she's introduced on RHOBH. Beyond hosting, the housewife has turned her culinary skills toward mini cooking lessons on IGTV in which followers follow along for recipes ranging from the cucumber dish to cocktails. In a couple videos, the family's housekeeper, Lucy, makes appearances, drinking piña coladas with Minkoff. The housewife jokes that as she was setting up our Zoom call, Lucy asked how long it's going to take because she has work she needs to get done in the kitchen.
Minkoff may be a newcomer this season, but she kicked things off with a bang. Thrown into the reality-television gauntlet of catfights, one of the season's most explosive exchanges had fellow housewife Sutton Stracke blow up on Minkoff with a cheap shot: "Jealous of what, your ugly leather pants?" Faced with this low blow, Minkoff simply stood there and cracked a cool smile, a moment that was prominently featured in the season's first look and is currently memorialized as the Twitter avi for @housewifegifs.
A mother of two and married to The Lion King director Rob Minkoff, the Beverly Hills socialite runs a well-oiled operation of her household as a self-professed lover of scheduling. When Minkoff's addition to the show was announced, it made the sort of big-deal headlines usually reserved for series veterans: She's the first Asian American housewife on the Beverly Hills franchise. Earlier in 2021, Dallas introduced Tiffany Moon as the inaugural Asian American cast member to that iteration and RHOSLC recently brought on Jennie Nguyen, the first housewife of Vietnamese descent to star in any of the franchises. Change has gradually shifted The Real Housewives universe, as homogeneous casts are now gradually evolving to better portray the diversity of the real world. For Minkoff, suddenly thrust into the spotlight, she was overwhelmed by the response.
"It was mixed. It was a lot of positive: 'I can't wait. I've never watched this show, I'm going to watch now,'" she tells me. "And some negative. 'You're nobody, you're only here because you're Asian.' So that's something that I've been processing and going through over these last few months."
"It's empowering being like, 'Okay, you know what? You've never seen anyone like me, you don't want to see me, this is why I'm here,'" Minkoff continues. "So that's been personally fulfilling."
While preparing the dressing for the cucumbers, Minkoff reminisces about her childhood summers visiting her grandparents in Taipei and how "Tawainese street food is the jam." She grew up in Southern California, where her maternal grandparents eventually emigrated when she was 7. Like a lot of second-generation families, Minkoff's parents only spoke to her and her brother in Chinese but as "rebellious American kids" they talked back in English. She went to a private Catholic school in Los Angeles where she played volleyball and scored good grades in AP classes, her eyes set on becoming a surgeon like her father. Originally on a pre-med track when she started at University of California Irvine, she eventually hung up her aspirations for the white coat. After graduating, she tried her hand at a little bit of everything: obtaining her Series 3 license, working in a hospital in case she ended up reeled back into health care, and getting a clothing manufacturing job in downtown Los Angeles. More recently, she and her pop-star brother, Jeffrey, founded the Real Coco, a company that makes coconut milk, water, and chips.
In terms of landing on RHOBH, her first call was with former housewife Teddi Mellencamp, but it was friend-of-15-years Kathy Hilton (who currently appears as a scene-stealing "friend of") who helped convince Minkoff to take the plunge into reality television.
"Kathy called me toward the end. She was like, 'I'm thinking about it. You should do it with me.' I was so scared," Minkoff says. "But she's like, 'Let's do it together. I know you, you know me, and this could be a fun adventure.' And this was right in the middle of [the summer's] BLM [movement] and being Asian, I was like, 'Wow, I'd be the first Asian.' There's a lot of reasons to do it, fear to do it. But then ultimately I said yes."
Soon enough, Minkoff found herself in the position of having to educate white peers, something that many other women of color (both in other Housewife franchises and real life) are charged with. It was only a few days into filming for Minkoff, just a few weeks ahead of the election, and the cast's first night on a girls trip to Lake Tahoe when she got into a heated discussion about race with Stracke. "When I want to talk about race, I always want it to be positive, I want it to be not necessarily lighthearted but open-hearted," she says. "It's a scary subject for some people — not for me, I enjoy talking about it. I think when people are fearful it can get heated like that. So unfortunately that's what happened. It's amazing that they aired it. People likely got upset about it on both sides, but ultimately it's a massive learning experience."
The feud hasn't been the only time that race has been discussed this season of RHOBH. Minkoff and Stracke's squabble was actually catalyzed by Kyle Richards sharing insight learned from an earlier conversation about race with Garcelle Beauvais, who is the first Black RHOBH cast member. Between several conversations about the misguidedness of "not seeing color" to Beauvais and Minkoff sharing how they navigate the world as non-white women, important dialogue about race has become an integral part of RHOBH alongside the expected dinnertime feuds and weekend getaway shenanigans.
Minkoff also sparked online discourse when she opened up to the fellow housewives about her eating disorder. She didn't intend to divulge it in that way, but she knew that it might eventually come up because it's a part of her life. She's worked through so much of the pain and shame of it that she felt comfortable sharing, hopeful that it would maybe help viewers who were going through their own journeys. While there's still so much stigma about eating disorders, it's groundbreaking to see someone talk so honestly about hers. "I know that I dove into food because I wanted to normalize how I felt about it. So it's literally like jumping in the deep end, as opposed to baby steps," she says. "It was like, okay, I am so deep in my eating disorder, and then I went to culinary school. Because I was like, I need to figure this out."
Candid talk about race flared some tensions throughout this season, but there have been other moments where Minkoff has been able to share her culture. One episode had her host a dumpling night. In another, she had a couple of the housewives over for a casual duck dinner. It was a new type of cuisine for the Beverly Hills group while they still partook in the age-old practice of gossiping about those who weren't present. (Cut from the episode was Minkoff teaching them how to play Mahjong.) The same cucumbers we prepared over Zoom she whipped up for Dorit Kemsley in an earlier hangout; the Buca di Beppo innovator apparently had some trouble with chopsticks but noted how she loves seeing Minkoff's social-media videos of traditional cooking. This all culminates with the season finale, which will feature her Chinese New Year party. "All the girls had never been to a Chinese New Year party, which again shocked me because it's so basic to me, but to them it wasn't," she teases. "I really tried to bring vendors to show traditional Chinese arts and it's going to be visually very beautiful."
As we're finishing up, Minkoff offers up some other cooking wisdom beyond smashing advice. The black rice vinegar she uses for the recipe often can't be found at local grocery stores, so she now keeps crates of it to gift friends who might not know to check Asian markets first for the ingredient. And like a lot of Chinese food, a teaspoon of sugar is added to the cucumbers' dressing, vital for balance. She has me hold up my bowl of huang gua up to the camera so we can say cheers — although hers look aesthetically much better, mine taste pretty darn good. Minkoff has been excited about seeing the reaction to the various Chinese cuisines she has introduced to her castmates and audiences by proxy throughout the season.
"​​Showing my culture through fun things like celebrations, food, Chinese New Year, parties — it's an accessible way to teach. I want to present it in the best possible light because I'm so proud to be Chinese, I'm so proud to be Asian," Minkoff says. "So any way that I can do it where it's accepted normally with love, they want to know more, that's how I prefer to do it. Hard conversations have to happen, I'm totally open to it. But I feel like doing this kind of stuff is the best way and it's just easy to digest."