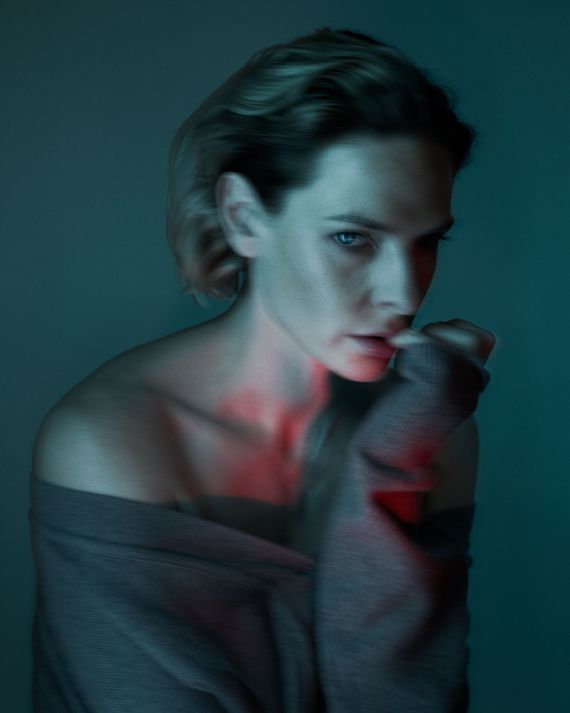 Rebecca Ferguson is tucked into a corner at an institutional chain restaurant in the chichi London suburb of Richmond (it has its own palace and a park with wild deer). The actress has a knack for playing steely, stoic women, but in person, she is disarmingly funny. When we receive our food, she leans into my recorder to describe lunch as if she were hosting a cooking show. "A beautiful butternut squash, dressed with something that looks like it should be scraped into the bin," she says, cackling. "People have said I have a regal air."
In Dune, Ferguson, 38, plays Lady Jessica, a concubine and member of the Bene Gesserit, a sect of women who, through mental conditioning, have the super-human ability to manipulate others and influence humanity for their own benefit. Directed by Denis Villeneuve, the film has an all-star cast, with Timothée Chalamet, Oscar Isaac, Zendaya, Jason Momoa, Javier Bardem, Josh Brolin, and Stellan Skarsgård, but in many ways, it is Ferguson's movie. As part of the Bene Gesserit, Jessica was supposed to birth a daughter who will become a super-being (she is an integral part of the sect's breeding program). Instead, she disobeyed them and became mother to the gentle and heroic Paul Atreides (Chalamet), whom she pushes to emotional and physical extremes, subjecting him to a test that causes blinding pain and training him to use "the Voice," a type of mind control he resists learning at first. The film hinges on their mother-son relationship, and Ferguson balances her character's maternal anxieties and soldierlike toughness with ease.
Ferguson, dry-humored and confident, speaks at lightening speed, and has a mirthful way of finishing sentences. Her hair is pulled tightly back and she's wearing minimal make-up. Over monkfish curry, we zinged among topics that included the parenting techniques of meerkats (dark), the celebrity acknowledgment nod (potentially awkward), competitive pole dancing (it's a thing!), and how to get into stunt work (through competitive pole dancing, of course).
Born in Sweden to an expat English mother and a Swedish father, she got her first acting role at the age of 16, when she joined the cast of Nya Tider, a Swedish soap opera. Regular-enough work followed: another soap and a few films, interspersed with other jobs like nannying and a position in a day-care center. It wasn't until 2013's The White Queen, a BBC dramatization of Philippa Gregory's historical-novel series based on the Wars of the Roses, that she started to flourish. Ferguson played Elizabeth Woodville, a widow who became Queen Consort Elizabeth of England — the titular White Queen. Met with critical acclaim, Ferguson was nominated for a Golden Globe and caught the eye of Tom Cruise. She received a call from the actor while she was on location in Morocco riding a camel named Barbie for the miniseries The Red Tent. (Barbie is the same camel Nicole Kidman rides in the 2015 film Queen of the Desert.) Cruise offered her a role in 2015's Mission: Impossible — Rogue Nation as Ilsa Faust, an MI6 agent working undercover in "the Syndicate," an international group of ex–intelligence officers who have formed their own anti-IMF (Impossible Missions Force). They are, naturally, out to wreak havoc but are held at bay by Cruise's never-inert Ethan Hunt, with whom Faust, acting as a double agent of sorts, has joined forces. Hunt and Faust met again in 2018 for an equally stunt-heavy sequel, Mission: Impossible — Fallout. "I never thought I'd be able to do the things I did on Mission: Impossible," Ferguson says. "I'm terrified of heights, and there's a scene where I did a 130-foot free-fall drop. I had to do it ten times. I trained so much to get to the point where I could step off a metal bridge over a drop. They cut it from the film. I think they liked my character just arriving into frame."
To prepare for Dune, she visited the studio to understand the environment her character would occupy. "If I'm shooting in a room, I need to know it. I don't want to rock up and be, Okay, this was my bedroom for the past 20 years," she explains. Villeneuve and his partner, Tanya Lapointe, became close friends with Ferguson. "I speak to him once a week," she says before adding, with a hint of mock seriousness, "I am trying to manipulate him into giving me some fucking cool scenes for the next one, if it happens."
The first scene she shot on set was with Charlotte Rampling, the Reverend Mother Gaius Helen Mohiam of the Bene Gesserit. A powerful truthsayer in a mesh veil, Rampling tests Paul for his powers by subjecting him to tortuous amounts of pain through mental stimulation. "I was very nervous. I was having heart palpitations knowing she was going to walk in," Ferguson says, her face lighting up at the memory. "I am drawn to French fucked-off-ness. In my head, she was going to be difficult to talk to, and my plan was to break through that. And then in walks this … cool kitten. There was no ego and no meanness. There was just respect." Working with Rampling set the bar for the film. "It's a very cool thing for an actor to do, to be so comfortable in their own presence." She pauses for a beat. "I've got her phone number, by the way."
Ferguson lives with her husband, Rory, their young daughter, and her teenage son from a previous relationship in an ancient house they are currently doing up. They live fairly privately behind a wall — you can't see the house or their garden from the street. "I love it because I'm a one-minute walk from the Thames," she says. "I love rowing and paddleboarding." She pours a cup of mint tea and leans back into her seat. Currently, she is working on Wool, an adaptation of Hugh Howey's series of books set in a world where society lives underground. The books explore two mind-sets: that we are born kind and society fucks us over and that we are born greedy and society structures us with laws and frameworks. Ferguson plays Juliette, an engineer, and is also an executive producer of the show, "learning a new side of being in with the big boys and girls," she says.
Recently, she has been reading Joan Didion; her writing has seeped into how Ferguson is thinking about this latest role. "Didion is a juxtaposition of living in a world that is so eccentric with drugs and drinks, yet she's so quiet and locked in you can't break through," she says. "I'm a little bit in love with her." Ferguson is drawn to introverts, but it's a way of being that feels foreign to her. "I am always the person on my toes. I'm blunt, I speak fast, and people love it because it makes them at ease, but sometimes I think I have been handed that personality," she says. "How can you walk around in a world where there's an expectancy of you to be something?"