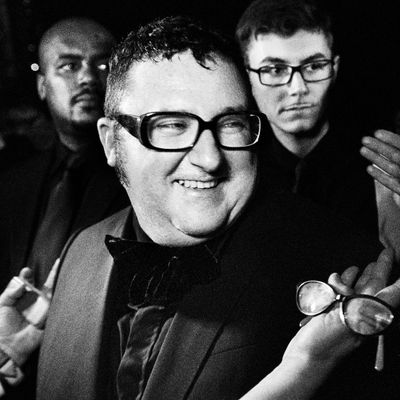 Alber Elbaz in 2012.
Photo: Pari Dukovic / Trunk Archive
On Tuesday night, at the close of Paris Fashion Week, a huge crowd gathered to remember the designer Alber Elbaz, who died in April from COVID-related complications. Professionally, Elbaz was best known for his groundbreaking work at Lanvin; prior to that, he was creative director of Rive Gauche at Yves Saint Laurent and Guy Laroche. In 2019, he started a new line, AZ Factory. Personally, he was a man of boundless good humor and compassion. As the signs displayed around the venue, the Carreau du Temple, read, in his familiar handwriting: "Love Brings Love."
It certainly brought out family and friends, including the designers Dries Van Noten and Pierpaolo Piccioli of Valentino; the fashion executives Sidney Toledano of LVMH, François-Henri Pinault of Kering, and Diego Della Valli of Tod's and Schiaparelli; the actress Demi Moore, and Brigitte Macron, the wife of the French president. Elbaz's longtime partner, Alex Koo, organized the event. As part of it, about 45 designers (and the creative team of AZ Factory) made garments in tribute to Elbaz. Among them were Demna Gvasalia of Balenciaga, who made a pink taffeta cape dress; Maria Grazia Chiuri of Dior, who created a hand-embroidered, hand-painted gown with imagery that referenced his work and personality, and Rick Owens, who also did an ensemble in pink. As Owens said in the program for evening: "Alber always had such a light touch with washed silk gazar in beautiful colors — executing some of my space filling shapes in washed pink gazar felt like the most suitable tribute to someone who always made me feel so good to be with."
Before a showing of the clothes, Koo told the audience that Elbaz had always been captivated by the story of Théâtre de la Mode. Mounted at the end of the Second World War, to revive interest in French fashion, it was a traveling exhibition of doll-size garments, along with theatrical sets. The major couturiers and artists of that time all contributed work. It was immensely popular.
"Alber envisioned a new Théâtre de la Mode for today," Koo said. "His dream was to reunite the best talents of our industry to celebrate love, beauty, and hope."