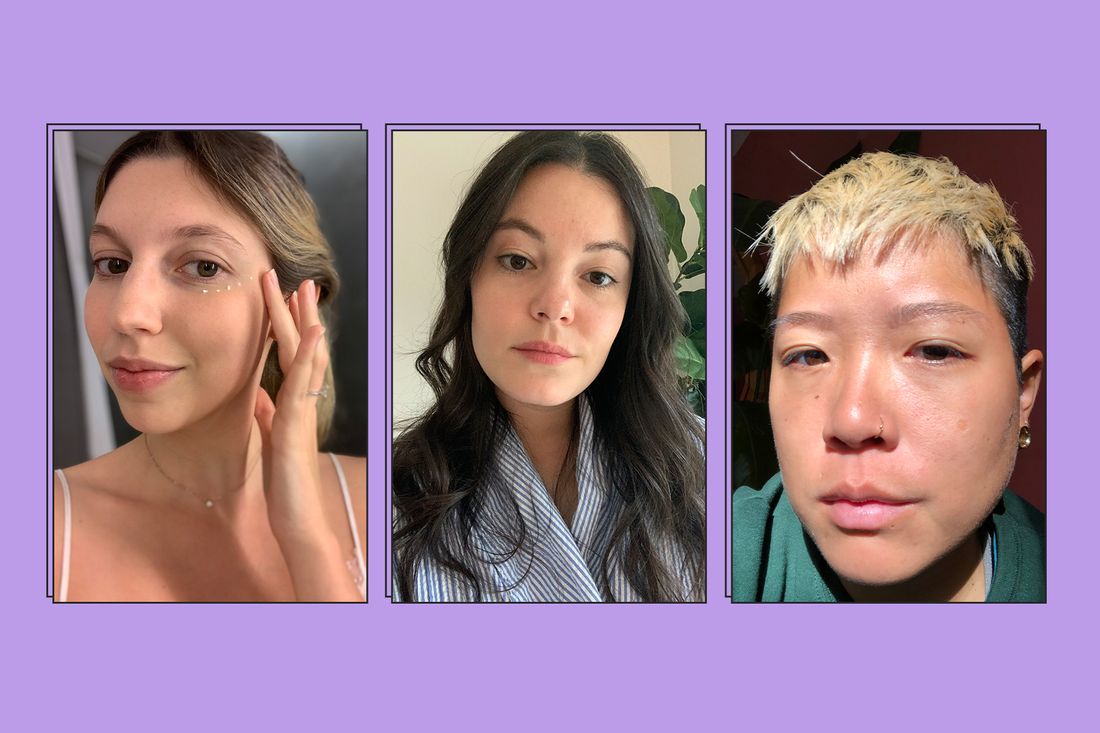 Photo-Illustration: Ashlie Juarbe, Photos: Courtesy of Talent
At the best restaurants in any city, there are cult-favorite dishes whose reputations precede them. Maybe it's a specialty dessert or vegetables transformed to taste like heaven, or even an off-menu cocktail where the balance of ingredients is just right. These are the kinds of things your friends will tell you that you have to try, no really, you have to try — or you'll miss out.
But you came here for a skincare article and not to get hungry, so let's get to it. What must-try dishes and drinks are to restaurants, retinoids are to the skincare world. The do-it-all reputation of these Vitamin A derivatives precedes them: They're scientifically proven to be useful in skin regeneration. Nearly any skincare fanatic (or expert) will likely recommend that you try one, and one of our teammates says a skincare-obsessed family member would "bathe in retinoids if she could."
There's a catch, though. Although retinoids (including retinol, one of the most common retinoids in skincare) have holy-grail status, they also have a reputation for being harsh on skin when a person first starts using them. Think: issues like redness, peeling, and flaking. That's where the team at No7 came in to help, with a new Pure Retinol Collection that features slow-release ingredient technology to help minimize skin irritation.
Backed by 15 years of research, the cult-favorite UK brand's collection aims to provide a gentler form of the highly sought-after ingredient, while still helping target concerns like uneven pigmentation, dullness, fine lines, and dark circles. We had three members of the Vox Media team check out the formulas — No7's Advanced Retinol 1.5% Complex Night Concentrate, Pure Retinol Eye Cream, and Pure Retinol Night Cream — for a week. Here's what they had to say.
Remy Fine, combination skin
On her typical skincare routine: 
"Growing up, I had really bad acne, so that was definitely something that was defining for me. My skincare routine now comes out of that. My skincare routine now really comes out of that. I wash my face twice a day, moisturize at night — I always use a moisturizer in the morning and at night — and I always use a retinol at night. I don't like to use it during the day because of the sun exposure. Then, I often do a mask once a week that just helps purify, and clean everything. I like to use very simple products and just keep my face as clean as possible. I don't normally wear makeup, only on really special occasions, so I like to have clear and well-textured skin."
On her previous experience with retinoids: 
"It's nice that now retinol is more available in over-the-counter skin care products, like these, because it's much more affordable than paying $200 for an acne cream."
On her skin goals: 
"I'm getting married in February of 2022, so I'm really looking for well-hydrated, clear skin. There's going to be a lot of events where I'm wearing makeup, which I don't usually wear, and that really strips all the natural moisture and stuff from your skin. So, my goal is to be prepared for that period of time where I'll be putting a lot of product on my skin, so it doesn't irritate it. Also, I just want to look flawless at my wedding."
On the products: 
"I was really excited because my mom used to use No7 products a lot. So, I actually have a lot of her products, except the retinol one. I was using all three products every single night and I felt like they had a really nice texture. My skin was dewy without being oily, and it had a nice glow. I first applied the overall retinol, followed by the eye cream, and then the night cream. I allowed each to dry in-between and I also took a little bit of the eye cream and put it on my forehead, right between my eyebrows.
What's great about these products is that the retinol is already built in. It was a good dose, and didn't over-dry me. The thick night cream didn't make my sensitive skin break out. The products spread well, too. A small amount easily covered my whole face. I'm definitely going to keep using them. I've gotten so many compliments on [my skin's] texture and glow."
On what's next:
"Like most people, my skin definitely gets drier as the temperature drops. So, I think these products will be perfect as we step into fall and winter. For me, I'm all about consistency. If I find a product that works, I like to keep with that routine. Especially with my wedding coming up, it's important for me to use trusted products to avoid any flare-ups or blemishes."
Kat Gutierrez, dry skin
On her typical skincare routine: 
"I've only recently started to actually put time and care into my skincare routine. My skin type is definitely dry, particularly in the winter months. I moved to Texas about a year ago, and even in the summertime and with that humidity, my skin is still dry. So, it was time. I still consider myself a bit of a novice and have a pretty simple routine. I wash my face, both morning and night, use a toner, and then apply moisturizer."
On her previous experience with retinoids: 
"I've never actually used a retinoid before! This was my first time."
On her skin goals: 
"Now that I'm in my thirties, wrinkles are a real thing. I want to develop more of a routine to take care of my skin, help the dryness and natural signs of aging."
On the products: 
"I definitely noticed my skin feeling more moisturized and tighter. My skin doesn't feel like it's desperate for moisturization anymore. I loved the thickness of the night cream, it feels really luxurious. It's thick and substantial, but not greasy, which sometimes is hard to find. It's a perfect combo of feeling rich without feeling like I have a greasy product on my skin.
The packaging is great too, I feel like there's a mental thing around having a cream in a pot, it just feels more high-end. Which is especially nice, considering the accessibility of the line. When you hear the word 'retinol', it's often synonymous with expensive. But this line gives you the best of both worlds: quality product without breaking the bank. Finding a skincare product that's this affordable, easy-to-find, and feels it's actually doing something is rare."
On her typical skincare routine: 
"My routine is relaxed…I wash my face one-to-two times a week and use serum, anti-aging eye cream, and face balm when I do. At night, I just splash water and throw on the same balm. I'll use a face scrub every two weeks or so. My skin type has changed so much over the years, but I would say it's stable and consistent. It depends on the season though, I see it gets really dry in winter, creating an issue of it looking lifeless. When I'm trying to get my face to rejuvenate — after staring at it too long — I'll do a face mask every month or so." 
Whitney Kuo, normal skin
On what's next: 
"Taking better care of my skin is a priority for me, especially when it comes to fine lines. I think using a more substantial facial cream like this will definitely help me fight some of the inevitable aging that I'm up against now that I'm in my 30s. Moving forward, I'm going to be more intentional about the types of products I use. I love that No7 has a focus on nighttime skincare, and I can be nourishing my skin while I'm sleeping to wake up already feeling like I'm a step ahead of the day."
On her previous experience with retinoids: 
"I was convinced by my mom that turning 23 marked the beginning of wrinkle prevention. I bought the first unremarkable jar of retinol I saw and tried it. The cream didn't feel like it was moisturizing my face enough, and it felt like body lotion, so I stopped using it."
On her skin goals: 
"I don't want to look back at my 30s and wish that I employed a more preventative skincare routine, and feel like I have to spend $200 on eye cream [in order to] make up for it, when I could have spent 3 to 5 minutes a day on my face when I was younger. To be frank, I would like to add retinol to my routine! And more SPF every day. The effect I hope to acquire is the famed 'dewy' look. I want my skin to look like it would make a boing sound if something bounced off of it."
On the products:
"[After using the three products], it felt like I was having more consistent 'good skin days.' I feel like the most visible difference was after the second night. Waking up on day three, my skin felt different — even, firm, and my pores seemed less prominent. Overall, I looked less lifeless!
I was pretty surprised by the quality of the night concentrate…The cream consistency is also what I like in a night cream: on the thicker side but absorbs really well."
On what's next: 
"I was really pleased with the products, and I'm excited to take better care of my skin. I'll continue to use No7 due to the price point, results, and prescriptive directions. In the past, I couldn't really pinpoint why I would feel like my skin looked great one day and so dead the next day. It felt like I was having a good skin day every day."
The No7 Pure Retinol Collection is available now at Walgreens, Target, Walmart, Ulta, and No7beauty.com. The products are designed to work better together, but the concentrate, eye cream, and night cream also can be used separately. People who are pregnant, considering pregnancy, or breastfeeding should avoid retinol.
This advertising content was produced in collaboration between Vox Creative and our sponsor, without involvement from Vox Media editorial staff.